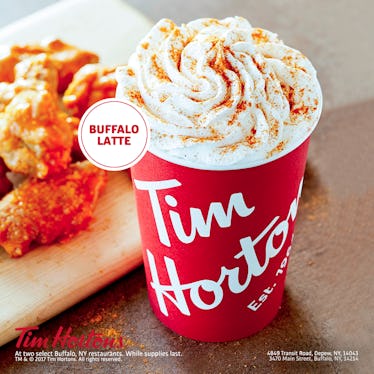 Tim Hortons Is Selling A Buffalo Sauce-Flavored Latte And Here's What It Tastes Like
If you've never thought about your favorite Super Bowl snack as the possible inspiration for a new coffee drink, then it's time to start thinking outside the box. The people over at Tim Hortons definitely did, and now, you can get yourself a Buffalo Latte because of it. Before you race out to try one for yourself, the first question you might want answered is: What does Tim Hortons Buffalo Latte taste like?
In a press release emailed to Elite Daily from Tim Hortons, the restaurant details the origins of this very surprising flavor combination. They have a little more in common than you might have previously thought. You see, Tim Hortons and Buffalo sauce actually go way back. In fact, they both hit the food scene in the very same year (1964), according to the press release.
Tim Hortons decided it was time to celebrate together just in time for the launch of Tim Hortons' new espresso drinks. Since Buffalo sauce originated in (you guessed it) Buffalo, NY, Tim Hortons is exclusively serving up this spicy latte in two of the Buffalo locations. If you're in the area, here's what you can expect when you order the Buffalo Latte.
According to the press release, the drink is "made from freshly brewed espresso, steamed milk, mocha, and bold Buffalo sauce flavor; the latte is topped with whipped topping and a dusting of zesty Buffalo seasoning."
So, if you thought (like I foolishly did) that they would just straight up stream some buffalo sauce in there, then you can rest assured that it's a "Buffalo sauce flavor."
If you're luck enough to be in Buffalo, NY, you won't need to shell out big bucks to get your hands on this latest coffee creation because the Buffalo Latte starts at just $2.79. If you need a little more convincing to try out this new flavor (whipped cream is usually all the convincing I need), Stephen Goldstein, the Regional President of Tim Hortons U.S, says in the press release:
The unlikely pairing of sweet mocha and tangy Buffalo sauce come together to create an unexpectedly delicious sweet and spicy treat we hope our guests will enjoy.
I don't know about you, but I am now fully here for enjoying the flavor of my favorite happy hour snack in my morning latte.
Sadly, where I am is not Buffalo, NY, but that doesn't mean that Tim Hortons doesn't have more to offer. The reason this new creation exists is to celebrate the launch of their new espresso line-up that will feature handcrafted espresso beverages, which you can get hot or iced.
The new latte flavors that include caramel, vanilla, mocha, and pumpkin spice were first introduced in Tim Hortons locations in Buffalo and Jamestown, NY, according to the press release, and they will be arriving in other cities from now through the month of December.
Given that fall and winter are the best seasons to cozy up with a warm latte, it's no surprise that Tim Hortons decided to expand its espresso offerings, and it is likely a welcome addition for coffee-lovers everywhere. If you're not into the whole latte scene, you can also try one of their other new espresso beverages like Americanos and cappuccinos.
If I'm being honest, my only previous experience with Tim Hortons was when Robin would refer to it when she was talking about her Canadian roots on How I Met Your Mother, but after reading all that the fast food chain has to offer in the coffee game, I'm ready to get out and grab myself a Tim Hortons latte, like, right now.
Check out the entire Gen Why series and other videos on Facebook and the Bustle app across Apple TV, Roku, and Amazon Fire TV.