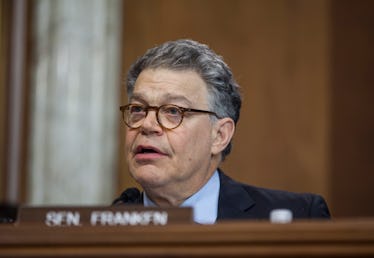 Al Franken Is Volunteering For An Ethics Investigation, But What Does That Mean?
Zach Gibson/Getty Images News/Getty Images
It seems like every day we're hearing yet another story breaking where a public figure is accused of sexual misconduct. And we can now add Senator Al Franken (D-Minn.) to that unsavory list. Following sexual misconduct accusations against him, Franken issued an apology and welcomed an investigation on him from the Senate Ethics Committee. But what does the Senate Ethics Committee do? And what does this mean for Al Franken's Senate seat?
After allegations of sexual misconduct were leveled against Al Franken on Nov. 16, bipartisan calls for an ethics investigation into the senator erupted. Senate minority leader Chuck Schumer (D-NY) has said, "I hope and expect that the Ethics Committee will fully investigate this troubling incident, as they should with any credible allegation of sexual harassment." Senate majority leader Mitch McConnell also weighed in, saying, "as with all credible allegations of sexual harassment or assault, I believe the Ethics Committee should review the matter."
In fact, Franken asked for an investigation himself. In a statement, Franken wrote, "I understand why we need to listen to and believe women's experiences. I am asking that an ethics investigation be undertaken, and I will gladly cooperate."
But what does the call for an investigation actually mean?
The full official title of this committee the statements are referencing is the U.S. Select Committee on Ethics, but is more commonly referred to as simply the Senate Ethics Committee. The committee acts like a special type of jury, or better yet a public watchdog for those who work in government, specifically the Senate. The committee deals with matters that involve senatorial ethics, which can range from inappropriate uses of power — including sexual misconduct. The committee is equally divided in terms of Democrats and Republicans, no matter who has control over the house.
According to the official committee website, the committee was created in 1967 as the Committee on Standards of Official Conduct to address "questions about official misconduct and the need for a source of reliable, accessible information." In 2011, the name was changed to the Committee on Ethics.
The Senate Ethics Committee hasn't had a case like this present itself since 1992. According to NBC News, the committee investigated Sen. Bob Packwood (R-Ore.) for sexual harassment. Ten women had come forward and reported incidents of alleged sexual harassment against the former senator. The investigation ultimately ended his career in 1995, when the committee recommended that Packwood be expelled. Packwood resigned almost immediately. So this investigation could potentially end Senator Franken's career, pending the decision of the committee.
And now, the Senate will have to deal with at least one similar case — and maybe two.
On Nov. 16, Los Angeles radio broadcaster and former model Leeann Tweeden accused Franken of groping and forcibly kissing her in December 2006, when the two were performing together on a USO tour in the Middle East just before Christmas.
In a blog post on the website for radio station 790KABC, Tweeden said that Franken, who was then a comedian and had not yet been elected to office, wrote a sketch for him and Tweeden to perform that involved a kiss. He allegedly insisted that they rehearse the kiss in private, to which Tweeden responded that they don't need to.
After continuing to insist that they practice, Tweeden said she gave in to get Franken to stop. Tweeden wrote:
We did the line leading up to the kiss and then he came at me, put his hand on the back of my head, mashed his lips against mine and aggressively stuck his tongue in my mouth. I immediately pushed him away with both of my hands against his chest and told him if he ever did that to me again I wouldn't be so nice about it the next time.
Tweeden also wrote that after returning home, she discovered that someone had taken a picture of her where Franken was groping her while she slept.
Franken is not the only politician accused of sexual misconduct in recent weeks.
The accusations against Franken also come after the disturbing reports of Senate hopeful Roy Moore's sexual misconduct. At least eight women have so far come forward to accuse Moore, a Republican Senate candidate from Alabama, of sexual misconduct, with most of the alleged incidents happening when the women were in their teens. (In a statement to The Washington Post, which broke the original story, Moore denied the allegations, calling them "completely false and are a desperate political attack.") Senate majority leader Mitch McConnell has recommended that Moore drop out of the race, which Moore has asserted he will not do. If Moore is elected, however, there's every possibility he might be kicked out of the Senate over the allegations.
Who knows? The Senate Ethics Committee could have their hands tied up in these matters for a while.