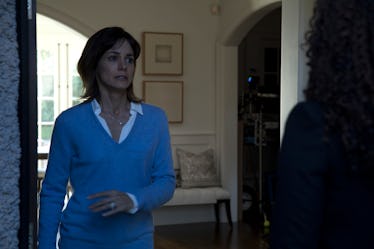 Jon Left A Note For Delilah In 'A Million Little Things,' But Fans Have So Many Questions
ABC/Jack Rowand
Trying to comprehend unexpected grief wasn't the only challenge the friend group of A Million Little Things faced after businessman Jon jumped out of his office window to meet his death. His assistant Ashley hid John's suicide note from his wife Delilah, inspiring prolonged uncertainty about why he chose to do this. Delilah and Jon's friends are unaware about the envelope's existence, and we also don't know what it contained. What does Jon's note say on A Million Little Things? Fans are already guessing about what he could have written.
While viewers caught a glimpse of Rome writing his own suicide note moments before Gary called him about Jon's death, the only early clue about Jon's own note popped up when his assistant Ashley found a blue envelope after seeing him jump out of their office building. She was later seen hiding the letter rather than giving it to Delilah, inspiring fan theories about her own connection to Jon. Secretaries are always in the know about dirty details, right?
Fan speculation about Ashley's intentions swirled when she attended Jon's funeral and didn't have much to say when Delilah asked if she knew why Jon might have wanted to die. Delilah also seemed to understand that Ashley and Jon were close, implying that the assistant could have known a completely different side of her husband than she did.
When the guys visited Jon's office, Ashley revealed that she knew Jon's phone code while insisting that she wasn't as close with him as people thought. Having access to a boss's phone is definitely a reasonable job requirement for some assistants, but it also hints at an enormous amount of trust between Jon and Ashley. Was she worried that Jon's note could have divulged unflattering information about her? Did Jon confess about an affair with her in the letter? Ashley was later seen deleting several computer files in the office, implying that Jon had professional or even personal information he wouldn't have wanted to leak.
The first lesson of A Million Little Things is that you never really know how someone is feeling, but the portrait the show has painted of John certainly isn't one easily linking to infidelity and lies. The glimpses we saw of his life showed Jon as a loyal friend and a loving husband and father. What secrets are hidden under that exterior?
Delilah wasn't the only one without answers by the end of the episode. Eddie learned that Jon's last call before his death was to him, but he ignored the call in favor of having a secret rendezvous with Delilah. Jon's final business deal inexplicably ensured that Regina received her own space to open a restaurant. Meanwhile, Gary seemingly learned about Jon's death before Delilah even did, which hints at a particularly close friendship between them. We obviously have years of mutual history within this group to catch up on throughout the next few weeks of the show.
Season 1 of A Million Little Things continues on Wednesday, Oct. 3, at 10 p.m. ET on ABC.
If you or someone you know are experiencing suicidal thoughts, call 911, or call the National Suicide Prevention Hotline at 1-800-273-8255.