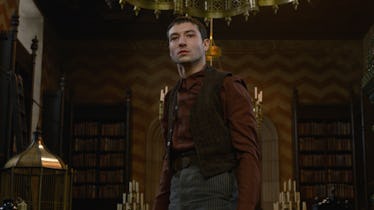 This Tiny 'Fantastic Beasts' Detail About Credence's Real Name Explains A Lot
Warner Brothers
Fantastic Beasts & Where To Find Them ended in a shocker of a twist in 2016, as Percival Graves turned out to be none other than Gellert Grindelwald, one of the evilest warlocks to ever walk the Earth before Voldemort existed. Fantastic Beasts: The Crimes of Grindelwald also ended on a twist, though it was really more like a series of twists, as character upon character made surprising choices. But of course, the biggest was the reveal of Credence Barebone's real name. What does Aurelius mean? Warning: Spoilers for Fantastic Beasts: The Crimes of Grindelwald follow.
Grindelwald insisted all through the movie Credence was the son of a well-known and influential wizarding family, but he'd never said it was Lestrange. Everyone else assumed this. After it was revealed Credence is not a member of the Lestrange family but a baby that Leta switched on the boat ride over to America, most fans have been obsessed over the surname Grindelwald bestowed on Credence: Dumbledore. How is there a long-lost brother of Albus and Aberforth no one ever heard of before? How is someone Credence's age a brother to Albus, who is in his 50s? Especially since Kendra died in 1899, and Percival Dumbledore died in Azkaban?
But, like many of Rowling's characters, the clues are in the names. Fans are familiar with Rowling's penchant for wordplay. For instance, Remus Lupin — named for the founder of Rome suckled by a wolf and the Latin word meaning "of a wolf" — turned out to be a werewolf. Sirius Black conjures himself into a big black dog — Sirius is the name for the heavenly body known as the dog star. Albus Dumbledore means "White Bumblebee," a tribute both to the character's goodness (his middle name is Percival, making him a White Knight) as well as his way of flitting about seemingly at random, but really following a pattern fans can't see.
The name Aurelius means "Golden," making him a Golden Bumblebee. But it's also associated with Roman historical figure Marcus Aurelius and British historical figure Ambrosius Aurelianus. The former's records are incomplete, as he died just as the Roman Empire collapsed. The latter is a legendary king of Briton who often gets overlooked or skipped in favor of stories of Merlin and Arthur.
These two figures have one thing in common. Their stories are not told in full, and often take a back seat to more prominent personalities who lived at the same time. In short, they are characters who existed, but most people don't remember them.
There is a raging debate right now among fans about whether Aurelius Dumbledore is even real. Perhaps Grindelwald is merely making him up. After all, if he had existed, wouldn't Aurelius Dumbledore appear in the history books?
But Rowling may be telling fans to think again. History is written by the winners. Albus Dumbledore will win this fight, an outcome known since the first time Harry Potter read a chocolate frog card. Perhaps Albus omitted his brother, denying Grindelwald the satisfaction of having a Dumbledore on his side. It wouldn't be the first time an Aurelius was lost to history.