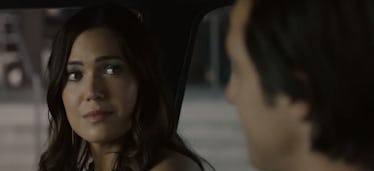 Jack Wasn't The Only One Crying During Rebecca's Emotional 'This Is Us' Demo Song
NBC
This week, This Is Us brought us a sun-soaked look into 1970s California as Jack and Rebecca's spontaneous road trip culminated with Rebecca's meeting at a record company. Although she thought the meeting was an easy path to achieving her goals, the company's representatives didn't exactly align with Rebecca's vision, seemingly answering her uncertainty about moving to Los Angeles. While these L.A. folks weren't thrilled about her work, Rebecca's song definitely pulled a chord in Jack. What did Rebecca sing to Jack? This Is Us debuted an original song to commemorate this special moment in the couple's relationship.
In the past, Cat Stevens' "Moonshadow" has become synonymous with Rebecca (Mandy Moore)'s singing, as it was what she was performing the night she first spotted Jack (Milo Ventimiglia) across the bar. Moore even has a real-life history with the song, having recorded it for her 2003 album Coverage. This Is Us's Nov. 13 episode "Sometimes" also featured music by Joni Mitchell and Dolly Parton, creating a totally enviable playlist for fans of '70s songs. This Is Us fans have grown so accustomed to Rebecca's covers and modern music accompanying emotional montages that their Shazam apps are never too far during a new episode, but the end of "Sometimes" threw them for a loop.
After a snippet of Rebecca's demo tape was heard during her meeting, Jack nudged her to sing the song for him in the car afterwards. He was reeling from a teary visit with the parents of the soldier who was blown up in the earlier episode "Vietnam," while Rebecca was a little blue about the record label reps calling her "Pittsburgh good." She initially waved off Jack's request to sing, but his heartfelt plea (along with the first use of "Bec," his future nickname for her) convinced her otherwise.
Anyone frantically holding their phones up to the TV to identify her song was left unlucky, because this tune is completely original. Clearly influenced by the optimistic but heavy-hitting lyrics of Rebecca's contemporaries, her song made the seemingly unbreakable Jack weepy. A quick look at its lyrics proves that while it can apply to just about any This Is Us character, the song's message particularly fits Jack in this episode. The opening phrases of Rebecca's demo read:
People say it's nice to meet me / I often wonder why / I've studied my reflections / I look me in the eye / But I still can't draw conclusions / I'm still talking out of turn / Now I ask too many questions about the lessons I will learn / Turns out all my mistakes were forgivable
Although his solder's parents insisted the death was not his fault, it wasn't far-fetched to wonder if Jack was trying to atone for the loss of Nicky through apologizing to these strangers. We've seen enough of his home life to know that Jack didn't have the warm and open environment he later created for his kids, so it makes sense if he avoided discussing the extent of his grief with his own parents.
As for any other memories Rebecca's singing might have triggered, we have a handy montage to look toward for hints. Her song plays over scenes of Jack spotting the woman with what would become his necklace and then seeing Nicky arrive at his fishing village. While the episode hinted that Jack's anxieties were all because of his lost soldier, viewers know that much more is brewing under the surface. Is Jack due to spill anything else about Vietnam on their long drive home? Perhaps not, but if Rebecca keeps singing, maybe she'll learn a little bit more about Jack's time in the war.
As of Tuesday night, we're still waiting on an official song title, but fingers crossed for a full version of this tune ASAP. Season 3 of This Is Us continues on Tuesday, Nov. 20, at 9 p.m. ET on NBC.