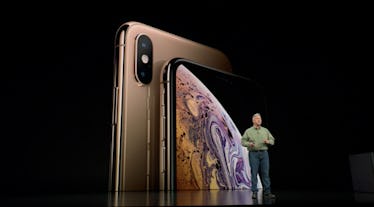 The New iPhone XS Comes In Such Gorgeous Colors, You'll Have Trouble Picking
Screenshot/Apple
It's that time of year when all eyes are on Apple as the company rolls out its next batch of iPhones. The official announcement from Apple, which is typically held around this time of the year, took place on Wednesday, Sept. 12. The unveiling was full of lots of new functions and features, but what about color options? If you have your eyes on ordering a new iPhone, you're probably wondering, "What colors will the iPhone XS and XS Max come in?" If you've got a certain color in mind, Apple may or may not deliver on your wishes.
There will be three new models of the iPhone sold in the following sizes: 5.8-inch (iPhone XS), 6.1-inch (iPhone XR), and 6.5-inch (iPhone XS Max). Apple has announced that the iPhone XS and iPhone XS Max will both be sold in a shimmery gold color. OK, where can I buy one immediately?! More on that in a minute.
Gold isn't the only color the iPhone XS and iPhone XS Max will come in. The phones will also be available for purchase in Space Gray and Silver.
These three color options are nothing compared to the iPhone XR, though. At the 2018 Apple Keynote Address, it was announced that the iPhone XR will be available in a variety of colors such as Black, White, Product Red, Yellow, Coral, and Blue. That is seriously an awesome line up.
There were plenty of rumors about the different colors the new iPhones would come in. SlashLeaks.com reported that the new iPhone XS would also come in three additional colors including red, white, and blue. That turned out to be false. Other unconfirmed reports said that there was going to be a purple iPhone XS option, according to BGR.com. Per reporting from Mac Rumors, the iPhone XS might have been orange. It could have been a rainbow of potential iPhone XS and iPhone XS Max colors, but I'm personally happy with the three options that shoppers will have.
The new colors for the iPhone XS and iPhone XS Max will share a mix of old and new. Currently, the iPhone X is sold in Silver and Space Gray, according to Apple. The iPhone 8 and iPhone 8 Plus are sold in Silver, Space Gray, Gold, and Red. Having Silver, Space Gray, and Gold together give us the best of both worlds.
It will be great to have more color options to choose from to for the iPhone XS and iPhone XS Max. As a whole, phones are representative of our individual personalities. Even if you are just going to cover it up with a case (pro tip: you definitely should), it is still nice to have the choice of choosing your iPhone's exterior color. (I've got my eye on the gold iPhone XS Max.)
The iPhone XS and iPhone XS Max will come in the following sizes: 64GB, 256GB, and 512GB. The price of iPhone XS starts at $999 and the price of the iPhone XS Max starts at $1,099.
The iPhone XS and iPhone XS Max will be available for preorder starting on Friday, Sept. 14 soon via the Apple website. Apple expects to begin delivering phones on Friday, Sept. 21 and some on Friday, Sept. 28 depending on what country you reside in.