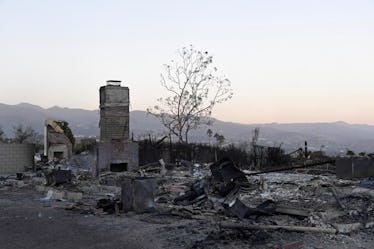 Here Are The Donations That Will Help Victims Of The California Wildfires Most
Kevork Djansezian/Getty Images News/Getty Images
California is in turmoil after wildfires ripped through a good portion of the state, destroying thousands of homes and leaving at least 59 people dead as of Nov. 15, according to CBS News. With so much of the Golden State reduced to ashes, people around the country are wondering what can I donate to the victims of the California wildfires? The good news is there's a lot of ways to give.
Beginning Thursday, Nov. 8, fires swarmed through parts of California, leaving nearly 240,893 acres of California destroyed as of Nov. 15, according to the San Francisco Chronicle. The Woolsey and Hill fires ravaged Los Angeles and Ventura counties, and the Camp fire in the North — which, according to Fast Company, has become the deadliest fire in the state's history — tore through Butte county. With land and thousands of homes destroyed, there are victims in need of some help, and there are a few things you can do to lend a hand.
While your first instinct might be to send supplies like food, water, and clothing, the best thing you can do is donate money, as the centers can get overwhelmed with supplies that may not be needed and then have to do the work of sorting and distributing them, according to Market Watch. There are a ton of non-profit organizations tasked with aiding in the relief effort that could really use your help. The most obvious is always The American Red Cross: they have opened shelters across California for evacuees, and even built an online tool so people can register and mark themselves safe. If you want to donate, you can call 1-800-RED CROSS or text "CAWILDFIRES" to 90999 to make a $10 donation.
While monetary gifts are always appreciated, you can also donate goods and supplies. According to Refinery29, Baby2Baby, an organization that helps supply goods to children of low income families, has created a registry with things like diapers, wipes, and blankets, which you can purchase from. Or, if you're an animal lover, the Humane Society of Ventura County — which has been taking in animals that have been evacuated from the fire zones — is accepting cash donations or supplies they have listed on their Amazon wish list.
If you live in California, you can actually give an evacuee or firefighter a free place to stay through AirBnB. Just head to AirBnB Open Homes and sign up to offer free temporary housing to those affected by the wildfires.
You may have noticed that you can give your home to an evacuee or a firefighter, and that's because firefighters are on the ground trying to rescue and keep people safe and can use help too. But, maybe not in the way you're thinking. According to a Nov. 11 post on the Los Angeles Fire Department (LAFD) Facebook page, they have been overwhelmed and humbled by the donation of goods, but asked folks wanting to help, to stop sending supplies. They wrote,
There are rumors that Los Angeles Firefighters are in need of donated food or supplies, such as blankets, wipes, water, energy beverages, snack bars, toothpaste or eyedrops during current wildfires...Nothing could be further from the truth.
Instead, they wrote, "A friendly wave or a simple hand-scrawled 'Thank You' sign means more than words could ever describe." But also noted that for people who really want to do more, they should consider a "random act of kindness in [their] honor" or a small donation to any non-profit that speaks to them. Now, if you want to help the firefighters directly, the only item they have been vying for are hydrations backpacks, and to help them with that go to supportlafd.org and donate.
California is facing the devastating destruction and turmoil caused by these wildfires, and while regrouping and rebuilding won't happen overnight, there are plenty of ways to help in the relief and let California know it has support for as long as it takes.