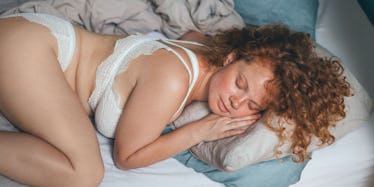 The 5 Stages Of Sleep & How Each One Affects Your Body, According To Experts
Maybe you've never really thought about what goes on while you sleep, because why question such a blissfully beautiful process, right? But it's actually pretty interesting to learn about what goes on in your body after you lie down and rest your head on the pillow. The stages of the sleep cycle are fascinating — I mean, really, what is your brain/body doing for like seven hours straight while you're asleep? These are the things that, no pun intended, truly do keep me awake at night.
"The stages of sleep are considered to be a cycle," GinaMarie Guarino, a licensed mental health counselor based in New York, tells Elite Daily over email. "People may or may not complete a full cycle of sleep when asleep, which can lead to different challenges and health risks."
According to Guarino, there are a total of four stages before a person reaches REM sleep, or rapid eye movement sleep, which is the deepest stage of your slumber.
Dr. Sujay Kansagra, Mattress Firm's sleep health expert and director of Duke University's Pediatric Neurology Sleep Medicine Program, tells me that the five stages of sleep include light sleep (Stage 1), medium sleep (Stage 2), deep sleep (Stages 3 and 4), and dream sleep (aka REM sleep), which is the final stage.
Here's how each of these five stages can affect your body, your mind, and your overall health.