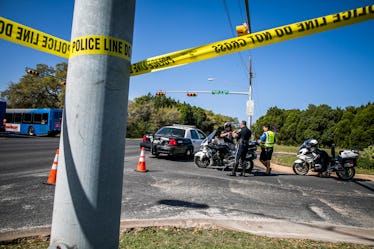 A Fifth Package Heading To Austin Exploded & There's A Scary Pattern
Drew Anthony Smith/Getty Images News/Getty Images
Over the course of 17 days in March, four separate packages have mysteriously exploded in Austin, killing two people in the Texas capital and injuring four others. Then, just after midnight on Tuesday morning, March 20, a fifth package exploded. Despite the fact that the package exploded at a FedEx facility in the San Antonio area, police are reportedly investigating whether it is related to the series of events that is now becoming known as the Austin bombings.
The Washington Post reported that a law enforcement official said a possible link between the fifth package and the four that have already exploded in Austin "is definitely a concern of ours." It's not hard to see why. The package that exploded at the FedEx facility in Schertz, Texas was bound for an address in Austin, CBS Austin reports.
That means that all five of the detonated packages were either sent to, or headed for, Texas' capital city.
A statement from a FedEx spokesman on Tuesday said that no deaths were causes by the latest explosion. It reads,
We can confirm that a single package exploded while in a FedEx Ground sortation facility early this morning. One team member is being treated for minor injuries. We are working closely with law enforcement in their investigation. We are not providing any specific information about this package at this time.
Most of the bombings so far have been in packages in transit or at homes, but the fourth bombing marked a difference. On Sunday, March 18, two days before the explosion at the FedEx facility near San Antonio, an explosion in Austin injured two men walking down a residential street, The Washington Post reports.
The fourth explosion differed from the previous three in two significants ways. First, it appeared to be triggered by a tripwire.
"The belief that we are now dealing with someone who is using tripwires shows a higher level of sophistication, a higher level of skill," Austin Police Chief Brian Manley said on Monday, per NPR. "Do not even approach it, but instead call 911."
The second difference between the fourth bombing and those that came before it? The first three explosions occurred in predominantly black and Latino neighborhoods, according to The Post, causing concern that the attacks were targeting minorities.
After the fourth explosion, Manley said police weren't ruling anything out.
"As we said from the beginning, we were not willing to classify this as terrorism, as hate, because we just don't know enough," the police chief said Monday, per NPR. "And what we have seen now is a significant change from what appeared to be three very targeted attacks, to what was last night an attack that would have hit a random victim that happened to walk by. So we've definitely seen a change in the method that this suspect ... is using."
The first of the Austin bombings happened on Friday morning, March 2. That particular attack resulted in a 39-year-old named Anthony Stephan House being killed after he handled a package that was left on his front porch, according to The New York Times.
Ten days later, two more bombings occurred in Austin. The first of the two killed a 17-year-old named Draylen Mason, a high school senior who had been accepted to the University of Texas, where he reportedly planned to study music.
"He was a cool guy, and he was just so fun to be around," a friend, Kylie Phillips, told The Austin American-Statesman. "He was always busy, because he always had gigs and he was always doing things for the orchestra here in Austin … I used to sing in a band with him, so it was devastating when I found out he died."
Mason's mother was also left critically injured, per The New York Times. Hours later, a 75-year-old Hispanic woman was injured after she picked up a package outside of her home, according to The Times.
And now, after another explosive package was found on Tuesday, police are working to make sure that a sixth explosion isn't added to the list of Austin bombings.