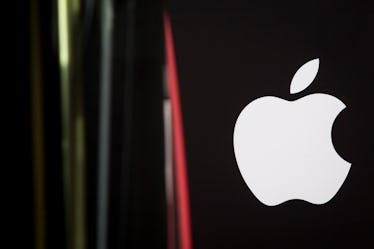 Your Apple Devices Are At Risk From Dangerous Bugs Called "Meltdown" & "Spectre"
Jack Taylor/Getty Images News/Getty Images
We know that your Macs, iPhones, and iPads are your precious babies, so brace yourselves for this news. Whether you use your beloved smart technology to do work, to socialize, or to entertain yourself, Apple has always been there for you. However, Apple users are currently in a state of panic, because two internal chip bugs — Meltdown and Spectre — are causing major processing flaws and security breaches. But before resorting to a frantic state of hysteria, let's look at the details and risks for your Apple devices from "Meltdown" and "Spectre," and see how we might be able to prevent their effects.
Elite Daily reached out to Apple to inquire about the security issue, but has not heard back by the time of publication.
Based on recent information released from Apple, Meltdown and Spectre are bugs that can take advantage of a modern CPU performance feature called "speculative execution." Speculative execution improves the speed of devices and enhances performance, but researchers are now discovering that Meltdown and Spectre can exploit memory access by outside users while the devices queue up information.
Meltdown
Meltdown is the internal bug that allows hackers to read already-loaded memory details, which MacRumors experts say are giving access to data such as passwords, emails, documents, photos, and beyond. Meltdown can now be accessed from any targeted cloud-based machine. However, Apple Watch is not affected by Meltdown. Apple claims to have released mitigations to defend from Meltdown in iOS 11.2, macOS 10.13.2, and tvOS 11.2.
Spectre
Although it's more difficult to hack, the Spectre bug can potentially be exploited by running JavaScript in a web browser. Spectre, in all its evil glory, is what Apple explains as a flaw that makes items in queued memory readily available to hackers. While Meltdown allows memory to be read, Spectre makes information readily available by "taking advantage of a delay in the time it may take the CPU to check the validity of a memory access call." So, uh, that isn't the best news you're going to hear today — and it's honestly pretty terrifying for everyone involved.
Apple says they plan to release updates for Safari on Macs and iPhones ASAP to mitigate these hacking techniques. Spectre, however, is going to require further testing. Apple hopes to release all necessary changes in the next few days for all Apple Products. So, phew, that's seriously a huge relief. Updates are definitely a good thing.
With that, CNN warns Apple users to make sure any iPhones, iPads, computers, and apps are updated to help protect against hackers exploiting flaws. In addition to the updates against the bugs, Apple says they're still working on other fixes that users should remain on the look out for. They claim that risks are likely to come from "malicious apps," and that users should only download software from "trusted sources, such as the App Store." However, Apple assured customers they are taking action against the security risk. An excerpt from their statement says,
We continue to develop and test further mitigations for these issues and will release them in upcoming updates of iOS, macOS, tvOS, and watchOS.
So, the bottom line is that you don't need to freak out about your beloved Apple baby... yet. Staying on the lookout for updates for all of your Apple systems seems to be the best course of action. If you were already thinking about buying a new iPhone or Macbook, the time might be now, since older items are more likely to be affected.
Check out the entire Gen Why series and other videos on Facebook and the Bustle app across Apple TV, Roku, and Amazon Fire TV.