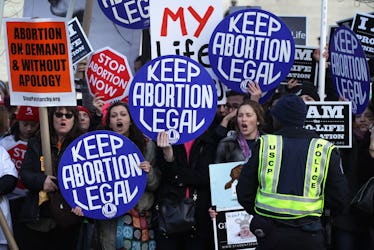 These Two States Just Passed Measures That Could Seriously Impact Reproductive Rights
Alex Wong/Getty Images News/Getty Images
The November midterm elections have been on everyone's minds over the past few months, but as of Tuesday, Nov. 6 the polls have officially closed. Leading up to the midterm elections, initiatives ranging from LGBTQ+ to reproductive rights were on a number of ballots, and they could seriously impact the future of the United States. So, what abortion measures were passed in the 2018 midterms? Unfortunately, two out of three were voted in.
On Tuesday, Nov. 6, voters in West Virginia, Alabama, and Oregon headed to the polls to decide the future for reproductive rights in their states. Well, that evening, it was announced that West Virginia and Alabama had voted to pass those anti-choice initiatives while Oregon rejected a similar measure, per Huffington Post. For West Virginia's Amendment One, the ballot initiative focused less on limiting the accessibility of abortion rather than banning certain funding for abortions. Therefore, this measure entails that the Constitution has no requirement to protect or fund an abortion with the exception of of rape, incest, etc.
However, in regards to Alabama's Amendment Two, the measure would "recognize and support the sanctity of unborn life and the rights of unborn children," per the measure's text. So, for Alabama, if Roe v. Wade ends up being overturned, there's a high chance that Alabama women could be denied the right to an abortion effective immediately.
Hello everyone, and welcome back to the 1920s.
Dr. Brandi Shah, a board member with Physicians for Reproductive Health, told Elite Daily by phone that she believes this decision is just one step closer to taking away any choice a woman has to her own body.
"For Alabama, it's putting us one step closer to banning abortion," says Shah, who recently moved to Alabama from Washington state. "We're in a situation where Roe v. Wade could be overturned. That's a lot scarier than it was before."
As a doctor, Shah's main worry about these measures is the possibility she'll have to deny care to future patients. Seeing as West Virginia's initiatives focuses more on funding, this could lead to groups of lower income, LGBTQ+, and POC women having less affordable care and access to reproductive health. However, Shah emphasizes that it's important physicians continue to fight for their patients, no matter the obstacles.
"This is a serious back step but we need to advocate for basic human rights," Shah says. "As reproductive health advocates, we need to continue to advocate for our patients. We need to keep working in states like Alabama to enable brave leaders and voices to uphold all of us."
Even though these anti-choice ballot initiatives mean serious business for the future of women's reproductive rights, many people were unaware that these measures were even appearing in three key states during midterm voting. In the November elections, West Virginia, Oregon, and Alabama all featured ballot initiatives that would restrict abortion access to residents, marking the first time since 2014 that abortion has been featured on the ballot level.
Advocates, though, aren't giving up. "We do not think this is particularly indicative of the American people's position on abortion," Deirdre Schifeling, Executive Director, Planned Parenthood Votes, said in a press call to reporters on Nov. 7. "In these ballot initiatives the language is incredibly deceptive and vague and difficult to understand. They were no way a reflection of public support for safe and legal abortion."
As for future steps, Schifeling is confident that Planned Parenthood will work tirelessly and be able to ensure every woman has the right to seek an abortion no matter what state they reside in.
"We're exploring all options to make sure we're protecting women's ability to practice safe and legal abortion in every state," Schifeling says.
Now that the November midterms have come to a close and votes have officially been made, it's time to buckle up and plan out the future. With these amendments passing there's a chance the anti-choice narrative will continue to grow, but it's up to advocates to speak out on the issue.
"In the current divisive climate where reproductive rights is an ongoing controversial issue, it's going to be one of those critical issues that people are willing to put their voices on the field for," Shah says. "That's going to be one of the biggest challenges."
Well, there you have it everyone. The decision has been made, and we'll just have to see what the rest of 2018 has in store for us.