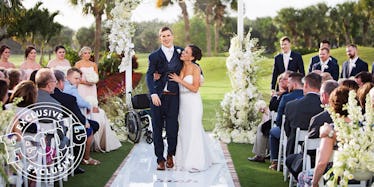 Watch This Groom Paralyzed In A Football Accident Walk Down The Aisle At His Wedding
After Chris Norton, 26, had a football accident in October 2010 at Luther College that fractured his vertebrae, rendering him paralyzed from the neck down, he defied the odds by walking across the stage at his graduation. A few years later, at his wedding alongside now-wife Emily Summers, he repeated the feat. For Chris Norton to walk at his wedding, he had to put in years of physical therapy and training. When Norton began his therapy, he needed assistance breathing – he had to essentially teach his body how to move again, and build up his strength from scratch.
The road to his wedding with Summers on April 21 in Jupiter, Florida began when Norton made a dating profile in 2013. The two matched and bonded over their Christianity, and Norton fell for her kind heart.
"I was waiting for that girl who made me feel alive and someone I wanted to spend the rest of my life with," Norton told People, "And then here comes Emily. I knew she was on the one."
In the upcoming documentary about Norton, 7 Yards, he said his life changed when he met Summers. It was love at first sight. For Summers, everything changed when she met Norton.
"I had a list of what do I want in a guy, and I'm like, 'Whoa, Chris is every single one of these,'" Summers said in the documentary. Summers was attracted to Norton for his determination and the many interests they shared.
"I was extremely drawn to him and his story," Summers said to People, "and how he wasn't just going to give up. That's how we first connected."
Despite a doctor telling him he had a 97 percent chance of never moving again, Norton worked hard to take the steps across the stage to get his college diploma in 2015. In order to prepare, he spent three or four hours a day in the gym to build his strength to walk again.
Little did Summers know, while Norton was gearing up to walk during graduation, he also was preparing to propose to her. The night before graduation, Norton proposed to Summers, so they'd walk together on his graduation stage as an engaged couple. At that point, Norton had worked years for that day, and proposed to the love of his life – and he was OK if it didn't all go as planned.
"I busted myself for years," Norton said. "If I trip and fall, so be it." But at graduation, as Norton made his way across the stage, the crowd erupted in applause for the duration of his walk.
Norton was determined to repeat the triumph at his wedding. He and Summers said "I do" while standing next to each other.
At their wedding, Norton and Summers held each other in each other's arms while they made their way seven yards down the aisle. Guests watched on, and giving a standing ovation after the couple walked the seven yards. The pair kissed once pronounced husband and wife.
Norton's story will be told through a documentary titled 7 Yards, to be released in 2019.
On his wedding day, Norton reflected on his seven-yard walk.
"I was just in the zone, wanted to take those nice steps and take my time, and enjoy the moment, too," Norton said after the wedding ceremony to People. "A couple of steps were more difficult than others, but I was able to push through and do it."