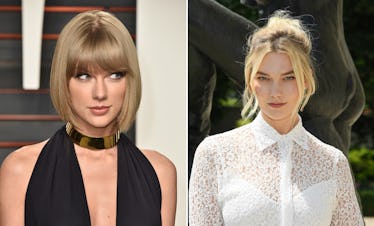 Taylor Swift Missed Karlie Kloss' Wedding, But Her Reason Makes Sense
Pascal Le Segretain/Getty Images Entertainment/Getty Images
Just in case you blinked, model Karlie Kloss and her fiancé Josh Kushner tied the knot on Thursday, Oct. 18. While that, in itself, was slightly surprising (a wedding not on a weekend? Bold move, Karlie!), many fans were less concerned about the date and more concerned about the guest list. What the world really wanted to know was: Was Taylor Swift at Karlie Kloss' wedding? These two seemed to be BFF's for quite some time, but then fans started speculating whether or not they were friends anymore after the two weren't seen hanging out like they used to. Let's dive in, shall we?
Here's what we know: Karlie Kloss and Josh Kushner married on Thursday, Oct. 18, in upstate New York in front of a small crowd of about 80 guests according to People magazine. But was Taylor Swift in that crowd?
Nope!
Before you start speculating that it's because these two are still reportedly feuding, let me fill you in on some more details. When Kloss shared the news that she got married on her Instagram, Swift also took to her Instagram Story to show that she landed in Perth, Australia for her performance at the Optus Stadium.
If you're like, "Well why couldn't she fly to attend the wedding, then immediately hop on a flight to Australia?" let me do a little bit of calculating for you. Perth is 12 hours ahead of New York, and a flight from New York to Perth takes a whole day. Basically, making Kloss' wedding would have been impossible considering her tour schedule.
Here's a snapshot of Swift's (very chaotic) Instagram selfie post:
Is it just me, or does reading all of these sentences in a myriad of fonts and colors make you slightly dizzy?
And around the same time that Swift shared her Instagram Story, Kloss posted a rather adorable Instagram photo of herself in a stunningly gorgeous custom Dior wedding gown alongside her new husband, captioning the photo, "10.18.2018," AKA their wedding date.
So, what does it all mean then, if Taylor Swift wasn't at the wedding of her supposed friend, Karlie Kloss? To me, personally, it could be as simple as the fact that Karlie picked her wedding date, and Taylor already had a performance half-way around the world that day and couldn't back out.
Or, as some fans are speculating, maybe it didn't really matter what Taylor's schedule looked like, because Karlie didn't care whether or not she came to her wedding. Of course, this is all just speculation, but their relationship is even more questionable to fans now that Taylor Swift didn't attend her Kloss's wedding.
Back in April, Kloss spoke with Porter about how she has some amazing friendships, but didn't include Taylor Swift in the list. "I've built really amazing friendships — some that last, some that don't," she told the magazine.
She continued, singling out friends by name, yet steering clear of using Swift's name:
A couple have become some of the most important relationships in my life, in particular, those I've been in the trenches with, such as Jourdan Dunn, Joan Smalls, Toni Garrn, and Lily Aldridge. We started as girls and we've grown up together, and I know if I need anything, I can call them up and they will be there for me, just like my friends from kindergarten.
But, if you go by more recent interviews, Kloss shut down rumors that she and Swift are feuding just a few weeks ago by telling Vogue, "Taylor and I are still really good friends."
In my own little personal world, I think that Kloss and Swift are still cool with each other, but their conflicting schedules just makes things a bit harder to be there for the important things. Because I'd much rather live in a world where these two are besties than not besties. I mean, look at how pure their friendship is:
Surely, there's nothing that can take that away from them, right? At least, that's what I'll keep telling myself.