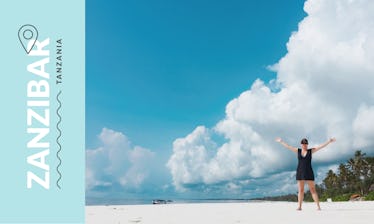 Wander or Bust: Zanzibar, Tanzania Is Actually This Beautiful
Wander or Bust is an Elite Daily travel series that follows young women all over the globe to record their journeys as they experience the thrill of the far-flung and unknown.
They'll track their budgets, where they stay, where they eat and drink, and where they took that amazing Instagram that got them ~maximum exposure.~ The internet is full of travel advice, but none from women just like you. Read on for the tips no one else gives you, and when in doubt, get on the plane.
Here's Courtney Brandt's Wander Or Bust guide to Zanzibar, Tanzania.
My Name: Courtney Brandt
What I Do: I'm an author, and the blogger behind A to Za'atar.
Where I Live: Dubai, United Arab Emirates
Where I Went: Zanzibar, Tanzania
How Long I Stayed: 6 days, 5 nights
My Spending Style: Extravagant. I spend without consequence; I'd rather have a good time than be on a budget. Before this, we hadn't traveled out of the UAE since July of last year (pretty rare, as we try to visit five countries a year). Zanzibar was a great opportunity to kick back with some of our best friends, and for my husband to dive in a new location.
Where I Got My Recommendations:
One of our friends we travel with is the planner. He found the villa on TripAdvisor, and after sending the link through, we unanimously decided this was the best fit for our trip. Personally, I'll use anything from Instagram to Airbnb to TripAdvisor when making plans for just my husband and myself.
Exchange Rate At Time Of Travel: $1 USD = 2,277 TZS
The Tanzanian shilling is pegged to the U.S. dollar, and dollars are accepted currency across the country. Travelers should bring small bills, which are accepted everywhere.
What That Looks Like IRL: $50 USD = 113,636 TZS
Preferred Payment Method: Cash
There are very few ATMs on the whole island of Zanzibar, so make sure to take out cash when you can. While credit cards are accepted at some locations, they tend to carry higher fees (5 percent and up).
Phone Bill: We didn't activate roaming while on the island, so it was just my usual monthly fees. We mainly used the WiFi at the villa.
Mode of Transport: Airplane
We got direct flights that we booked on FlyDubai.
Price: $1,138
Extra Costs: Because we were staying in a private villa, transfers within Zanzibar were included in our overall spend. We used Careem (our version of Uber) for the pick-up to the airport in Dubai, and on return, we used a taxi.
Transport Total: $1,300
Accommodation: Private villa
Location: Our villa was located in Matemwe, Zanzibar — northeast from the largest city on the island, Stone Town (where the airport is located).
Price: $500/night (after splitting costs with friends)
Extra Costs: If you're an American traveling to Zanzibar, there is a $100 USD fee on arrival. Only a few other nationalities have this fee. It's easiest to have this ready in cash.
Would I Recommend It To Someone Else: 100 percent yes. Due to the tides, our beach was more or less private, and every morning we woke up to views that seemed almost unreal. Without a lot of light pollution, we were treated to beautiful views at night, including a stunning full moon. In addition to the natural beauty, our villa had so much room to relax.
Accommodation Total: $3,000
Breakfast-Lunch Cost: $23/day — with drinks!
Dinner Cost: Included with villa
We had all our dinners at the villa. Since there was a wonderful chef on location, there was no point in packing into a car. We were even able to request lobster! I would imagine most travelers would choose to dine at their accommodation or nearby hotel, where a meal would cost you around $15 per person.
Average Total Cost: $23/day
Tip Situation: I don't think tips are especially anticipated or expected, but it's something we did anyway, and it seemed appreciated.
Food Situation: There is not much in the way of restaurants that are not attached to a hotel or some sort of accommodation. Given the rather limited number of restaurants and dining outlets, I would imagine most meals are cooked and eaten at home.
Favorite Restaurant: Sunshine Hotel Zanzibar
Overall, my favorite meal was the at-home surf and turf, with some of the best lobster I've had in the world. However, one day, we wandered down the beach for a quick bite here. It was an easy no-shoes-needed location that catered to tourists and their own guests.
Location: Matemwe Zanzibar, Matemwe 4749, Tanzania
Price: $15
Food Total: $330
Nightlife Situation:
There are without a doubt places to go out in Stone Town, but for us, the trip was all about relaxing. After a day out, we'd adjourn to the huge upstairs terrace, turn on our music, and have a beautiful alfresco dinner served.
What People Wear Out:
It's mostly casual. I think it's important to remember that Zanzibar (as part of Tanzania) is a Muslim country, and therefore covering up a bit is respectful to locals.
Average Cost Of A Pint: Roughly $2
Extra Cost To Know About:
Given the lack of easy transportation, you would need to either arrange for transfers in advance, or stay close enough to walk to wherever you are going out.
Last Call: A lot of places close around 12 a.m. or 1 a.m., but some places seem to go later depending on the time of year.
Average Total Cost Of A Night Out: $15
Cheapest Bar I'd Actually Go Back To: Gerry's Bar
In a sea of cute little bars on the beach, Gary's stands out.
Going Out Total: $50
What I Spent A Lot On That Was Totally Worth It:
I bought two beautiful watercolors, which were exactly the type of souvenir I was looking for. I even got to meet the artist! I negotiated the price to $12 (from $15), then realized I was being an idiot, and happily handed over the full price.
What I Spent A Lot On That Was Totally Not Worth It:
We made the mistake of not researching more about visiting a beach club, and ended up having to go to two. We made it work by eating lunch at one, and more or less overpaying at the other. I wouldn't say the experience wasn't worth it, but more, I wish we had done a bit of research of what would be best for us.
What I Spent Little Or No Money On That Was Awesome:
Honestly, the best thing we did was bring stuff to donate to the local school and community. We brought school supplies and other items from Dubai (maxing out our weight allowances on the flight) to be distributed.
Favorite Thing I Did, Regardless Of Cost:
My husband had an amazing time diving, and I had an amazing time watching him. The beach was gorgeous, and it was a lot of fun to see.
Hidden Gem I Found:
A friend of mine from Dubai was coincidentally staying down the beach from us. She had posted photos from a turtle sanctuary. We were able to see just-hatched baby turtles, along with more mature ones who were safe in the natural lagoon. The turtles are released once a year back into the wild. For $5 USD, I felt like our money was going toward something good.
The Photo I Took That Got The Most Attention:
Excursions/Extras Total: $500
General Shopping: $0
Souvenirs: $50
I picked up some beautiful wooden, hand-carved salad forks for both my mom and my mother-in-law. I love the watercolors that I picked up for myself.
Souvenirs/Shopping Total: Honestly, a lot less than usual trips! I think I barely spent $50.
Best Zanzibar Hack:
Although it might feel strange, bring plenty of cash and in small denominations. We also paid a guide $25 USD to accompany us on our day in Stone Town. It's not entirely necessary, but he was great at suggesting places and leading us around, as well as interacting with our driver.
Advice For Anyone Traveling Alone:
There are parts of the island that I think would be fine for solo travelers. If you were looking for a place to really go off-grid, there are bungalows to rent that would be safe.
Total Trip Cost: $5,230
Worth It? Yes. I still feel relaxed.