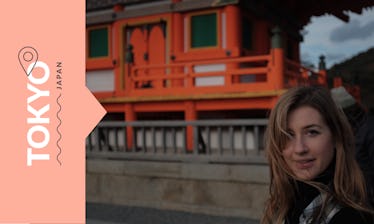 Wander Or Bust: Tokyo Is All About The Markets — & The Beauty Products
Wander or Bust is an Elite Daily travel series that follows young women all over the globe to record their journeys as they experience the thrill of the far-flung and unknown.
They'll track their budgets, where they stay, where they eat and drink, and where they took that amazing Instagram that got them ~maximum exposure.~ The internet is full of travel advice, but none from women just like you. Read on for the tips no one else gives you, and when in doubt, get on the plane.
Here's Claudia Fisher's Wander Or Bust guide to Tokyo.
My Name: Claudia Fisher
What I Do: Lifestyle News Editor, Time Inc
Where I Live: Manhattan, New York, USA
Where I Went: Tokyo, Japan (as well as Kyoto and Hakone)
How Long I Stayed: 14 days, 13 nights
My Spending Style: Occasionally indulgent. I don't throw money around, but I will definitely splurge on more than a few expensive things on a vacation. (I would be extravagant, but my boyfriend is "thrifty," so we meet in the middle.)
Where I Got My Recommendations:
Mostly from a Japanese friend, but also from guidebooks like Monocle's, and online searching.
Exchange Rate At Time Of Travel: $1 USD = ¥109.40 JPY
What That Looks Like IRL: $50 USD = ¥5,470 JPY
Preferred Payment Method: I used credit cards for the most part, but cash for smaller things, like local markets.
Phone Bill: I did an AT&T plan that cost $10 per day for unlimited data.
Mode of Transport: Airplane
Price: $1,300
Extra Costs: We took a bus from the airport in Narita to Tokyo. Also, while there we used the subway system mostly and took the bullet train to Kyoto. In the mountain town of Hakone, we basically tried every mode of transportation: buses, a pirate boat, the mountain cable car. We spent about $100 extra on transportation.
Transport Total: $1,400
Accommodation: $13/night hostel
Location: We first stayed in Shibuya in both an Airbnb and hotel, and then an Airbrb in Ebisu.
Price: The first AirBnB was $13 a night, the second was $30. The hotel was $100 per night, so $50 per person.
Extra Costs: Our accommodation was pretty bare bones. The first room was a shared, co-ed space with bunk beds.
Would I Recommend It To Someone Else: The second spot, absolutely. The first, not so much, but it is very budget friendly.
Accommodation Total: $450 (including trips to Kyoto and Hakone)
Breakfast-Lunch Cost: $30/day
It's pretty inexpensive unless you went to a high-end restaurant. Breakfast would be around $10, and lunch could be anywhere from $10-30. You could get a really good katsu (fried pork) sandwich from a stand in the train stations that would be on the cheaper side of the spectrum, or rice balls from the pharmacy (People do this! They're considered good!) or get a omakase sushi lunch for $30 plus.
Dinner Cost: $40/day
Again, this depends where you are, there's a pretty big range like in any big metropolis. And it also depends if you're drinking, of course, as that will run up your bill. You could get do something casual for $15, and the most expensive meal we had cost around $150 per person at a very nice steak house.
Average Total Cost: $70/day
Tip Situation: Waitstaff at restaurants don't accept any tips.
Food Situation:
Tokyo is known for its amazing food, with a high density of Michelin-starred restaurants. There's more variety than you expect — it's not all sushi. Some of my favorite things I ate there were okonomiyaki — a cabbage pancake dish — udon noodles and katsu. There are a lot of "kissaten" for breakfast, which are traditional coffee/tea spots, and you can also try having a "traditional Japanese breakfast," which is seafood-based and only available certain places.
Favorite Restaurant:
I loved a little ramen/soba place we found in "the Old Town" part of Tokyo, Yanaka. It was a little hole in the wall and had a very calm, soothing atmosphere. You sat on pillows on the floor at long wooden tables and everything was simple yet crisp and cozy. It felt very genuine: good food, helpful staff, and it was a nice relief after a long day of walking to be in a warm, welcoming space with delicious ramen and soba.
Location: "The Old Town" part of Tokyo, Yanaka.
Price: About $30 total, for two people.
Food Total: $750
Nightlife Situation:
It's very lively, like any other major city. There are trendy clubs with DJs, but also lower-key dive bars and everything in between. We went to some teeny tiny bars on Drunkards Alley that fit like six to 15 people total, which are fun and different than your typical going-out experience.
What People Wear Out:
Pretty casual. We did a lot of walking, so I never wore heels out. There's definitely a range, and Japanese women tend to be pretty stylish, but I was fine in jeans and a nicer top usually. I also did skirts with boots.
Average Cost Of A Pint: $4.50
We drank Highballs mostly, which are whiskey and seltzer drinks, but they cost the same as a typical beer.
Extra Cost To Know About: Some clubs charge cover fees.
Last Call: 2 a.m. for bars, but some places like clubs are open much later and could go all night.
Average Total Cost Of A Night Out: $30
Cheapest Bar I'd Actually Go Back To: Coins or Rock No Cocoro
The former is a sports bar and the latter means "the heart of rock" in Japanese.
Going Out Total: $450
What I Spent A Lot On That Was Totally Worth It:
Going to a Japanese steakhouse and having Kobe beef. (Steak is my favorite food. Slight disclaimer: I didn't spend my own money here because my boyfriend took me for my birthday but I would totally do this again with my own money.)
What I Spent A Lot On That Was Totally Not Worth It:
This wasn't super expensive, but you can definitely skip the cat cafes. I can't speak for some of the weirder cafes, like owls, but at these places you pay a set fee for 10 minutes and it can add up. Plus, even though I'm a cat lover and there were some very cute kittens, the cats for the most part are not interested in interacting with the guests and just kind of sleep and ignore you.
What I Spent Little Or No Money On That Was Awesome:
Going to the Tsukiji fish market, even though I don't even eat fish. It was so fun, and I tried tuna sushi and it was actually not that bad.
Favorite Thing I Did, Regardless Of Cost:
I really liked the Mori Art Museum in Roppongi — there's an amazing view of Tokyo from the top as well, which is why we didn't go to the Tokyo Skytree (which is the world's tallest tower).
I went to a thrift store in Harijuku and bought plaid pants and a jean jacket, so now I get to say, "Thanks, it's from Harijuku," when people compliment either (LOL).
I loved this area of Tokyo called Yanaka, known as the "old city." The buildings are much shorter, with the classic sloping roofs people picture when they think of Japan because they weren't destroyed in the war. It was a nice quiet escape from bustling Shibuya (which somehow feels like Times Square on stimulants). You can get a really good cultural experience here without it feeling forced or stuffy.
We went to a small, multimedia exhibit at SCAI The Bathhouse about a small farming community in the demilitarized zone between North and South Korea that I thought was so interesting and unexpected in such a small, quiet area.
Hidden Gem I Found:
There's this little food court in Ebisu that is kind of hard to find seating at, but it's worth the hassle. It's fun and lively and the food is amazing. We ate at a yakitori place.
The Photo I Took That Got The Most Attention:
Excursions/Extras Total: $175
General Shopping: $140
Souvenirs: $160
I brought back a bunch of beauty/skincare products from the drug store there. That, and the flagship Uniqlo store, are where I bought the most for myself. As souvenirs, I got powdered matcha packets from the Muji there and some quirky things from a popular store there called Loft, like cat calendars and little figurines. I'm pretty into skincare, so I did a ton of research before going to help me select products (because all the labels there are in Japanese). I also brought back a bottle of Japanese whiskey called Nikka Coffey Grain.
Souvenirs/Shopping Total: $300
Best Tokyo Hack: I'm not sure if this is a "hack" per se, but don't expect people to speak English. Some restaurants have English menus, but some don't, and people tend to speak fairly limited English. If you're shopping, it's good to have photos of the products you're looking for, and if you know how to say a few basic foods in Japanese, it will help.
Advice For Anyone Traveling Alone: It's very safe, so I wouldn't feel worried. But I would definitely get a data plan so Maps works while you're there because the city's layout is confusing and getting directions when there's such a major language barrier can be very difficult.
Total Trip Cost: $3,525
Worth It? Yes, I want to go back and do more!