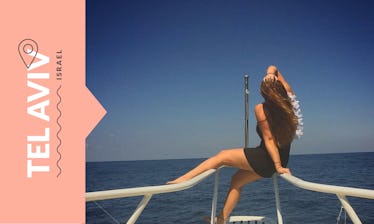 Wander Or Bust: Tel Aviv Is Where Partying & Hummus Last All Night
Wander or Bust is an Elite Daily travel series that follows young women all over the globe to record their journeys as they experience the thrill of the far-flung and unknown.
They'll track their budgets, where they stay, where they eat and drink, and where they took that amazing Instagram that got them ~maximum exposure.~ The internet is full of travel advice, but none from women just like you. Read on for the tips no one else gives you, and when in doubt, get on the plane.
Here's Juliette Breindel's Wander Or Bust guide to Tel Aviv, Israel.
My Name: Juliette Breindel
What I Do: Risk Management for a French investment Bank (Societe Generale)
Where I Live: Manhattan, New York
Where I Went: Tel Aviv, Israel
How Long I Stayed: 7 days, 6 nights
My Spending Style: Occasionally indulgent. I don't throw money around, but I will definitely splurge on more than a few expensive things on a vacation. (Sometimes!)
Where I Got My Recommendations:
I lived in Tel Aviv for three years. I've made a lot of friends and I know my way around, so when I visit, I have a pretty good itinerary already planned.
Exchange Rate At Time Of Travel: $1 USD = ₪3.50 NIS
What That Looks Like IRL: $50 USD = ₪175 NIS
Preferred Payment Method: Every place takes American cards (not always American Express), but taxis are cash-only, so bring your shekels and always fix a price before you get into a cab).
Phone Bill: I had an Israeli phone, so I didn't pay anything extra!
Mode of Transport: Airplane (whatever you do, avoid International Ukraine Airline)
Price: $1,000
Extra Costs: If you're looking to avoid a lot of extra fees, the best solution is the train from the airport that goes right into Tel Aviv city center. It's about 20 shekels (or just under $6 USD) and takes about 30 minutes. On Shabbat, there's no public transportation so you may need to take a taxi, which should cost around 100-120 shekels (or $30.60 USD).
Transport Total: $1,006
Accommodation: A beautiful rooftop apartment in Tel Aviv
Location: Close to Sarona Market in the city center (highly recommend visiting that indoor market!!)
Price: $73/night
Extra Costs: None for short-term stays.
Would I Recommend It To Someone Else:
I would recommend staying as close to the beach as possible near Ben Yehuda street or also in old Jaffa (although that may be a bit more expensive), I was more in the city center.
Accommodation Total: $438
Breakfast-Lunch Cost: $12/day
Eating out can cost from $5 to $30, depending on how fancy the place is. I'm a fan of street falafel/sabich, which is usually around $6 per day.
Dinner Cost: $17/day
Average Total Cost: $29/day
Tip Situation: Always 10 percent!
Food Situation:
The food in Tel Aviv is delicious. People/families in Israel usually cook though, so I would recommend finding a family to spend Shabbat with. You will find that most Israelis are very warm and welcoming people.
Obviously, tourists will go to restaurants for the majority of their stay — restaurants in Tel Aviv are a big part of the culture and stay open very late. You must try a shakshuka breakfast!
Favorite Restaurant: Sabich Tchernichovski
Location: Tchernikhovski St 2, Tel Aviv-Yafo, Israel
There are vegetarian pita sandwiches and gluten-free option available:
This place is real, all authentic, and features homemade-style Israeli food from different regions across the Middle East (Moroccan, Iraqi) — all made with fresh ingredients, and it's very affordable for high-quality cooking.
Price: $6
Honorable Mentions: Humus Co.; Abouelafia Bakery; AZURA (my absolute favorite, pictured below!)
Food Total: $100
Nightlife Situation:
All I need to say is that I didn't know how to party until I moved to the Middle East!!
What People Wear Out:
Bars are way more casual (flip flops are totally fine), but you may want to dress up for the fancier clubs (like Aria and Suramare).
Average Cost Of A Pint:
Gold Star is Israel's finest beer! (Although some would argue that "Macabee" is..) A beer should be about $5-$6, depending on what type of bar you go to.
Extra Cost To Know About: Just the transport fees involved with getting a taxi home.
Last Call: Most bars close between 2 a.m. and 4 a.m, but there are still some after-hours places that stay open.
Average Total Cost Of A Night Out: A casual bar should cost about $20-$25 for a few drinks.
Cheapest Bar I'd Actually Go Back To: Tangier
Tangier offers the option to get a wristband for unlimited drinks (so it can be pretty cheap if you're aiming to have a pretty wild night, wink wink).
Going Out Total: $200
What I Spent A Lot On That Was Totally Worth It:
I've found that you do not need to be religious in any way to spiritually connect to Jerusalem. I think it would be such a shame to go all the way to Israel and not see the old city of Jerusalem... It's a 30-40 minute bus ride from Tel Aviv, and definitely a great day-trip plan.
What I Spent A Lot On That Was Totally Not Worth It:
I can't really think of anything that wasn't worth it, every place I've visited in Israel was beautiful, but I would maybe stay away from the guided tours or the "tour guides" that could maybe rip you off.
What I Spent Little Or No Money On That Was Awesome:
Watching the sunset on the beach in old Jaffa, it's free and one of the most beautiful sunsets sights I've ever seen.
Favorite Thing I Did, Regardless Of Cost:
Renting a boat for a few hours from the old Jaffa port! Depending on the type of boat, it can run you from $100 to $1,000 an hour, though it's not that bad when you're splitting costs.
Hidden Gem I Found:
This beautiful little village in the north called Zikhron Yaakov (about one hour from Tel Aviv)! It is filled with so many small shops of artisanal crafts made by local artists. If you go, please make sure to check out my relative's beautiful shop: Yetzira Mekomit.
The Photo I Took That Got The Most Attention:
Ahh, the hummus... I'm not so "social media savvy," but this seemed to be a favorite amongst all my friends who haven't traveled to Israel — hummus is a very big delicacy across the Middle East — so much so that they created an "International Hummus Day" on May 13! This happened to be my favorite hummus that I tried on this trip to Israel, located in the Druze village of Daliyat-al Karmel. (Another great hummus place is in the village of Abu Ghosh, near Jerusalem.)
Excursions/Extras Total: $300
General Shopping: $40
Souvenirs: $60
I love my collection of dead sea skincare and the artisanal crafts from the little boutiques I bought, like my relative's store in Zikron Yakov.
I would not recommend shopping for clothing in Israel in stores like Zara, H&M, and any other store you could probably find in the malls. It's overpriced (it is much cheaper in the U.S.), so if you can, go to any street market in TLV, like "Shuk HaCarmel" — if you're not good at negotiating, bring an Israeli.
Souvenirs/Shopping Total: $100
Best Tel Aviv Hack:
Don't be afraid to be direct and let people know exactly what you want! You will discover that Israelis are very forward, it may sometimes come off as rude, but they generally mean it as good-hearted and genuine.
Advice For Anyone Traveling Alone:
Despite what you hear, Israel — and Tel Aviv in particular — is a very safe place. In fact, it is one of the places that I've lived and felt most safe in — women can go out alone at night and, generally speaking, not have to worry about getting harassed. On the other hand, you don't want to be naïve, it's still a city like any other, and general rules, such as not letting your handbag unattended (especially at the beach!), and accepting drinks from strangers, definitely still apply.
Total Trip Cost: $2,144
Worth It? Yes... I found my long-lost relatives, made lifelong friendships, and lived there for three years! If that's not an endorsement, I don't know what is!