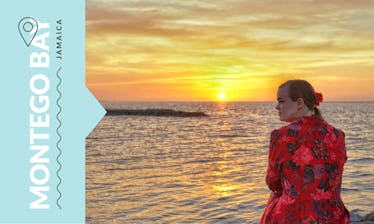 Wander or Bust: Montego Bay, Jamaica Takes Relaxation To A Different Level
Wander or Bust is an Elite Daily travel series that follows young women all over the globe to record their journeys as they experience the thrill of the far-flung and unknown.
They'll track their budgets, where they stay, where they eat and drink, and where they took that amazing Instagram that got them ~maximum exposure.~ The internet is full of travel advice, but none from women just like you. Read on for the tips no one else gives you, and when in doubt, get on the plane.
Here's Katie Lockhart's Wander Or Bust guide to Montego Bay, Jamaica.
My Name: Katie Lockhart
What I Do: Freelance food and travel writer
Where I Live: Brooklyn, New York
Where I Went: Montego Bay, Jamaica
How Long I Stayed: 4 days, 3 nights
My Spending Style: Occasionally indulgent
Where I Got My Recommendations:
Instagram, actually. I saw a few posts about overwater bungalows in Jamaica and found my hotel through the geotag feature.
Exchange Rate At Time Of Travel: $1 USD = $125.90 JMD
What That Looks Like IRL: $50 USD = $6,295 JMD
Preferred Payment Method: Credit card mostly, but I tip in cash. There were no ATMs on the resort, so I brought extra cash with me.
Phone Bill: Same as usual. T-Mobile has unlimited roaming in most countries outside of the U.S. The resort also had great WiFi.
Mode of Transport: Airplane
Price: $400
Extra Costs: My resort arranged pickup when I booked the room at no extra charge.
Transport Total: $400
Accommodation: Sandals Montego Bay
Location: It was directly parallel to the airport on the other side facing the ocean. It was gorgeous!
Price: $500/night — but it was all-inclusive.
Extra Costs: Everything was included, except money for tipping.
Would I Recommend It To Someone Else:
Yes, 100 percent! It exceeded all of my expectations about what an all-inclusive resort could be.
Accommodation Total: $4,000
Breakfast-Lunch Cost: $0/day
Dinner Cost: $0/day
Average Total Cost: $0/day
Tip Situation: Generally around 10 percent.
Food Situation:
The food was and is always my favorite part! We got room service ordered to the room daily and usually had some fruit and coffee on the balcony overlooking the ocean. Sandals has endless cocktails and oven-fired pizzas, so we ate that for lunch. For dinner, there were 11 dining options, since you can access the nearby Sandals resort too. For some, including the Italian and French restaurant, you have to book a reservation. We mostly had heavy dinners, and they were all surprisingly delicious.
Favorite Restaurant: Cucina Romana, within the Sandals resort
Location: Kent Avenue, Montego Bay, Jamaica
Price: $0
Food Total: $10, just for tipping!
Nightlife Situation:
The nightlife at the resort was pretty low-key, as it's a romantic couple's destination. They had four bars, including an authentic Irish pub. One night after the resort's weekly beach BBQ, some dancers from the entertainment portion invited us to the pub, and we danced with everyone until about 1 a.m. We also heard from the staff that nearby Margaritaville and Rehab were good clubs that locals go to and are safe for tourists .
What People Wear Out:
It's low-key for sure. A flowy dress or some shorts and a top. Remember: Heels don't do well in the sand.
Average Cost Of A Pint: $0, with drinks included.
Extra Cost To Know About:
If you're looking to go out off the resort, the taxi costs about $20 each way.
Last Call: Between 2 a.m. and 4 a.m.
Average Total Cost Of A Night Out: $0, unless you're going off resort
Cheapest Bar I'd Actually Go Back To:
I had a great time at the Cricketer's Pint, the Irish pub, so I would go back. Other than that, it was a lot of drinking on our porch or drinking on the beach during the day.
Going Out Total: $0
What I Spent A Lot On That Was Totally Worth It:
I spent $80 on an excursion in the Jamaica jungle with Island Routes. We went river tubing down the Great River and sipped on complimentary rum punch the entire time.
What I Spent A Lot On That Was Totally Not Worth It:
Since it was all-inclusive, there were no real extra costs. But the $20 taxi fee to go off the resort is a bit steep.
What I Spent Little Or No Money On That Was Awesome:
Honestly, the entire experience felt like I didn't have to pay for food or drinks, which was amazing. Of course, the cost is included in the price of the room, but feeling like it's free makes it even better.
Favorite Thing I Did, Regardless Of Cost:
I'm a big beach person, so relaxing on a lounge chair with a strawberry daiquiri in hand and a pizza in my lap doesn't get much better.
Hidden Gem I Found:
Toward the very end of the Sandal's property there were incredibly cute, charming houses you could stay in. They had their own quiet beaches with jetties perfect for watching the sunset.
The Photo I Took That Got The Most Attention:
Excursions/Extras Total: $100
General Shopping: $0
Souvenirs: $0
Souvenirs aren't really my thing!
Souvenirs/Shopping Total: $0
During our time at Sandals, the staff were so incredibly kind, thoughtful, and nice everywhere we went. This included our tour with Island Routes. Our guide was 100 percent Jamaican in every way, and his energy was incredible. It made my experience so memorable because I can't remember a time when locals were so nice to me as a tourist.
Best Montego Bay Hack:
Book in advance to ensure that flights prices or room prices don't go up.
Advice For Anyone Traveling Alone:
Enjoy it! I find that way too many people, especially women, are concerned about traveling alone. In reality, its one of the most freeing experiences you can have because you do whatever you want, whenever you want. It's a recipe for a really great trip.
Total Trip Cost: $4,510
Worth It? Absolutely.