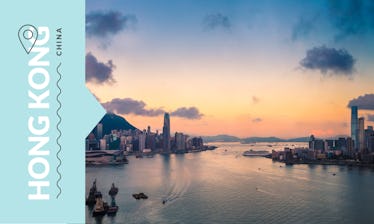 Wander Or Bust: Hong Kong Shares Your Love Of Take-Out
Wander or Bust is an Elite Daily travel series that follows young women all over the globe to record their journeys as they experience the thrill of the far-flung and unknown.
They'll track their budgets, where they stay, where they eat and drink, and where they took that amazing Instagram that got them ~maximum exposure.~ The internet is full of travel advice, but none from women just like you. Read on for the tips no one else gives you, and when in doubt, get on the plane.
Here's Meshalini Govender's Wander Or Bust guide to Hong Kong, China.
My Name: Meshalini Govender
What I Do: English as a Second Language (ESL) Teacher in China and Freelance Writer
Where I Live: Shenzhen, China
Where I Went: Hong Kong
How Long I Stayed: 2 nights
My Spending Style: Occasionally indulgent. I don't throw money around, but I will definitely splurge on more than a few expensive things on a vacation.
Where I Got My Recommendations: I talked to my friends who have lived in China longer and, therefore, have ventured out on numerous occasions to Hong Kong. They made a couple of suggestions, and the Ngong Ping cable car trip was highly recommended. However, I mostly did some good old-fashioned research and dug through archives on the internet.
Exchange Rate At Time Of Travel: $1 USD = 7.85 HKD
What That Looks Like IRL: $50 USD = 392.5 HKD
Preferred Payment Method: Mostly my UnionPay and Visa Debit cards, as well as cash, which can be drawn from ATMs without a hassle. Money can be changed without a problem, too, at foreign exchange counters at train stations and metros.
Phone Bill: My phone bill remained unchanged, as I did not use data roaming, but instead succumbed to the mercy of WiFi connectivity. Thankfully, most restaurants, popular convenience stores like Circle-K, and my Airbnb all had WiFi.
Mode of Transport: Train
Since I'm currently staying in Shenzhen (a tier-one city neighboring Hong Kong), I merely needed to commute via train to cross into Hong Kong.
If you don't live as close as I do, a typical flight from New York to Hong Kong is generally $900 to $1,400, depending on the time of year you're traveling.
Price: $1
Extra Costs:
Once I arrived at the border at Futian Checkpoint (between Shenzhen and Hong Kong), I needed to get from the train station at Lok Ma Chau (the main train station in Hong Kong) to my Airbnb. I stayed in Kowloon, and opted to buy an Octopus Card (the Hong Kong subway card), which costs $19, and to commute via train to the nearest station. It ended up costing about $5 (of that $19) to reach my Airbnb.
Transport Total: $20
Accommodation: I stayed in an AirBnB.
Location: Accommodation was located in Kowloon, in a rather central area and only a handful of minutes from both the metro stations Whampoa and Hung Hom.
Price: $118/night
Extra Costs: $0
Would I Recommend It To Someone Else: Yes, definitely. The place was comfortable, clean, and conveniently central.
Accommodation Total: $236
Breakfast-Lunch Cost: $25-$35/day
I could have comfortably eaten both breakfast and lunch for around $20, but lunch cost me slightly more on the second day, and averaged out at around $30, because I splurged on brunch.
Dinner Cost: $30/day
It costs around $30 if you're eating at an average restaurant, but you can get street food for less than $10 if you're on more of a budget.
Average Total Cost: $60/day
Tip Situation: Yes. Tipping is a major part of Hong Kong restaurant and bar culture, with menus even specifying that 10 percent is acceptable.
Food Situation:
The food culture in Hong Kong is all about eating out and fast foods; there all kinds of foods available 24/7 on every street corner. There's something for everyone, so you shouldn't be intimidated.
Favorite Restaurant: My favorite restaurant was Ebeneezer's, an Indian and Middle Eastern take-out restaurant. I ate at the one located on Lantau Island, but it seems as if it is a chain outlet, with many more being located all over Hong Kong too.
Location: Lantau Island
Shop no. 9A, G/F, Ngong Ping Theme Village, Ngong Ping, Lantau Island, Hong Kong
Price: I paid $9 for a (gigantic) falafel wrap.
Honorable Mentions: Having lived in Asia now for almost two months, I was longing for something familiar, reliably tasty and vegan, and definitely not something traditional. My wrap was served quickly, with fresh ingredients in a notably large portion size.
Food Total: About $65, but only because I decided to scrap the street food and instead spend more than was absolutely necessary in nicer restaurants.
Nightlife Situation:
In Hong Kong, there is definitely a massive emphasis on nightlife, varying from casual drinking spots, high-end and overpriced bars, to hip and exclusive clubs. Popular streets like Nathan Road and Knutsford Terrace are the most notable for pubs and bars.
What People Wear Out: Everyone seems to dress according to their own preferences. It seemed entirely normal to see a group of people dressed formally, in suits or heels, and then right behind them, another group in shorts and sneakers. I think attire is also dependent on the type of venue you're heading to, with the more high-end places specify that at least smart casual needs to be worn.
Average Cost Of A Pint: The average cost of beer is around $7, but an average bar can charge almost $11.
Extra Cost To Know About: Taxis to get back to where you're staying because it is likely that the subway and metro has closed by the time you are ready to head back after your night out.
If you find yourself in Hong Kong's elite bars — especially the ones that proudly flaunt a rooftop status — be prepared to pay service fees and tip for drinks and snacks.
Last Call: On average, around 2 a.m., but many stay open well into the morning.
Average Total Cost Of A Night Out: A decent night out can cost anywhere between $60-$70.
Cheapest Bar I'd Actually Go Back To: Ned Kelly's Last Stand had a notable happy hour.
Going Out Total: $40
What I Spent A Lot On That Was Totally Worth It: A trip to Lantau Island.
What I Spent A Lot On That Was Totally Not Worth It: Nothing, I tend to budget methodically, so I only spent money on what I knew I would enjoy.
What I Spent Little Or No Money On That Was Awesome: Walking through Sneaker Street and Ladies Market.
Favorite Thing I Did, Regardless Of Cost: The Ngong Ping cable car is definitely not overrated, despite the almost $40 price attached.
Hidden Gem I Found: Despite the impressive reputation of Aqua Spirit Rooftop Bar, the Bar itself is hidden away on the 29th floor of an unmarked building, with no signage on the exterior indicating that the bar in fact, is indoors. OM Tapas is a Spanish restaurant offering brunch and a decent menu with food I truly enjoyed, and with a respectable drinks menu to match. This is definitely a gem.
The Photo I Took That Got The Most Attention: A snap of Ladies' Market:
Excursions/Extras Total: $65
General Shopping: None
Souvenirs: None, I do not really indulge in souvenirs, but I did grab a magnet for the folks back home.
Souvenirs/Shopping Total: $7
Best Hong Kong Hack: When buying an Octopus Card to get around on the subways and via public transportation, make sure the assistant at the counter gives you a free little map of the metro lines. It really does make navigating around much easier.
Advice For Anyone Traveling Alone: Hong Kong is brimming with travelers and expats, and I felt very safe throughout my visit.
Total Trip Cost: $450
Worth It? Totally.