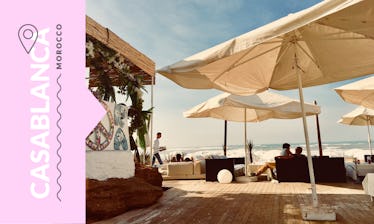 Wander Or Bust: Casablanca Still Offers What You Can't Get At Home
Wander or Bust is an Elite Daily travel series that follows young women all over the globe to record their journeys as they experience the thrill of the far-flung and unknown.
They'll track their budgets, where they stay, where they eat and drink, and where they took that amazing Instagram that got them ~maximum exposure.~ The internet is full of travel advice, but none from women just like you. Read on for the tips no one else gives you, and when in doubt, get on the plane.
Here's Nina Carneiro's Wander Or Bust guide to Casablanca, Morocco.
My Name: Nina Carneiro
What I Do: Media and branding consultant
Where I Live: New York, New York
Where I Went: Casablanca, Morocco
How Long I Stayed: 4 days, 3 nights
My Spending Style: Occasionally indulgent. I don't throw money around, but I will definitely splurge on more than a few expensive things on a vacation.
Where I Got My Recommendations: I was lucky to have friends in Morocco who are well-versed in hospitality, but the internet (blogs, Trip Advisor, Lonely Planet) does offer a plethora of insight into the various destinations in Morocco.
Exchange Rate At Time Of Travel: $1 USD = 9.37 MAD
What That Looks Like IRL: $50 USD = 467.73 MAD
Preferred Payment Method: It is safest to aim to pay for everything in cash, in case a restaurant's credit card system is down or they only accept cash, like the taxis and the local markets.
Phone Bill: Pick up a cheap pre-paid SIM card at the airport from provider Maroc Telecom. 50 dirhams of phone credit and 50 dirhams of internet credit should be sufficient for the trip (a total of approximately $9.37 dollars).
Mode of Transport: Airplane
An international round-trip nonstop economy flight from New York (JFK) to Casablanca with Royal Air Maroc airline will cost around $1,200 USD with two stowed pieces of luggage included. If you have the time, cheaper options are available with stops in Europe.
Price: $1,200
Extra Costs: A taxi should cost you no more than $25-$35 each way.
Transport Total: $1,260
Accommodation: I stayed in an Airbnb for three nights during my stay. The Airbnb was a clean, modern two-bedroom duplex. The host was welcoming and helpful, and spoke some English.
Location: The apartment was located in a brand new, safe neighborhood called Casa Anfa, the new financial district, overlooking a large park.
Price: $85/night, and the apartment was substantially less than a hotel — a 3-star hotel can run you $100 per room per night. No toiletries are included.
Extra Costs: None.
Would I Recommend It To Someone Else: Absolutely! The neighborhood was nice and the price was right.
Accommodation Total: $255
Breakfast-Lunch Cost: $30/day
At the lower end of the scale, at a no-frills grill at a local market, I spent $20 on lunch for a huge meal of grilled fishes, vegetables, and bread. The most expensive lunch at a chic waterfront restaurant can run you $40.
Dinner Cost: $50/day
I mostly ate at trendy restaurants that run you $40 to $60 with an alcoholic beverage or two.
Average Total Cost: $80/day
Tip Situation: There is no rule for tipping, but I left something around 10 percent of the bill if the waiter was nice or efficient.
Food Situation: Locals mostly eat Moroccan food at home or international food at restaurants. Expatriates and tourists mostly eat out, with a large variety of restaurant options available. They eat large meals throughout the day.
Favorite Restaurant: La Sqala
The traditional meal of couscous with meat and vegetables was delicious and filling. It is a Casablancan mainstay that has been around forever, located near the port, not far from the medina.
Location: Boulevard des Almohades, Casablanca 20250, Morocco
Price: $20
Food Total: $195
Nightlife Situation: In a classically Mediterranean fashion, Moroccans love to party. You will find luxurious lounges and sprawling nightclubs with DJs playing Ibiza-style electronic music. There are also smaller bars available for those who prefer a beer and some live music.
As a note, foreigners are allowed to consume alcohol throughout the year in restaurants or bars. However, during the holy Islamic month of Ramadan (the dates change every year but it falls approximately from May 15 to June 15 in 2018), many locals do not drink alcohol and therefore do not go to bars and nightclubs. By contrast, the summer months of July and August are the busiest, with Moroccans from all over the world coming back to the country to see family. Plan your dates accordingly depending on your desired activities.
Here's the view from Trocadero Playa, a popular and beautiful lounge in Casablanca.
What People Wear Out: I went to trendy restaurants where women generally dress up to the latest fashions — heels, mini dresses, makeup etc., like you see in most major cities.
Average Cost Of A Pint: $4 to $6, depending where you are.
Extra Cost To Know About: Not really!
Last Call: 2 a.m.— although you will find options that are open until about 4:30 a.m.
Average Total Cost Of A Night Out: $45
Cheapest Bar I'd Actually Go Back To: La Bodéga
Going Out Total: $100
What I Spent A Lot On That Was Totally Worth It:
Nothing cost a lot of money, but the guided tour at Hassan II mosque (cost: $14 USD) was definitely worth paying for. The mosque is enormous and the guides provide a suitable context of history and religion to the architecture.
What I Spent A Lot On That Was Totally Not Worth It:
Everything in Casablanca was beautiful and nothing was so exorbitantly expensive that I felt like I wasted money on it.
What I Spent Little Or No Money On That Was Awesome:
It costs nothing to visit the local markets ("souks") in the old historic neighborhood ("medina"). It's a rich cultural experience watching locals negotiate for their goods and taking in the vibrant sights and pungent smells of spices.
Favorite Thing I Did, Regardless Of Cost: I enjoyed visiting the authentic local markets and eating simple grilled fish Moroccan style. Can't get that in New York!
Hidden Gem I Found: Musee Abderrahman Slaoui
This gorgeous museum is a little small but so full of character you probably won't even notice. You can grab some mint tea and enjoy.
The Photo I Took That Got The Most Attention:
It was probably this photo of Hercules Grotto on an excursion I did to Tangiers.
Excursions/Extras Total: $14
General Shopping: $0
Souvenirs: $0
I didn't bring back any souvenirs, but if that's something you're into, make sure to negotiate prices — it's half the fun!
Souvenirs/Shopping Total: $0
Best Casablanca Hack: Relax and have fun! It is helpful to have a French or Arabic speaker with you, as few people speak English outside of tourist attractions.
Advice For Anyone Traveling Alone: As a woman traveling in the country, often carrying out activities alone (including public transportation), I not only felt safe but thoroughly welcomed, with locals going the extra to mile to help when I was lost. So be calm and enjoy yourself!
Total Trip Cost: $1,824
Worth It? Morocco is a gorgeous country full of hidden treasures and history. It's absolutely worth a visit – and maybe a few more.