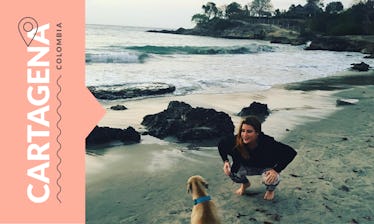 Wander Or Bust: Cartagena Is The Stuff #Foodie Dreams Are Made Of
Wander or Bust is an Elite Daily travel series that follows young women all over the globe to record their journeys as they experience the thrill of the far-flung and unknown.
They'll track their budgets, where they stay, where they eat and drink, and where they took that amazing Instagram that got them ~maximum exposure.~ The internet is full of travel advice, but none from women just like you. Read on for the tips no one else gives you, and when in doubt, get on the plane.
Here's Juliette Breindel's Wander Or Bust guide to Cartagena, Colombia.
My Name: Juliette Breindel
What I Do: Risk Management for a French investment Bank
Where I Live: New York City, New York (USA)
Where I Went: Cartagena, Colombia
How Long I Stayed: 7 days, 6 nights
My Spending Style: Thrifty. I'm always on the lookout for a deal, and I refuse to pay full price for anything.
Where I Got My Recommendations:
I got most of my recommendations from friends who had visited and from locals I met while traveling. Your taxi driver is almost always an amazing resource.
Exchange Rate At Time Of Travel: $1 USD = $2,805 COP
What That Looks Like IRL: $50 USD = $140,275 COP
Preferred Payment Method: Cash or credit — but be sure to carry cash for the places that don't take cards. Especially if you're shopping or taking taxis.
Phone Bill: I didn't use my phone there at all, so the same as normal!
Mode of Transport: Airplane
Price: $360
Extra Costs: A taxi from the Cartagena airport to the city center is about $5 USD.
Transport Total: $370
Accommodation: I split my stay between an Airbnb (Casa Marta) and a hotel (Blue Apple Beach House).
Location: The Airbnb was in a hip, up-and-coming neighborhood called Getsemani.
The hotel was on an island about 40 mins away from the old city, Isla Tierra Bomba. If you want a few days to relax by the beach, I HIGHLY recommend it!
Price: Airbnb: $75/night; Hotel: $175/night
Extra Costs: If you choose to stay overnight on an island, the boat fee will be about $17 USD round trip (a regular day trip to a nearby island is about $60 USD).
Would I Recommend It To Someone Else:
Yes — I loved the Getsemani neighborhood, and the Blue Apple resort was so beautiful and relaxing!
Accommodation Total: I split between three friends, so I ultimately only paid $175.
Breakfast-Lunch Cost: $15/day — the hotels generally included breakfast.
Dinner Cost: $27/day — with a drink or two.
Average Total Cost: $42/day
Tip Situation: The restaurants I went to generally had the tip included in every meal.
Food Situation:
You will be in ceviche heaven. There are great places to eat out in Cartagena — everything is made with fresh/local ingredients. There's excellent street food (highly recommend trying the arepas) but also light and healthy options as well.
Favorite Restaurant: Cuba 1940
Location: Calle Stuart No 7-46 Plaza San Diego, Cartagena 130001
Price: $25
It was local authentic food prepared well with fresh ingredients — and it was all very affordable.
Food Total: $175
Nightlife Situation:
Cartagena has a booming nightlife — it's a party city mainly because of the university, and it's an attractive city for young tourists from all over the world
What People Wear Out:
It's a mix, really. A lot of people like to dress up to go to the nightclubs, but you'll find that many people keeping it casual (t-shirts and flip flops) to go to the bars. It depends on what you're looking to do.
Average Cost Of A Pint: As low as $2 in neighborhood joints and as high as $6 in the more tourist-heavy areas.
I drank cocktails the whole time in Colombia — drinks are very cheap compared to what they cost in most cities in the U.S. You can get a nice cocktail for $4-$5 USD.
Extra Cost To Know About: Some places charge covers for entrance, like Cafe Havana (but it's definitely worth it if you enjoy live Cuban music).
Last Call: The party keeps going. Most places shut around 3-4 a.m.
Average Total Cost Of A Night Out: $20
Cheapest Bar I'd Actually Go Back To: Alquímico
It wasn't necessarily the cheapest, but it's still affordable and definitely my favorite bar in Cartagena! The delicious experimental-mixologist quality cocktail with the freshest ingredients (about $7 USD) was totally worth it!
Going Out Total: $100
What I Spent A Lot On That Was Totally Worth It:
I went on a day trip to Bendita beach. I recommend it over and over again — the water is gorgeous and you get to see paradise. How could it not be worth it?
What I Spent A Lot On That Was Totally Not Worth It:
I can hardly think of a single thing I did that wasn't worth it while traveling, but I will say to be cautious of what look like tourist traps in general. It's easy to get caught up in the crowds, but the general local choices are infinitely better and cheaper. Can't get much better than that.
What I Spent Little Or No Money On That Was Awesome:
Exploring the bright colors and sounds of the Getsemani district — particularly the street art, which is just beautiful to look at (and take pictures of).
Favorite Thing I Did, Regardless Of Cost:
We went out to explore several different beaches and coasts while I was in Cartagena. Finding a tour that takes you anywhere on the water will be well worth the money you spend. The water is gorgeous, and sometimes you manage to get unobstructed space on a white sand beach to take all the pics you've ever dreamed of.
Hidden Gem I Found:
The indoor garden/cultural center by the university! It's a nice and quiet place to sit for a coffee while you're in the bustle of the city center. It's so tranquil, you may just start accidentally meditating or napping, so be careful.
The Photo I Took That Got The Most Attention:
This photo of my tropical breakfast I ate when I woke up on the Tierra Bomba island.
Excursions/Extras Total: $150
General Shopping: $0
Souvenirs: $20
I brought back a few weaved baskets and artisanal crafts made by the locals.
Souvenirs/Shopping Total: $20
Best Cartagena Hack:
Definitely try to bargain when going shopping in Cartagena, especially in the open markets. It's kind of like a sport. The same goes for taxis and in shops.
Advice For Anyone Traveling Alone:
Take a moment to speak to the locals; the people are so friendly, interesting, and welcoming (but also make sure to be cautious especially if you're a girl going out at night... like in any city).
Total Trip Cost: $990
Worth It? Every minute of it — I highly recommend!