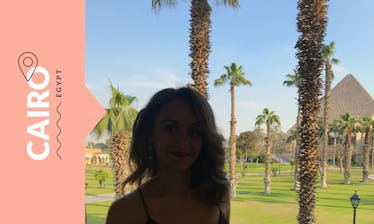 Wander or Bust: Cairo Isn't Just Pyramids (Though, Yes, Pyramids)
Wander or Bust is an Elite Daily travel series that follows young women all over the globe to record their journeys as they experience the thrill of the far-flung and unknown.
They'll track their budgets, where they stay, where they eat and drink, and where they took that amazing Instagram that got them ~maximum exposure.~ The internet is full of travel advice, but none from women just like you. Read on for the tips no one else gives you, and when in doubt, get on the plane.
Here's Meriam Raouf's Wander Or Bust guide to Cairo, Egypt.
My Name: Meriam Raouf
What I Do: Copywriter
Where I Live: Brooklyn, New York
Where I Went: Cairo, Egypt
How Long I Stayed: 10 days, 9 nights
My Spending Style: Occasionally indulgent. I don't throw money around, but I will definitely splurge on more than a few expensive things on a vacation.
Where I Got My Recommendations:
I've been visiting Egypt since I was a kid; we have an apartment in Cairo. I also, through the recommendation of friends, I also took a small trip to Gouna and rented a place there.
Exchange Rate At Time Of Travel: $1 USD = £17.80 EGP
The entire time I'm in Egypt, I feel like Sean Paul circa 2003, just buying everyone drinks and wearing unnecessary furs. The nearly 18:1 ratio last time I was there makes me sad for the Egyptian economy, but happy for my ability to pretend I'm Sean Paul in his prime.
What That Looks Like IRL: $50 USD = £890 EGP
Preferred Payment Method: Cash — and you will need it!
Phone Bill: I bought a big data SIM card when I arrived, so I didn't pay an extra on my regular bill.
Mode of Transport: Airplane
Price: $900
I got this flight price a little cheaper; if you're booking more spontaneously, you can expect to pay $1,200.
Extra Costs: I paid for taxis to and from the airport as well as for extra baggage for things to bring to our relatives. It was probably an additional $200.
Transport Total: $1,100
Accommodation: Apartment
I have an apartment in Cairo already, but there are a few ways you can stay for relatively cheap in the city. A nice enough hotel will run you about $50-$100/night. An Airbnb will cost about $30-$50. Accommodation is very affordable.
Location: Heliopolis, which I'm told is like the Upper West Side of Cairo. Safe, rich, and lame.
Price: $0/night
Extra Costs: None because it was my own place, but if you were to do an Airbnb, there would be taxes and cleaning fees attached.
Would I Recommend It To Someone Else:
You can't stay in my house, but there are several brand recognized hotels with locations in city center Cairo that are really cheap, so I do recommend those.
Accommodation Total: $0
Breakfast-Lunch Cost: $15/day
Breakfast is cheap as hell. I spent $15 a day in luxurious restaurants and cafes.
Dinner Cost: $30/day
Average Total Cost: $45/day — and that's if you're being bougie; you can easily spend under $20.
Tip Situation:
People tip for everything in Egypt — around 10 percent is normal. You'll find that it's quite negligible given the price of everything.
Food Situation:
Dinner is the biggest meal in Cairo, and it's what most people spring for. It isn't expensive, however. As far as the cuisine, think cheap and tasty — like a halal cart had a health-conscious brother.
Favorite Restaurant: The Smokery
Location: 58 Beirut St. Heliopolis — although there are locations closer to city center.
Price: $40
Food Total: $300
Nightlife Situation:
Cairo is really big on sitting in each other's company, and enjoying that. There's a lot of hookah. People watch soccer. There's also a ton of little pipelines to small communities that are all really insular. From bougie socialites to musicians to an underground gay scene, there are all kinds of different people you might not expect heading out in the evening hours.
What People Wear Out:
It really depends on which place we're talking about. I went to a lot of hole-in-the-wall bars where people dress up a bit, but it's like New York. You can go to nicer places and dress up and a little less-nice places and dress down. What was perhaps most surprising was how having money makes the rules of conservatism disappear.
Average Cost Of A Pint: $1.50
Extra Cost To Know About: You may have to take an Uber or Kareem (an Uber-like service available in certain Middle Eastern and Arabic-speaking countries).
Last Call: Some bars close at 12 a.m., others 3 a.m., and some club venues stay open until sunrise.
Average Total Cost Of A Night Out: $50
Cheapest Bar I'd Actually Go Back To: Cairo Cellar
Going Out Total: $200
What I Spent A Lot On That Was Totally Worth It:
Having come to Cairo since I was a child, there isn't as much impetus to do all the amazing tourist things that are available. That said, taking a trip or a guided tour to see the Giza pyramids and sphinx is well worth the cost. Most tours will probably run you around $30.
What I Spent A Lot On That Was Totally Not Worth It:
There is literally almost nothing in Cairo that you can spend too much money on.
What I Spent Little Or No Money On That Was Awesome:
Juice. The fruits are just fresher, and there's no corporation that's hawking it for a ridiculous $6 in a designer bottle. Take advantage of how refreshing everything tastes — you'll miss it when you leave.
Favorite Thing I Did, Regardless Of Cost:
Some of the coolest things in Cairo can be found in the Egyptian Museum. Egyptian artifacts are from years Americans can't even imagine. The history is astounding, and seeing it all in one place is definitely a great trip.
Hidden Gem I Found: Lehnert and Landrock Bookshop
This bookshop features books from all around the world in a host of different languages. It was founded by two travel writers who settled in downtown Cairo and set up shop. The collection is amazing!
The Photo I Took That Got The Most Attention:
Excursions/Extras Total: $100
General Shopping: $400
Souvenirs: $0
Nothing too special, but I had a lot of room in my bag after dropping off the things I brought for my family, so I decided to go shopping!
Souvenirs/Shopping Total: $400
Best Cairo Hack:
Leave Cairo. Go to the beach. Go to Luxor, go to Aswan. Ignore your guidebooks and ask Egyptians what they do for fun.
Advice For Anyone Traveling Alone:
If you're not Egyptian, find an Egyptian. It always helps to have a guide take you around — Cairo is the city of hustlers, and you will get hustled without a native to help you out. Women, dress like it's 1950, and don't walk alone.
Total Trip Cost: $2,100
Worth It? Always — and I'm not just saying that because I'm biased.