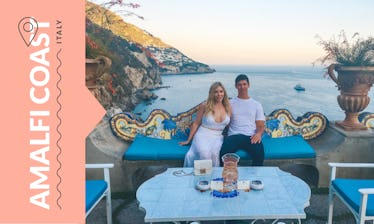 Wander or Bust: The Amalfi Coast May Just Be The Most Beautiful Thing You'll Ever See
Wander or Bust is an Elite Daily travel series that follows young women all over the globe to record their journeys as they experience the thrill of the far-flung and unknown.
They'll track their budgets, where they stay, where they eat and drink, and where they took that amazing Instagram that got them ~maximum exposure.~ The internet is full of travel advice, but none from women just like you. Read on for the tips no one else gives you, and when in doubt, get on the plane.
Here's Kaylin Pound's Wander Or Bust guide to the Amalfi Coast in Italy.
My Name: Kaylin Pound
What I Do: I'm a freelance writer and entrepreneur.
Where I Live: Manhattan, New York
Where I Went: Amalfi Coast, Italy
How Long I Stayed: 6 days, 5 nights
My Spending Style: Extravagant. I spend without consequence; I'd rather have a good time than be on a budget.
Where I Got My Recommendations:
We used a travel agent as well as advice from a friend who lives in Capri. Plus, we did a lot of research using Trip Advisor, travel blogs, and social media.
Exchange Rate At Time Of Travel: $1 USD = €0.84
What That Looks Like IRL: $50 USD = €41.80
Preferred Payment Method: We primarily used credit cards, except for the taxis, which only accept cash.
Phone Bill: I signed up for the $10/day international plan.
Mode of Transport: Airplane and private transfer.
My boyfriend and I started our trip by flying from New York to Munich and traveling around central Europe. From there, we used EasyJet to fly to Naples and then took a boat to Capri.
Price: The initial flight to get over to Europe cost $1,400. Then, the EasyJet flight to Naples was $300. Plus, $1,000 for the private transfer to Capri.
Extra Costs: Yes, there was also the cost of the taxis to and from the airports, as well as the taxi from the port in Capri to our hotel.
Transport Total: $2,700
Accommodation: We stayed at the Capri Palace Hotel & Spa for three nights and then we joined the rest of my boyfriend's family and stayed on a boat for several days.
Location: Our hotel was located in the middle of Anacapri, which is at the very top of the island.
Price: $3,550/night
Extra Costs: Extra costs included room service for breakfast, taxes, currency exchanges, and tips for the bellhop.
Would I Recommend It To Someone Else:
Yes! The Capri Palace was one of the most beautiful hotels I have ever stayed in. The rooms were clean, spacious, and elegantly decorated in shades of blue and white. Our room also had a big terrace that offered amazing views of the ocean. The hotel also had a stunning pool, several nice restaurants, a lounge, and a spa. Anacapri is a little bit more secluded than Capri, so if you're looking for a relaxing place to stay, you can't go wrong with the Capri Palace.
Accommodation Total: $10,700
Breakfast-Lunch Cost: $40/day
The hotel had a complimentary breakfast buffet and the cost of lunch greatly varied depending on where we ate. But on average, it cost approximately $40 per person.
Dinner Cost: $70/day
We mostly went to high-end restaurants, so dinner cost about $70 per person on average. But you can definitely find less-expensive dining options on the island.
Average Total Cost: $110/day
Tip Situation: Like most places in Italy, it is not expected to tip. But some people will tip 10-15 percent for great service.
Food Situation:
Most restaurants serve regional Italian dishes like Caprese salad, fresh pastas, sea bass, and chocolate almond cake. Lemons grow all over the island so you'll find them incorporated into a lot of the dishes. Everyone also drinks limoncello, a sweet lemon liqueur, that's really strong. People eat dinner pretty late, around 9:30 or 10 p.m. and it's a long, drawn-out meal with a lot of family-style food.
Favorite Restaurant: My favorite restaurant was Da Paolino.
Location: Via Palazzo a Mare, 11 80073 Capri (NA), Italy (Located above Marina Grande on the north side of Capri.)
Price: $75
This charming, rustic restaurant has a gorgeous outdoor dining room that's covered by a thick canopy of lemon trees. As far as the food, the restaurant serves classic Capri fare and local wines that are just as good as the ambiance. We ordered burrata, salad, an assortment of fresh pastas, and branzino. Everything was delicious. Plus, they also have a self-serve dessert bar that does not disappoint by any means.
Food Total: $600
Nightlife Situation:
Capri has some great wine bars and pubs, or if you're really looking to turn up you can head to a taverna, which is like a nightclub that offers live music and dancing. There are also some great bars that overlook the water in Positano.
What People Wear Out:
Depending on where you go, casual to something a bit more elegant. Maxi skirts and white linen pants tends to be very popular in the summer.
Average Cost Of A Pint: I didn't drink any beer during the trip, but a cocktail or glass of wine typically costs $10-$15.
Extra Cost To Know About:
Most of the bars are located in Capri, so if you stay in Anacapri, as we did, you'll need to pay for taxis which cost about $20 each way. Also, some of the nightclubs charge cover fees that can be up to $40.
Last Call: It varies. A lot of the restaurants start closing around midnight while the bars and clubs stay open until 2 a.m. or later.
Average Total Cost Of A Night Out: The average cost of going out was about $80 per person.
Cheapest Bar I'd Actually Go Back To:
I didn't really go to any cheap bars during my trip, but my favorite bar that I would definitely go back to was at Il San Pietro Di Positano. The hotel bar has really good cocktails and a gorgeous garden terrace that overlooks the ocean.
Going Out Total: $400
What I Spent A Lot On That Was Totally Worth It:
One thing that was definitely worth the money was the private beach clubs. We went to Il Riccio and La Fontelina beach club during our trip and really enjoyed them. We also did excursion to the ruins of Herculaneum, an ancient Roman town located at the base of Mount Vesuvius, which was destroyed by a volcanic eruption in 79 AD. It's a great day trip if you love Roman history. Everything is really well preserved and it's fascinating to see how the Romans lived back then.
What I Spent A Lot On That Was Totally Not Worth It:
A boat tour to go swimming at some of the lesser-known grottos around the island. Under normal conditions I think it would have been fun, but our boat wasn't that big (it was one of those inflatable rafts with a motor on the back) and the seas were really rough that day. So overall, the whole experience ended up being pretty terrifying.
What I Spent Little Or No Money On That Was Awesome:
We went to the blue grotto, an infamous sea cave in Capri that has blue glowing water. It costs about $10 per person. You get into a rowboat and duck down to make it through a small jagged opening in the cave. Once you're inside they spend about 10 minutes rowing you around the mesmerizing cave as they serenade you with Italian songs. It's definitely a unique experience that's worth doing at least once.
Favorite Thing I Did, Regardless Of Cost:
We chartered a boat and sailed around the Amalfi Coast for a few days after leaving Capri. All of the towns along the coast are so beautiful and it's a lot easier to access them by boat.
Hidden Gem I Found:
One hidden gem was a restaurant where we had dinner one night in Nerano. It was a really small restaurant that was recommended by a friend who lives in Capri. When we got there, the chef greeted us and took us down into his wine cellar for a tasting before dinner. Then he took us to a terrace upstairs and starting bringing out all sorts of delicious Italian dishes. Another hidden gem that we found was a beautiful art gallery towards the top of Positano. It had a wide variety of contemporary artwork as well as a garden rooftop that offered great views of the ocean.
The Photo I Took That Got The Most Attention:
Excursions/Extras Total: $1,200
General Shopping: $0
Souvenirs: I'm not sure how meaningful it is, but I bought a beautiful pair of sandals during our trip. Capri is known for having really nice handmade leather sandals, so I couldn't resist.
Souvenirs/Shopping Total: $250
Best Amalfi Coast Hack:
Go to the beaches or hang out by the pool during the day, then go to the towns in the evening. In the summertime, it gets extremely hot and crowded during the day. There's a lot of cruise ships that stop at Capri, so the island becomes overrun with tourists in the afternoon. However, most of the ships leave around 5 p.m. and it starts to cool down a bit, which makes walking around town much more enjoyable.
Advice For Anyone Traveling Alone:
I feel like the Amalfi coast is more of a destination for couples and families. But if you're traveling here alone and looking to meet people, head to the beach clubs and tavernas. Most people are very friendly, so don't be afraid to strike up a conversation and make some new friends.
Total Trip Cost: Approximately $15,900, excluding the cost of the boat we stayed on.
Worth It? Yes, I made lots of unforgettable memories during the trip. The dinner we had at Da Paolino was a really magical and unforgettable experience. There's also a lot of little things that I'll always remember, like the magnificent blue color of the ocean, the incredible food, and the beautiful sunsets.