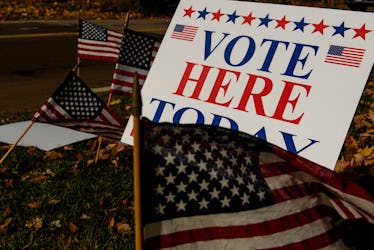 Voters Are Reporting Broken Machines & More Problems Around The Country
Jeff Swensen/Getty Images News/Getty Images
Tuesday, Nov. 6 is the big day for the 2018 midterm elections, and tensions are high as voters hit the polls in what's shaping up to be a pivotal election. While millions of people have already cast early votes this cycle, it's not all smooth sailing for those showing up to cast ballots in person on Election Day. Around the country, voters are reporting broken machines and other problems as they go to cast their ballots on Tuesday.
Images, videos, and reports on social media from scores of voters and reporters depict long lines, technical issues with electronic voting machines, and other problems at the polls. Among those reported issues was Georgia's Gwinnett County, where voting machines in five precincts temporarily went down, per reports, causing lines to grow while voters were provided with paper ballots. In one district, vote scanning machines reportedly went down because no one supplied them with a power cord.
Joe Sorenson, a spokesperson for Gwinnett County, told Elite Daily by phone that there were five affected polling places in all; one experienced a human-caused error regarding a power cord, and the others were due to technical issues with the Express polling system. Sorenson said that the paper ballots provided to voters "aren't provisional votes," adding, "Their vote is going to be counted" as normal.
The reports in Georgia are made even more discomforting by the fact that it's also one of the states that has faced allegations of voter suppression ahead of the election, including for rejecting ballots over a mismatched signature. A spokesperson for Brian Kemp, the Georgia Secretary of State who is also running for governor, called the allegations "bogus" in a statement to Elite Daily. Meanwhile, numerous other states around the country have had reports of voter suppression, so the issues at the polls on Election Day issues only adds to an already tense atmosphere this election cycle.
According to Patch, long lines and broken machines were also affecting voters in St. Louis, Missouri — apparently including Sen. Claire McCaskill, the Democratic incumbent, as when she went to cast her own ballot on Tuesday, there was reportedly a technical hiccup causing a short delay.
In Arizona, Maricopa County's computer system which checked in voters reportedly went down around 11:30 a.m. local time, and had a 20-25 minute "slow down" for at least an hour, according to AZ Central.
Additional reports of voter complications and polling problems were pouring in from all corners of the country. In New York, a number of polling places reported long lines due to busted voting machines and high turnout, per Gothamist.
Problems were also reported in South Carolina, North Carolina, Maryland, Texas, and Michigan to name a few.
Adding to the headaches for voters on Tuesday is the increased restrictions on voters, particularly in states which require certain IDs to cast ballots and register to vote. According to the Brennan Center for Justice, since 2010, 24 states had passed laws adding restrictions to the voting process, which has led to confusion among voters — as well as a lot of lawsuits.
For anyone experiencing election complications or who see reports from friends on social media, there are numerous organizations that are assisting voters as well as documenting the electoral issues.
ElectionLand is encouraging voters experiencing problems to submit information, and Common Cause and Election Protection have a hotline voters can call if they have issues at the polls: 866-OUR-VOTE.
This election appears likely to have higher turnout than the last midterm election in 2014, according to the Election Project. Already, early voting in multiple states has surpassed that of the 2014 figures. So if the robust turnout continues through the end of polling hours Tuesday, polling issues may pose a problem for the high numbers of voters trying to cast in-person ballots. Best of luck to everyone still waiting.