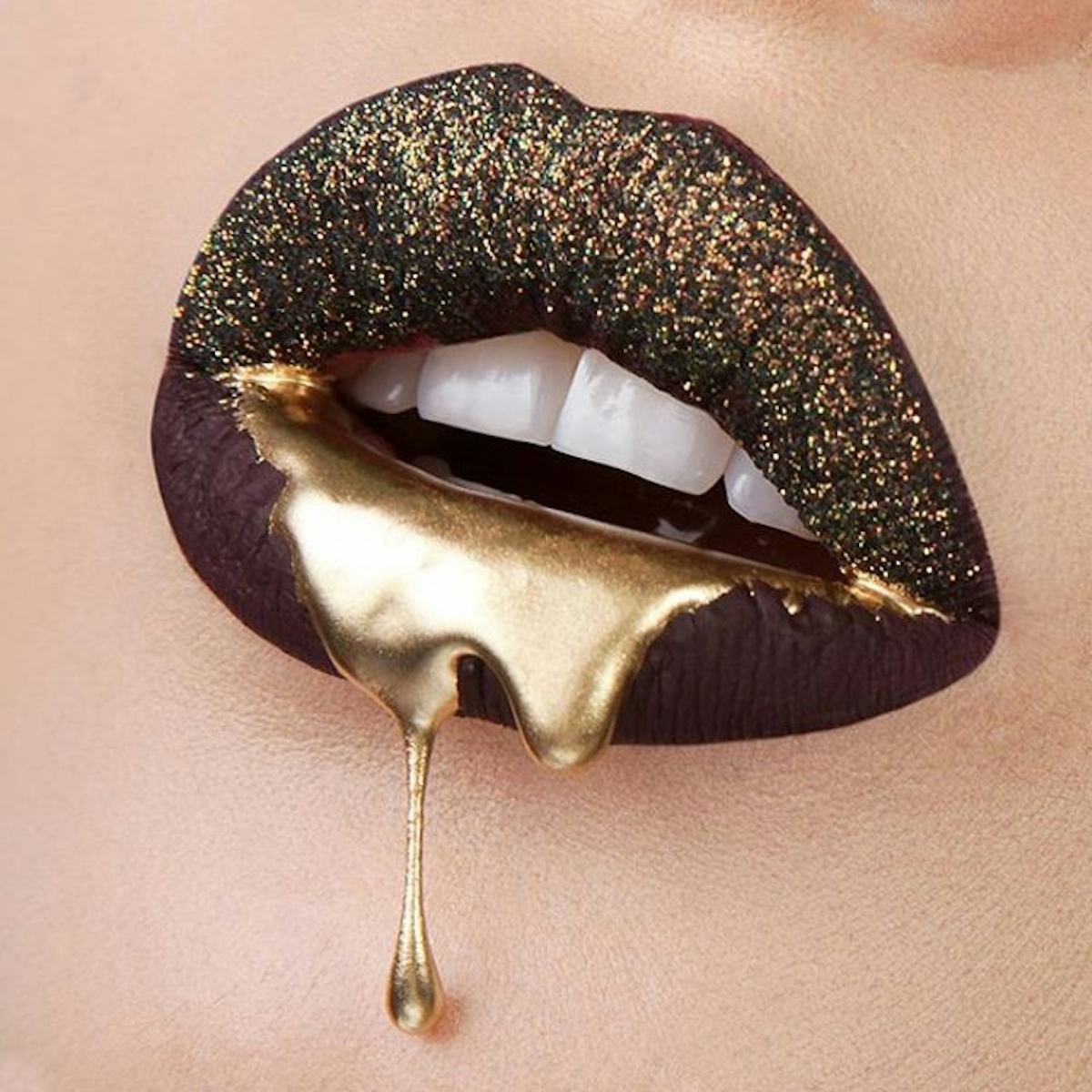 The Same Makeup Artist Who Sued Kylie Jenner Is Now Suing This Major Beauty Brand
Courtesy of Vlada Haggerty
Even if you don't know the name Vlada Haggerty, you've almost definitely seen her artwork — just maybe not on her own products. The Los Angeles-based makeup artist once accused Kylie Jenner's beauty brand, Kylie Cosmetics, of stealing her artwork, and now Vlada Haggerty is suing Make Up For Ever for the doing the same.
Make Up For Ever is a premium cosmetics brand owned by fashion and beauty industry behemoth LVMH, who owns dozens of other money makers including Benefit Cosmetics, Fresh, Dior, Fendi, as well as their namesake brands, Louis Vuitton, Moët & Chandon, and Hennessy. To say the least, Make Up For Ever and LVMH is the Goliath to Haggerty's David. Haggerty, an independent artist as well as Smashbox Cosmetic's Lip Editor in Chief, is not scared of such a challenge, however, and is speaking out against the brand for allegedly stealing her trademarked lip-drip artwork.
Haggerty says that Make Up For Ever reached out to her multiples times for approval to use her artwork, but that she repeatedly (and politely) declined. She is no stranger to spilling the tea on a brand (as she did the same with Kylie Cosmetics in the past), and she's not taking it lying down this time, either. Haggerty's got receipts, and I'm hoping resolution is achieved.
Haggerty v. Jenner
Haggerty is a straight up master when it comes to lip art — look at these museum-worthy lips! While her creations vary in motif, the dripping lip gloss is her trademark, literally, because Haggerty trademarked it.
So when Jenner debuted her now famous lip kits, she also revealed the brands signature theme of dripping gloss. Look familiar? Haggerty thought so too. Jenner's design features a longer lip drip, but it's still strikingly similar to Haggerty's trademarked image. The artist boasts 802,000 Instagram followers and is a big name in the makeup industry, so it wouldn't come as a surprise to me if Jenner had seen her work.
Jenner went a step further and indisputably copied Haggerty's work a second time with her 2016 Kylie Cosmetics holiday collection.
"Really @kyliecosmetics? Haven't you gotten enough 'inspiration' from me already? Left is a the work @juliakuzmenko, @brittrafuson and I shot a few months ago and right is @kyliecosmetics new campaign," wrote on Instagram. In the end, Jenner conceded and gave Haggerty credit for providing the inspiration.
History Repeats Itself
Make Up For Ever released a line of super chromed-out Lustrous Faves products for the 2017 holiday season, and they look amazing. But Haggerty (and her fans) were not too happy about the promotional visuals and packaging. "Many of you have asked me about this in comments, DMs and emails. If you too were wondering about the [Make Up For Ever's] holiday collection: no, I did not collaborate with them on it. Instead, I said 'No' multiple times, but they clearly went ahead and used my images anyway," Haggerty posted on Instagram.
Make Up For Ever "sent multiple written requests to Vlada to use her lip art to promote MUFE's cosmetics," say Haggerty's lawyers, all of which she declined.
Haggerty's legal team released a further statement explaining the controversy.
Make Up For Ever went ahead and adopted an unauthorized logo for its new line of 'Lustrous' cosmetics that directly copied Vlada's trademarked and copyrighted lip art. The MUFE Lustrous logo is so similar to Vlada's work that it gives consumers the false impression that Vlada is collaborating with MUFE when she is not.
The claim continues that the similarity between Haggerty's work and Make Up Forever's packaging is "undeniable."
Haggerty's creations are truly mesmerizing and I can only hope that she gets due credit for her designs.
I mean, could you do that with your lipstick? I don't think so.