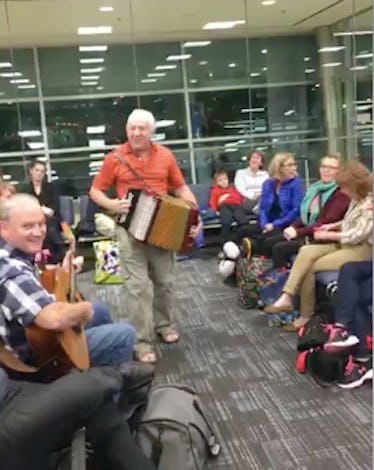 Passengers Waiting For Their Delayed Plane Threw A Party At The Airport & It Was Lit
When traveling, nothing is worse than finding out that your flight has been majorly delayed. Unfortunately, these types of travel woes are quite common. Usually, you're stuck in the airport just waiting to hear what your new departure time will be. Sometimes, you can wind up waiting for hours until your plane can take off. There's not usually much to do in the airport during that time, but that didn't stop these passengers for making the most of a bad situation. Take a look at this viral video of a flight delay party at Toronto Pearson International Airport, and you might be inspired to do more than take a restless nap in an uncomfortable airport chair the next time you're hit with a delayed flight.
According to Travel + Leisure, when passengers waiting to board a WestJet flight from Toronto Pearson International Airport were told their flight was delayed on Monday night, Nov. 20, they didn't all turn to their phones and begin scrolling through Instagram. Instead, two musically-inclined passengers from Newfoundland, Sean Sullivan and Sheldon Thornhill, began playing the guitar and accordion right there at the terminal gate. People began singing and dancing, and fellow passenger, Michelle Sacrey Philpott, posted the videos to her Facebook page.
Don't even try to watch this video without smiling — it's impossible.
It looks like most of the passengers were truly enjoying the entertainment provided by Sullivan and Thornhill. One young man, in particular, kind of stole the show, though. If you fast-forward to the 2-minute marker in Philpott's Facebook video, you'll notice a boy who begins quite an impassioned solo. According to CNN, his name is Liam Carrigan, and he expertly belts out the chorus to a Newfoundland song called "Grey Foggy Day." Once Carrigan finished, he was applauded and cheered on by his fellow passengers in the terminal waiting to board.
While Carrigan's solo was definitely a standout performance, that wasn't all that happened during this flight delay party. Passengers all over the terminal were dancing and singing, and they looked anything-but-bothered to be waiting out a flight delay.
In fact, I'd bet that they were a little bit bummed to see the party come to an end when they were told that the plane would be arriving soon. Lucky for them, the airline spoke a little too soon, because not long after they were told they would be boarding, they were hit again with a 30-minute delay. According to what Philpott told CNN, the reaction to new delay was quite positive. She said, "Everyone cheered. We got the instruments out again and started to continue singing and dancing."
Here is more video of the terminal sing-a-long.
Now, there is no word on how long the total delay time was, but I doubt any of the passengers were looking at their watches while they waited.
Traveling, especially during the holidays, can be very stressful at times. The holiday season comes with new to-do lists and responsibilities, and people can tend to be a little more on-edge than normal (even though that's the opposite of the feeling that the holidays are supposed to bring), so it's refreshing to see this show of goodwill and camaraderie.
Most of the passengers were probably strangers when they first met each other in line, but they didn't let that stop them from turning what could have been a very boring (and long) flight delay into the best terminal party that the Toronto Pearson International Airport has ever seen.
So as you travel to your Thanksgiving destinations, take a cue from these WestJet passengers and spread the joy this holiday season.
Check out the entire Gen Why series and other videos on Facebook and the Bustle app across Apple TV, Roku, and Amazon Fire TV.