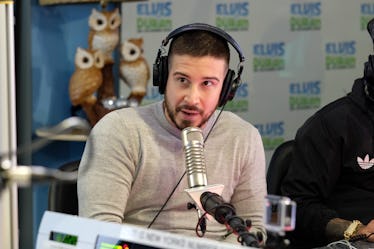 Vinny Went Off On Haters Accusing Him Of Cheating On His Ex On 'Jersey Shore' & YIKES
Dia Dipasupil/Getty Images Entertainment/Getty Images
There's just so much drama on Jersey Shore: Family Vacation, you guys! First, it was Ronnie Magro who acted like a dog after bringing home a woman on the show who was not his baby mama. Now, it's Vinny Guadagnino who's under fire for reportedly going too far with a bottle girl at Mokai Lounge in Miami. What does "too far" mean, exactly? Depends on who you ask. After haters showed up on social media to drag him for stepping out on ex-girlfriend Elicea Shyann — who he was dating during filming — we now have Vinny Guadagnino's response to cheating rumors on Jersey Shore.
What happened during the episode (besides Snooki picking up all the money off the floor of a strip club and shoving it in her bag like my grandmom with the Sweet 'N Low at any restaurant) was this: Guadagnino flirted and got all touchy-feely with a couple of bottle girls in the club. "I'm a victim of evolution," he said at one point during the episode. "A big, fat booty is my weakness." He then tried to balance his drink on one. Spoiler alert: it spilled. After another bottle girl named Olivia caught his eye, he told her she was beautiful and looked like "a hot Britney Spears." Because apparently, Britney Spears isn't hot?
Vinnie hugged the girl repeatedly, did a bunch shots with her, took a couple of selfies, and then got her number and saved it as "Olivia Mokai Blonde" in the house iTouch.
Sidebar: Guys are so dumb.
Anyway, is that cheating? If that was my boyfriend, I'd be pissed. But Guadagnino wasn't here for all the haters who tried to take him down after the episode aired, so he rolled up to Twitter on May 22 in order to sarcastically fire back. "Dude don't you know? Talking to bottle girls in a night club is cheating duh," he wrote. "Forget the guys who have side pieces, cheat on their wives, text, and f*ck girls … you're nice to [a] waitress you cheat."
Lots of typos there, but at least he spelled "you're" right. "No no I'm a monster," he continued in another tweet. "I really shouldn't have been secure in my relationship enough to go out, be nice to people , be fun and entertaining and still remain loyal. I gave compliments to bottle girls on tv so I'm the worst man alive! Get it right."
Next, he clapped back at another Twitter user who pointed out that he called Olivia Blonde Mokai hot and asking for her digits. "Yep… I can give other girls drunk compliments and still love and be loyal to my girl," he wrote. "And that wasn't my phone it was the house itouch (we don't have phones) so that we can all turn up again as a group. (While still remaining loyal)<- impossible right ?!"
Man, this guy's got an excuse for everything. He did eventually admit that he "went overboard a little bit because I was blacked out and being flirty and overly complimentary. But always remained faithful and loyal."
He then ended the whole takedown sesh with one final tweet: "Aight I gotta get off Twitter," he wrote. "Thanks and respect to the people who understand the diff between crossing lines and CHEATING. Context and editing.And to the trolls and Fake News. Keep trollin. You are great people!"
Guadagnino and Shyann split after filming of the show wrapped, but he told Entertainment Tonight that the pair had problems going in, and not being able to communicate (except for on the infamous house duck phone) only made things worse.
"Being in a relationship was kinda tough," he explained. "Like, to be in a club every, single night... alcohol every, single night. I didn't do anything but... explaining like I was in a club until six in the morning every night… that gets a little sticky. I know that I did the right thing and that's all that matters."