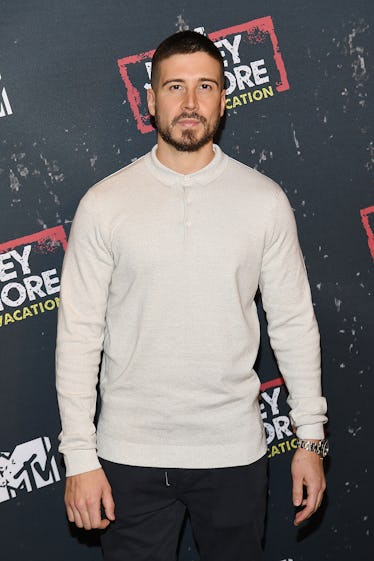 Vinny Guadagnino's Net Worth Will Leave 'Jersey Shore' Fans Shocked
Dave Kotinsky/Getty Images Entertainment/Getty Images
Reality stardom pays. Look no further than the cast of Jersey Shore for proof. The fun-loving bunch rose to fame rapidly back in 2009 when MTV decided that documenting the debauchery of a group of tri-state singles as they partied for a summer in Seaside Heights would make for solid TV. The network was more than right. Thus, Staten Island's own Vinny Guadagnino became an instant household name. The now 30-year-old has stayed somewhat in the public eye for over a decade. So, what is Vinny Guadagnino's net worth? The former political aide has done quite well for himself.
Vinny's ventures in entertainment haven't slowed down since Jersey Shore's finale in 2012. He continued to reach for the stars and pursue his acting dream through a series of docu-style shows and guest spots. He hosted the short-lived 2013 MTV talk show, The Show With Vinny, and landed gigs in series like The Hard Times of RJ Burger and 90210. He and his mother Paola even had their own travel food program on the Cooking Channel, Vinny & Ma Eat America, where the mother and son team embarked on a road trip across the country in search of tasty treats. Of course, he's currently appearing on Jersey Shore Family Vacation, which is about to film its second season. According to People, All of Vinny's hard work has earned him a fortune of around $3 million.
If that number leaves you looking for a comparable reference, Snooki reportedly has a net worth of approximately $4 million and JWoww's raked in about $3.5 million. Due to dominating the DJ scene, Pauly D is estimated to be worth between $15 million and $24 million.
Prior to his career as a notable television personality, Vinny was a law school hopeful with possible political ambitions and a resume that included a stint working for a Staten Island assemblyman. Then fate stepped in when Jersey Shore began the casting process, and the rest became fist-pumping history. In 2010, Vinny told Vulture of his humble beginnings:
I was in college for four years: I first went to SUNY New Paltz and then I went to CUNY CSI [College of Staten Island]. I did political science, and I was going to go to law school, so I was studying for my LSATs and hooking that up. That's when somebody sent me the casting thing. It happened right when I graduated; the first opportunity that really came my way.
Vinny revealed that he even considered giving up the reality TV biz if his LSAT score afforded him a spot at a prestigious school like Harvard or Yale. These days, as evidenced by his seriously cut physique, Vin's been focused on his fitness and nutrition game. The self-proclaimed "Keto Guido" follows a strict elimination diet, and if you tuned in for the season premiere, you know he practices what he preaches. Even in a post-club drunken state, Vinny managed to only eat the cheese and pepperoni off a delicious looking pizza pie. Now that's commitment.
Guadagnino has documented his transformational journey via social media, of course, posting photos of his road to wellness while sharing tips and recipes along the way. Looks like he's found a new passion that might just take him to new career heights. Vinny, the lifestyle guru?
Vinny will have to start prepping for more pepperoni-picking in his future fast. Jersey Shore Family Vacation Season 2 is set to start filming any day now. There's no confirmed word on where the gang will be filming, but Snooki recently hinted that the next installment could switch things up format-wise. "Supposedly it's going to be like a Housewives format, where we film three days a week and then we go about our lives and we're not sequestered in a house for a month without seeing my family," Nicole told E!.
Hmm. That structure might work in Vinny's favor if he's looking to keep those pesky carby temptations at minimum.
Jersey Shore Family Vacation airs Thursdays — or Jerzdays — at 8 p.m. on MTV.