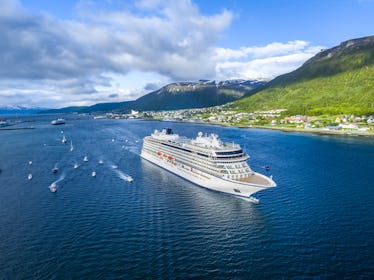 This Cruise Will Take You Around The World In 245 Days, So Pack Your Bags
As soon as summer rolls around, many people start thinking about vacation destinations. A long weekend filled with sand and sun is the perfect escape for some, but others might prefer a more extended vacation. Well, if you're one of those people who enjoys the latter, then you'll be thrilled to hear about one of the latest cruise offerings from Viking Cruises. Viking's Ultimate World Cruise takes 245 days, and it will literally take you around the world.
Seriously, this cruise lasts nearly three-quarters of a year. I'll give you a second to take that in. Viking Cruises announced the mother of all cruises in a press release on May 1, 2018. The Ultimate World Cruise is exactly that. The cruise of your dreams embarks on Aug. 31, 2019, and it will take you to all of your bucket-list destinations in one eight-month-long journey.
You might think this sounds like a long time to be at sea, and you are completely right about that. In fact, Viking's Ultimate World Cruise spanning six continents, 59 countries, 113 ports, and 22 port overnights in 245 days is the "longest-ever continuous world cruise itinerary," per Viking Cruises. Viking Cruises is excited to offer this history-making Ultimate World Cruise to its customers.
Torstein Hagen, chairman of Viking, said in the press release,
For more than 20 years we have been offering guests the most culturally immersive journeys available in the industry and we are pleased to announce the most extensive itinerary in our history. Our World Cruises offer guests the rare opportunity to unpack once and explore dozens of the best destinations on earth — at a value that is unprecedented in the travel industry.
I'll warn you up front that the price tag is pretty steep for a cruise that takes you to explore countries such as Iceland, Brazil, Australia, Egypt, and so many more. To set sail on Viking's Ultimate World Cruise, you'll have to shell out $92,990 per person. I never thought being a world traveler would be cheap, but dang, this Ultimate World Cruise costs a pretty penny.
Once you get over the sticker shock, you can check out everything the cruise has to offer — and it has a lot to offer. If you have the time and money, you'll want to clear your calendar and head to London in August 2019 when the cruise departs.
For a little sampling of what's in store, you'll travel through the British Isles to Iceland and Greenland, then you'll have stops in Canada, Boston, and New York City. Next, you'll head south through the Caribbean on your way to explore South America with stops in places like Rio de Janeiro, Brazil, and Ushuaia, Argentina. Then it's off to Australia and New Zealand. Next, you'll see what Southeast Asia, India, and parts of Northern Africa have to offer. You'll finally make your way through Spain and Portugal before landing back in London in May 2020.
OK, my head is officially spinning after listing off just a small portion of the 59 countries you'll see, but it does sound quite thrilling. Some of the locations highlighted in the press release include touring temples and tombs in Luxor, Egypt; exploring an "island of history and wilderness" when you visit Hobart, Tasmania; and discovering eight all new ports in South America, including locations in Peru, Ecuador, and Panama. Temples, tombs, and wilderness? This sounds like the perfect opportunity to channel your inner Indiana Jones.
When you put on your adventure hat to explore all the places you've ever wanted to see, you'll be aboard the Viking Sun ship. With 465 staterooms, two pools, a LivNordic spa, eight different dining options, and places like the Wintergarden and Explorers' Lounge to relax, you'll have plenty of ways to recharge the batteries during your eight-month-long cruise.
Another way you can break up the 245-day cruise is by opting into one of the two shorter segments. You can hop aboard the 127-day Viking World Treasures cruise that visits 33 countries and 61 ports from London to Los Angeles, or you can sail on the 119-day Viking World Wonders cruise, hitting 29 countries and 55 ports from Los Angeles to London.
Honestly, if you have the cash and time to explore the world on the Ultimate World Cruise, it sounds like a great way to see some of the most iconic destinations.
Viking apparently knows what it's doing when it comes to sailing around the world, too. The company recently welcomed back passengers on its first-ever World Cruise. In a tweet by the company on May 7, it congratulated the 900 world travelers who experienced 21 countries in just 128 days. The Ultimate World Cruise is almost double that and visits nearly triple the number of countries, but it sounds like Viking Cruises is ready to make that happen for some excited world travelers.