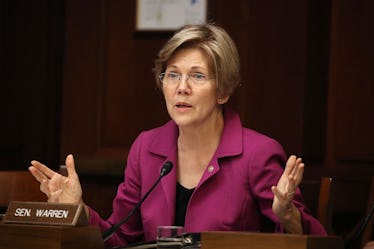 Elizabeth Warren Comparing Trump's Presidency To "Dog Years" Is So, So Accurate
Joe Raedle/Getty Images News/Getty Images
If you're exhausted by the political news cycle of President Donald Trump's tenure, don't worry, you're not alone. Elizabeth Warren feels you, and so does Stephen Colbert. During Elizabeth Warren's appearance on The Late Show with Colbert, the senator from Massachusetts couldn't help but joke about how much change has taken place since she last appeared on the CBS late night show, in summer 2016.
"Oh, I remember those days," Sen. Warren said. "How long has he been president now?"
"Forty-five years, if my bone density is any indication," Colbert answered.
"That's right. They were dog years, now they're Trump years. It's going to be hard," Warren replied after.
Both Colbert and Warren then went on to a subject on which both the president and the senator "agree." That subject? The assertion that the 2016 Democratic primary process — which saw Hillary Clinton defeat Sen. Bernie Sanders (I-VT) for the party's nomination — was "rigged."
When asked by CNN's Jake Tapper earlier in November, Warren had indeed answered "yes" to the question of whether she felt the process had been rigged against Sanders. During her Monday, Nov. 21, appearance on the The Late Show, however, Warren immediately shifted to taking on Donald Trump before talking about the 2016 race.
"Donald Trump thinks if he's going to start every one of these tweets to me with some kind of racist slur here that he's going to shut me up," Warren told Colbert. "It didn't work in the past, it's not going to work in the future."
Sen. Warren was referring to the tweet in which Trump expressed his "agreement" with Warren. The tweet read, "Pocahontas just stated that the Democrats, lead by the legendary Crooked Hillary Clinton, rigged the Primaries! Lets go FBI & Justice Dept."
Warren's exchange with Colbert about the tweet, and her joke about Trump's tenure, can be seen in the videos below.
In the past, Trump has repeatedly and mockingly referred to Warren as "Pocahontas," which in itself is an allusion to her disputed Native American heritage. Warren had claimed she was of Cherokee and Delaware Indian heritage during her 2012 run for the Senate seat she now holds, according to the Washington Post.
Warren, who became Massachusetts' first female senator after winning her race that year and is up for reelection in 2018, was pressed about what she would do two years after the upcoming mid-term elections.
Colber asked, in other words: Is Liz Warren running for president in 2020?
"Look, we've gotta be really careful here," Warren answer. "I get the point about Trump years, and what this feels like right now. But we've got fights in front of us right now. We can't play this game of, 'every four years we're gonna get focused and we're gonna get active in politics.' Right now, right now — I mean, like, this past week and the week coming up — we've got a fight on taxes..."
Warren's answer was, of course, a call to focus on the present, as Democrats look to push back against the Republican efforts to pass a tax bill that has garnered virtually zero Democratic support in Congress. GOP leadership has largely branded the tax bill as a tax cut for all American that will help promote the rise of wages.
Democrats, on the other hand, have labeled it a tax cut for the rich that will ultimately not help the middle class.
"This is about numbers, but it's about values," Warren told Colbert. "I don't believe one middle class person in America should have her taxes raised in order to do tax giveaways to billionaires and giant corporations."
Clearly, Warren is ready for another political fight, despite joking about how exhausted she is by "Trump years."