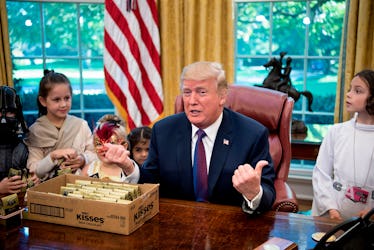 Donald Trump Celebrated Halloween With Reporters' Kids & It Was So, So Awkward
BRENDAN SMIALOWSKI/AFP/Getty Images
You know when you're faced with something really cringey on television and you can't look away? Like, pretty much anytime Simon Cowell is mean or all the early episodes of The Office? Well prepare yourself for the biggest cringefest there ever was — courtesy of our Commander-in-Chief. Watching Donald Trump celebrate Halloween with a bunch of children is so, so painful that you'll want to shut your laptop immediately and take a long, hot shower.
Let me break it down for you. On Oct. 27, a group of the White House Press Corps' children met Trump in the Oval Office. They all gathered around his desk and many awkward things happened. Like, when the president decided to make fun of their parents — multiple times.
"I cannot believe the media produced such beautiful children," he said, as a bunch of kids dressed as Princess Leia, Batman, and Darth Vader blinked back at him.
You could tell Trump was pretty pleased with this zinger, because he gleefully continued with a similar line of jokes.
"Are you going to grow up to be like your parents?" he asked one of the children, followed by the declaration that the answer will "only get [him] in trouble."
He then asked another child how the press treats her, and posited that she is probably "treated better by the press than anybody in the world."
Perhaps the most painful moment of them all?
He handed a box of Hershey Kisses to one of the children and said, "you have no weight problems. That's the good news. Right?"
The whole video is really quite something.
Obvious visuals aside, we've known for awhile that Trump is not a kids person. Take it from his former wife Ivana Trump, who told ABC News in October 2017,
[Donald] was a loving father, don't get me wrong, and he was a good provider, but he was not the father which would take a stroll and go to the Central Park or go play to baseball with them or something," she said, adding, "It was only until they were about 18-years-old [that] he could communicate with them, because he could start to talk business with them. Before, he really didn't know what conversation to strike with the little kids.
Marla Maples, Trump's second wife, confirmed that her former husband was pretty hands-off during the whole kids growing up process. She told PEOPLE in April 2016,
[Tiffany's] daddy is a good provider with education and such, but as far as time, it was just me. Her father wasn't able to be there with day-to-day skills as a parent. He loves his kids. There's no doubt. But everything was a bit of a negotiation.
Annnnnd Donald Trump Jr. himself confirmed the lack of a warm and cuddly relationship as well.
"It wasn't a typical 'let's go play catch in the backyard' sort of father-son relationship. We always went to job sites with him," he said last year, according to Vanity Fair. "We'd be in his office playing with trucks as a 6-year-old while he's negotiating deals with presidents of major companies."
Now, not trying to make you sob and feel all sorts of pangs in your heart and ovaries... but remember how Barack Obama was with kids?
Like, how hilarious and enthusiastic he was handing out candy on the White House lawn?
Or that time he met his mini-me?
Or that other time he danced to "Thriller" with a bunch of kids?
How about that time he adorably answered some questions written by children? (Shout-out to Michelle who was equally adorable.)
OK, off to go cry in a corner, and maybe figure out a way to email all of these examples to Trump as some helpful feedback.