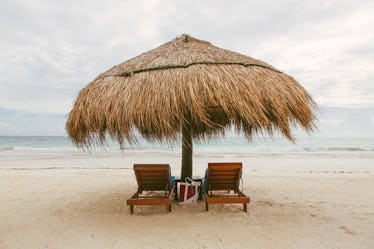 This Dream Job In Mexico Pays You To Stay At All-Inclusive Resorts, So Sign Me Up ASAP
Whether you're an accountant, a pop star, a business owner, or a coffee shop barista, I feel like you would most likely quit your current job in a heartbeat if you were offered the opportunity to get paid to travel — and most importantly — chill the heck out. I mean, who wouldn't? No matter who you are, that is literally everyone's dream. And if you would also love to get paid to travel, Vidanta's "World's Best Job" might be the perfect fit. Landing the gig would mean you get paid to stay at resorts throughout Mexico. So, sit back, relax, and enjoy that cash flow.
Vidanta, an incredibly high-end resort group in Mexico, just posted the job opportunity of a lifetime: to become the company's "brand ambassador." If you get the job, according to Travel + Leisure, you'll be spending an entire year in each of Mexico's most beautiful destinations, while fulfilling a daily requirement to explore, eat, relax, and party. You'll act as the brand's on-location social influencer, gathering quality content, while showing all of your resort experiences to wanderlusting folk worldwide. From zip-lining, to gourmet dining, and spa relaxation, you'll basically have to show how much fun each Vidanta location is, while exploring all of the cool things to do in the area. Oh, you'll also be paid $120,000 per year. Yes, it's beyond dope, and I'm strongly considering applying.
Iván Chávez, the executive vice president of Grupo Vidanta, said in a press release that the job has endless amenities, along with a requirement to have fun.
In the statement, Chávez said,
It's an understatement when we say that the 'perks' of this position are endless. The lucky applicant will fully immerse themselves in each of our resort destinations; from uncovering ancient Mayan ruins, hidden eateries, and underwater cenotes to discovering the hottest new restaurants and nightclubs.
This job is no joke, though — the selected candidate will go through a rigorous training program, according to Travel + Leisure. They would ideally have sales or hospitality experiences on their resume as well as a friendly and outgoing personality, a burning passion for travel, and, obviously, the desire to move all the way down to Mexico. To apply, just navigate to Vidanta's brand ambassador application website, and submit your resume, as well as an optional minute-long video, before Sunday, Oct. 21 at 11:50 p.m. CDT. Then, you'll be all set — and ready to pursue the career of a lifetime.
OK, I don't know about you, but this job is seriously making me rethink all of my life decisions. I guess the only reason I've never pursued anything like this before is because these opportunities seldom come around. I hope you apply, because it sounds like the position of a lifetime. TBH, I really want to be Vidanta's next brand ambassador, too. If you think about it, this job takes work-life balance to a whole new level, so get ready to literally work hard and play hard 24 hours a day, seven days a week.