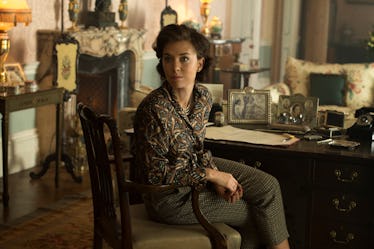 Vanessa Kirby Got Royally Candid About Her Role As Princess Margaret On 'The Crown'
Netflix
If you're like me, you're entering what feels like the millionth month of withdrawal from Netflix's The Crown. After Season 2's hypnotizing, powerful ending, having to wait for the debut of Season 3's new cast members and the show's segue into more modern times is killing me. Luckily, while waiting for undoubtedly amazing work from actors like Olivia Colman and Helena Bonham Carter, our former Princess Margaret is down for reminiscing about her time on the show. Vanessa Kirby's quotes about Princess Margaret will totally make your inner The Crown fan miss her already.
Kirby, who recently won a BAFTA for her work as Margaret, will see acclaimed actress Bonham Carter replace her as the Queen's sister for The Crown's third and fourth seasons. Although Kirby has made her heartbreak over leaving the role known, looking back on her time as Margaret isn't an issue for her. Reflecting on her initial research about the rebellious princess, she told The Hollywood Reporter:
The more research I did, I realized my responsibility was to find the little girl and the fragility behind the woman who had become really hard... Margaret set a benchmark for me in that the females were the protagonists of the story.
Clearly, while Queen Elizabeth II is a literal boss, Princess Margaret was no pansy either.
Seeing as the real Margaret died in 2002, anyone who has learned about the royal family through Prince William and Kate Middleton's college romance and the recent fairy tale of Prince Harry and Meghan Markle has since seen Kirby's Margaret shape their perception of the real-life figure. Notably more outrageous and informal than Elizabeth, Margaret still faced her own personal demons. As we saw throughout the first two seasons of The Crown, her sister's position often prevented Margaret from achieving what she truly wanted to do. What history geek isn't wondering what could have been if Margaret was allowed to marry Peter Townsend whenever she wanted?
Kirby channeled one of these difficult moments when working on a Season 2 scene in which the news of Elizabeth's pregnancy delayed the announcement of Margaret's engagement to Antony Armstrong-Jones. Talk about sisters stealing each other's thunder, huh? Kirby said about the filming process:
It was the one [in which Margaret asks Elizabeth if she can announce her engagement to Tony] because when Claire [Foy] and I did it, we felt like we'd had so many conversations about marriage and whether she'd let me get married that I thought I could go either way with this. I could scream or be elated, and it was really hard. I remember looking at the page and going, 'Oh my God, what do I do with this? And where is Margaret at right now?' On that day, I felt complicated about what Margaret felt. She's saying, 'I know who I am,' but underneath, this is somebody who really doesn't know.
I'm all about actors connecting to their characters, but Kirby clearly went a step further with her analysis of Margaret.
If Kirby's January Instagram post essentially confirming Bonham Carter's casting tells us anything, it's that she is fully behind her successor. We already knew that The Crown's Margaret is a total BAMF, but Kirby thinks that Bonham Carter will make Margaret even more complex and watchable, saying:
It's amazing! I'm so excited. I couldn't think of anyone better. We text each other all the time, and she sends me photos and wants my scripts and notes and playlists. I think she's going to take Margaret up a level. She sent me a photo of her and Olivia [Colman] making silly faces like, 'We've got the baton, but I think we've dropped it.'
With the filming of The Crown's third season due to start any day now, Bonham Carter recently shared insight into becoming Margaret, telling Variety:
I've definitely started prepping. It's exciting. We start in a few weeks, and I think we're all — we're completely terrified. I think also because the first two seasons were such a success, we have the onus of inheriting the responsibility of doing justice to all these genuinely famous people, and then on top of it, inheriting them from this previous generation of actors who've done such good jobs.
Kirby might have made Margaret one of the most enjoyable parts of The Crown, but I'm ready for Bonham Carter to deliver some fierce wisdom as an older and sassier Margaret. So, what are our chances of seeing some behind-the-scenes pics of Season 3's filming?
Season 3 of The Crown is expected to air on Netflix in 2019.