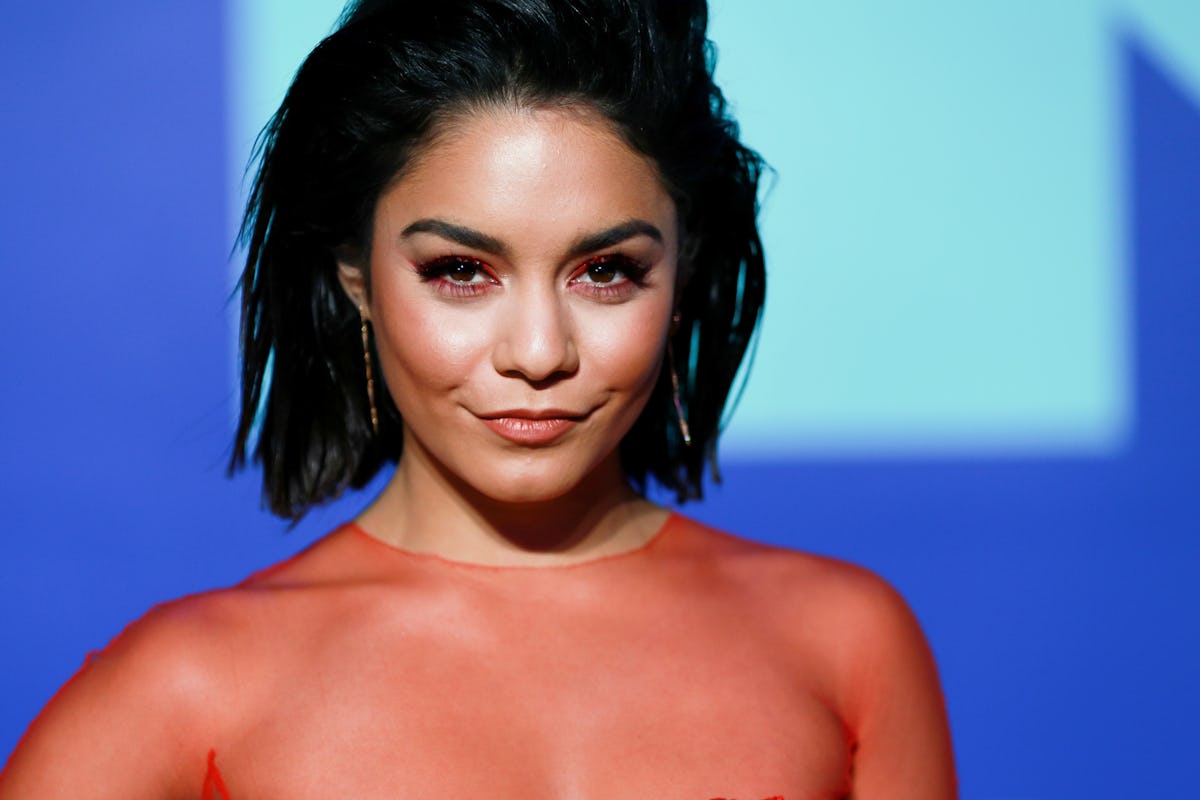 Vanessa Hudgens's Halloween Costume Will Make You…
Rich Fury/Getty Images Entertainment/Getty Images
The '90s will always be sorely missed by those who cherished the music, movies, and the styles that unfolded back then. It was seriously a dope time. Leave it to Vanessa Hudgens to literally transform into a '90s time capsule this Halloween season and send our nostalgia soaring back into the good ol' days. Vanessa Hudgens's Halloween costume, inspired by the '90s movie The Craft, has us in awe and praising her accuracy of Nancy, the ring leader.
If you've seen the movie, you know that the outfits were so simple but cute and were enough to make anyone throw out everything in their closet just to stock up on those specific wardrobes. Vanessa Hudgens posted the look on Twitter and Instagram, strutting a white button-up, draped by a black dress and ornate, black jewelry on her neck. Specifically, let's take notice of the low, dangling cross that finishes the whole ensemble.
She absolutely nailed the look of Nancy and we can hardly handle how much The Craft has seemingly made a return in this picture after 30 years. Nancy, if you need a refresher, was the sinister leader of a group of sorcery-hungry high school girls and she was all about the blackest of magic. Basically, she was willing to do anything to conjure as much power as she could...with or without her friends.
Tastefully, Vanessa Hudgens used the notorious Nancy line, "We are the weirdos, mister," because let's face it, Nancy surely did not mind at all how much her and her crew stood out because they were focused on their own stuff. There was no time for explaining themselves to anyone. Nancy, Rochelle, and Bonnie were the fierce, all black everything trilogy that paraded around their campus and were known as the school witches. Oh, and sooner or later, Sara semi-joined the cause but we all know how that turned out in the end.
I mean, who wouldn't want to parade around in decked out school uniforms, sneakers or wedges, and scare the living crap out of people just by looking their way or walking down the halls? The movie will never get old and most importantly, swooning over the looks of the '90s will never end. If you have an appreciation for all things in the '90s, then you're probably already applauding Vanessa Hudgens and her friend for their perfectly poised throwback of the movie as their costume choice.
If you think about it, Nancy is probably one of the best costumes you could put together for this spooky time of year. She was pretty scary, but isn't that sort of the quality you want to embody for Halloween? She could walk on water, didn't take crap from anyone, and literally screamed when things were not unfolding her way.
OK, back to this picturesque magic Vanessa conjured up for us. Can we admire the makeup, too? The vampy look with dark lips needs to be up as a tutorial because we really just need it in our lives. Oh, Vanessa. Thanks for giving us a little taste of the time that gave us such transcendent styles that we can't help but continue to emulate them today. Borrowing ideas from the '90s for a Halloween costume will always turn out to be something golden because the time was practically flawless.
Even though Vanessa posted this picture pretty early in the month, she's known to decorate her social media feeds with spooky pics when the season calls for it. Halloween is apparently a month-long affair for her, and if she keeps putting together amazing ensembles like this, we can hardly wait to see what she has in store for us next. For now, take some inspiration and really get into the spirit of things this month. The possibilities are endless, and our anxious eyes are waiting.