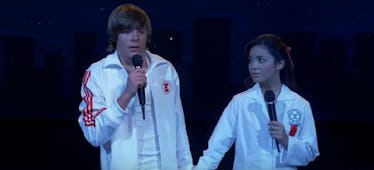 Vanessa Hudgens Literally Recreated 'High School Musical' In This Phantoms Music Video
Disney Channel
You know those recurring dreams you have that always revisit your high school years in a bizarre way? Usually they're not so glamorous, but Vanessa Hudgens has redefined what those odd ventures of the subconscious could become. In a collaboration with EDM duo Phantoms, the former Disney starlet literally recreated her part in High School Musical's "Breaking Free," and Vanessa Hudgens' "Lay With Me" Phantoms music video proves that revisiting high school can sometimes be amazing.
Reminding us that you can always reinvent yourself, Hudgens was known as the very sweetly named Vanessa Anne Hudgens when High School Musical debuted on Disney Channel in 2006. She seemed to drop the Anne when she launched her own music career, but based on her latest musical move, Hudgens definitely doesn't mind the throwback to her more innocent Disney days. While performing her featured role in the "Lay With Me" music video, Hudgens channeled the shy science geek Gabriella Montez before both members of Phantoms, Kyle Kaplan and Vinnie Pergola, split the role of Troy Bolton dancing with her.
Kicking off with Hudgens in a lab coat and even shooting a nervous glance at a Kelsi equivalent on the piano, the "Lay With Me" music video certainly isn't trying to be sneaky with its parallels of High School Musical. In the movie, both Troy and Gabriella rush to their final callback for the school musical after their friends thwart the timing of the basketball game and the academic decathlon, allowing the two to make their audition. When the crowds from both events flood into the auditorium, Gabriella freezes, never having performed in front of a large audience. Troy's mere presence comforts her enough for her to tentatively begin singing "Breaking Free," but soon, they're living their best lives onstage.
Swap out Zac Efron's Troy for Phantoms DJing from a computer setup slightly reminiscent of 2006, and you just may confuse "Lay With Me" for a legitimate clip from High School Musical. Hudgens even rips off her lab coat à la Gabriella, but Ms. Darbus probably wouldn't approve of the black outfit she's in by the end of the video.
The Disney connection isn't just relevant to Hudgens. Kaplan and Pergola are former teen actors and made guest appearances on shows like Hannah Montana, That's So Raven, and Nick's Zoey 101. Their acting days are behind them, but the two believe that starting in that world has helped their DJ careers, telling music and culture website Dancing Astronaut:
There are a lot of similarities [between acting and music] – mostly with the people fresh to either acting or music. A lot of the younger DJs we meet remind us of kids who just booked their first job on a Disney or Nick show. There is an earnest excitement because it's cool to feel your dreams coming true – but on the other end, there can be an ego.
Hudgens announced the video's release earlier this week with a heartfelt tweet telling fans, "This one is for all of you who's followed me all those years." Aww.
Efron and Hudgens' status as our favorite celeb couple of middle school might be defunct today, but Hudgens clearly appreciates those of us who've loved her since High School Musical premiered. Can we expect a New Year's Eve drop of a "Start of Something New" remix next?