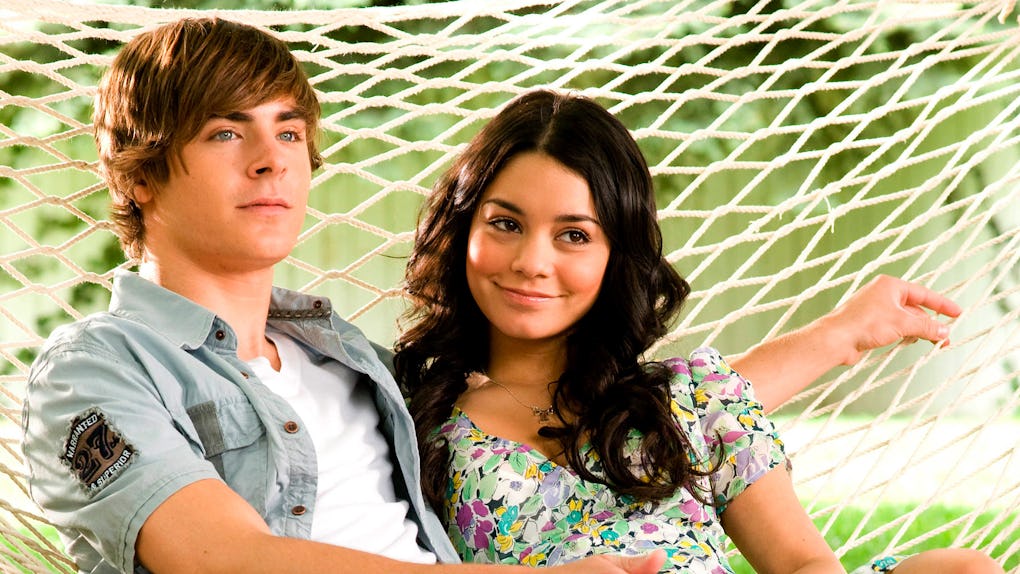 Walt Disney Pictures
Vanessa Hudgens' Favorite 'High School Musical' Memory Will Give You All The Wildcat Feels
It's been a full decade since the theatrical release of High School Musical 3. Troy, Gabriella, and the rest of the gang are probably heading back to East High for their 10-year reunion, but as for the students' real-life equivalents, one former Wildcat is feeling nostalgic. She talked about the films in a recent Q & A session on Instagram, and Vanessa Hudgens' favorite High School Musical memory will have your emotions soarin' and flyin'.
As High School Musical 3 reminded us, high school wasn't meant to last forever, but Hudgens has proven that she still values her memories from filming the trilogy. She was a bridesmaid in former co-star Ashley Tisdale's 2014 wedding, and in the ultimate #goals moment of the early-to-mid 2000s, Hudgens dated Zac Efron IRL for five years. So, they didn't last, but it's always nice to think that "Gabriella" and "Troy" were a real thing for many fans' most influential years.
She doesn't address her history with Efron often, but Hudgens used her Instagram Story to talk about her greatest memory from the overall High School Musical experience. While answering fan questions on the social media platform, Hudgens received a question that read, "What is your favorite memory from filming HSM?"
In her video response, which you can watch on BuzzFeed and a Hudgens fan Twitter account, the 29-year-old star said:
Probably the moment in the final High School Musical when the curtain drops. Because it was such a real moment of us saying goodbye to kind of our childhood.
The moment she's talking about happens at the very end of High School Musical 3. At the East High graduation, Troy delivers the class speech before he and the other main characters perform the very appropriate song "High School Musical." Each student also receives a shoutout about where they're going to college, followed by the group's appearance on the auditorium stage.
For math whiz Gabriella, Stanford University was in her future, and Troy changed his father's lifelong plan for him to attend the University of Albuquerque in order to study at UC Berkeley and be closer to Gabriella. After college, I assume Gabriella discovered some groundbreaking mathematical equation, while Troy probably wrote a musical about a basketball-playing teen who just wants to sing. Meanwhile, Tisdale's Sharpay Evans is definitely on her way to winning a Tony or two for her work in the Broadway musical detailing her life story.
Although it would've been salty and entertaining for Hudgens to list one of Efron's melodramatic musical solos as her favorite trilogy moment, it's so sweet that she values the movies' most emotional scene. She's far beyond her East High days and usually appears in films nowadays, but High School Musical clearly means a lot to her. While she's probably not dreaming up where-are-they-now fanfiction about Troy and Gabriella, it seems that these characters still make Hudgens smile.
In case your memory is a little foggy, check out Hudgens' favorite scene below. It may or may not inspire you to have a High School Musical marathon, but I won't judge if it does. Get'cha head in the game, Wildcats!