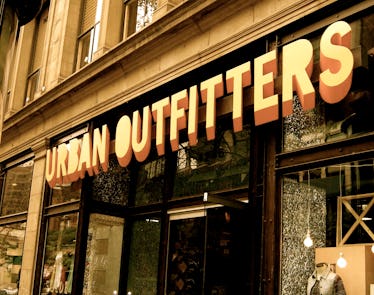 Urban Outfitters 2017 Black Friday Deals Are Here & You're Going To Want To Kiss The Store
While I'm jazzed over the upcoming Black Friday shopping opportunities, I'm also tired of stores keeping their deals a secret until the last second — a girl needs to prepare! Some stores understand my thirst for a good sale, though, and the Urban Outfitters Black Friday 2017 deals do not disappoint.
Colloquially known, at least among my friends, as "Urban," this store has been in my shopping repertoire since my days as an awkward middle schooler who thought she was too kewl. Key word being thought. One of my favorite shirts literally just said "Australia" on it in some sort of kangaroo motif. Another had a picture of a Buddha and invited people to, "For Good Luck, Rub My Belly." Urban Outfitters had some great hits though, most of my high school shoe and jewelry collection was from the ever-hip store. I've also always been a fan of their home goods and comical coffee table books.
Basically, Urban Outfitters has it all, including an epic Black Friday deal of buy one, get one half off of everything in their store. And it's not limited to two of the same item — if you want a Crystal Celestial Lariat Necklace for $20 and a Googly Eye Mug for $14, the price of the mug will be slashed to just $7. So you'll have to pay full price for the more expensive item, but if you pick loot close in value, it'll result in an actual steal.
The best part: No more asking, "Is this part of the sale?" EVERYTHING is part of the sale. The only downside to this is that there is no downside and I want everything. Here's what I want the most, either to give or to get.
The Big, Rainbow Kahuna
5' Rainbow Faux Christmas Tree, $199, urbanoutfitters.com
Yes, this is expensive, but it's also legit fabulous. Deck it out with all of Urban Outfitter's adorable ornaments for the most inclusive and festive holiday season yet.
White Shoes For People Who Shouldn't Have White Shoes
Vans Authentic Ivory Canvas Sneaker, $50, urbanoutfitters.com
Sneakers are the new everything. This pair is so comfortable (I own them) and the off-white color camouflages grime better than an all-white shoe, but it's still fresh and powdery looking.
For the Boozy Broad
Metallic Bar Cocktail Shaker Set, $39, urbanouttfitters.com
Whoever that one person on your list is whom you never know how to shop for, get him or her this gold medal winning cocktail set.
Get Lit With Your Mantra
Mini Cinema Lightbox, $39, urbanoutfitters.com
This old school movie theater-style light box is completely customizable, so you can take your daily mantras up a notch. Or you can just tell your roommate that he/she needs to do the dishes in a completely non-confrontational manner.
Romp Around The Clock Tonight
UO Goldmine Velvet Surplice Romper in Mauve, $49, urbanoutfitters.com
You heard it here first, or maybe second, rompers aren't only for summer! Paired with sexy glitter fishnets, this lewk will serve you well all holiday season long.
For Your Emoji Obsessed Friend
UO Icon Slipper in Red Multi, $18, urbanoutfitters.com
Your feet are going to be trendy and cozy, or someone else's if you're into the whole gift giving thing.
Eye Spy With My Beautiful Eyes
BH Cosmetics Nude Rose Eyeshadow Palette, $14, urbanoutfitters.com
A 12 pan eyeshadow palette for $14 (or less depending on what else you buy at the sale), is practically unheard of, until now. Any neutrals lover will gush over it.
*NSYNC For Life
NSYNC Home For The Holidays Tee, $29, urbanoutfitters.com
Any self-respecting person knows that *NSYNC was so much better than the Backstreet Boys, and you can let the world know it with this not-so-subtle T-shirt.
So Santa Can Find You
Mermaid Reversible Sequin Holiday Stocking, $49, urbanoutfitters.com
Replace that grimy old stocking you never really liked much anyway with this festive, chic one. Did I just call a stocking chic? But really.
The Most Accurate of Ornaments
Wine Glass Christmas Ornament, $12, urbanoutfitters.com
Who's ready to trim the tree? These tipsy ornaments are unfortunately sold separately, so you may have to choose if you're more of a red, white, or rosé gal.