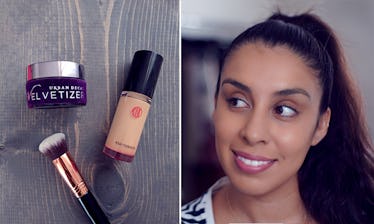 Urban Decay's New Velvetizer Hacks Any Liquid Foundation For More Coverage & It's Genius
Stephanie Montes
I'm just going to come out and say it: I've been using Urban Decay's latest genius drop all wrong. The brand sent me a beautifully packaged mailer a few months back, and it included their velvet-inspired powder. However, it had been taken out of the original box (where it has all the directions printed on the side). Since then, I've been using it as a setting powder, which I just now realized is entirely incorrect. As a PSA, I had to do a Urban Decay The Velvetizer Translucent Mix-In Medium review and rectify my oversight. News flash: it's not a setting powder at all (though you can use it as one) — it's so much more than that.
Let me explain how I missed this. Like I said, the powder came in a jar with not much context. The packaging has the word "Velvetizer" embossed right into the velvety label. It gave me all the "Purple Rain" vibes, but nowhere on the jar did I get the impression that this was more than a setting powder. I've seen so many setting powders over the years, so I chalked it up as yet another final step to my makeup routine. However, the texture felt much different than the others in my stash — this one is so finely milled, it disappears on your skin, leaving behind a matte and super silky veil.
Again, I thought to myself, "this setting powder is bomb," but never thought twice about researching what it was actually for. Because, why would I? It looks like a setting powder. Please don't revoke my beauty-editor card!
Because Urban Decay keeps me well-stocked (TY!), the brand sent another package. This one included the Velvetizer powder again, but this time, it was in the original box. My mind was completely blown when I read the words "Mix-In Medium" printed on the front! I turn the box on its side, and read directions that instruct me to mix the powder with liquid foundation. Wait, what?
Powders and liquids are not meant to be mixed. This sounds completely wild, so obviously I can't wait to try it.
As it turns out, when mixed with liquid foundations, The Velvetizer Translucent Mix-In Medium ($34; Sephora) it makes the original formula look more matte, adds more coverage, and leaves your makeup feeling like actual velvet. I hate myself for not knowing about this sooner.
To really test the claims, I pick the lightest foundation in my collection. I reach for my Koh Gen Do Aqua Foundation ($67; Sephora) — this is the product I use when I want my skin to look amazing, but in a no-makeup kind of way. It makes my skin look dewy and glowy and covers breakouts, while somehow still showing off my freckles. Since it's not matte or high coverage, I figure this is the perfect product to see what the Velvetizer is all about.
Just like the directions tell me to, I mix a dime-size amount of powder to a face-worth of foundation. The powder melts right in. I instantly notice how the watery consistency of the foundation thickens. When I buff it into my face with a dense kabuki brush, the coverage is so different — my Aqua Foundation is almost unrecognizable. It's covering all of my freckles and creating a blurring effect. So that's why they call it the Velvetizer. It's all making sense now.
To show you exactly how different The Velvetizer Mix-In Medium made my Aqua Foundation, I applied it to half of my face. In the right photo, I'm wearing the foundation alone. It masked my dark circles, blemishes and redness, but still shows off my freckles. In the left photo, I'm wearing the Velvetizer mixture. My freckles have disappeared and my face has a blur to it. Shame on me for thinking it was just a setting powder.
If you have a foundation in your drawer that is close to being thrown out because it's not matte enough or doesn't offer enough coverage, consider investing in a jar of Urban Decay's The Velvetizer Mix-In Medium.