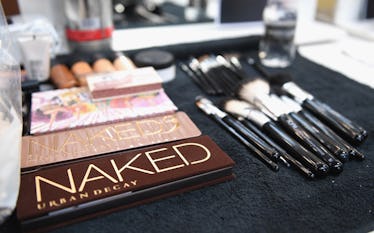 Urban Decay Is Having A Sitewide Sale Right Now, But It Will Be Over In A Flash
Stuart C. Wilson/Getty Images Entertainment/Getty Images
For beauty lovers, there is nothing better than getting word that a sale is going on. And while we're all likely still recovering from overindulging in Labor Day deals, brace yourselves, because the Urban Decay Friends and Fanatics sale is happening right now, but will be over in a flash. The good news, however, is that every product at urbandecay.com is included — with just a few exceptions.
So exactly how much will you be saving during this sale? A cool 25 percent off, plus free ground shipping when you use the code "TAKEITOFF" at checkout. And while we already know this sweet discount can be applied to most of the site, you won't be able to get a discount on items that are already on sale as well as any of Urban Decay's value sets or duos. For example, the 24/7 Troublemaker Mascara and Eye Pencil Duo and the All Day All Night Rebound Travel Duo will still be full price, along with the Naked 4some Vault, and the Urban Eyeshadow Vault. All other items, however, are fair game, which still sounds like an amazing deal to me!
But now let's take a look at some great products you should definitely consider snagging up before this sale comes to an end at 11:59 PT on Sept. 14, shall we?
Eyes
Complete with 21 different shades, this highly pigmented palette pops on all skin tones and has enough variety to take your look from subtle to show-stopping in minutes.
If you're ready for your lashes and brows to take on something new for fall, then look no further than Urban Decay's Special Effect Colored Mascara. Available in five shades, this product gives a whole new meaning to the traditional bold eye.
Lips
With a whopping 135 shades to choose from in this line, you can pick anything from a bold blue to a natural nude that will make your lips pop every time.
If you've never heard of a lip mousse before, then prepared to be amazed. This buildable product feels as light as air, but will give you a perfect matte finish and intense color without the weight of a traditional lipstick.
Face
This vegan setting spray is called All Nighter, because it will literally help your makeup to stay on all night long. In a study, 88 percent of participants said that regardless of their combination, oily, or dry skin, this product was the best setting spray they had ever used!
This completely clear primer acts as both a base for your makeup, as well as an SPF 30 sunscreen that guards against UVA and UVB rays that you can wear year-round. The hydrating formula also includes tomato fruit and sesame seed extract to nourish the skin.
Of course, there are a ton of other products to choose from during this great sale. So head over to urbandecay.com right now to get some of the best deals on your faves!