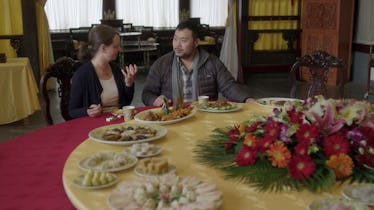 Chrissy Teigen Has A New Favorite Netflix Show & It's As Delicious As You'd Think
Netflix
I love TV, especially food TV, and I have been known to watch shows into the ground, like Iron Chef (both Japan and America), Chopped, and Beat Bobby Flay. But Chrissy Teigen's got me beat. I have never actually canceled going to the Oscars because I decided I loved a show so much, I needed to have the food in the episode delivered to my house. And yet, Ugly Delicious on Netflix managed to do that this past weekend.
With only hours to go before the red carpet, Teigen announced she wasn't going to bother going this year. Instead what she really needed was for the Mariscos Jalisco taco truck from Ugly Delicious' second episode to come drive into her neighborhood.
If you're asking yourself, "What is Ugly Delicious? Why would I want to eat something ugly," let me explain. No, there is too much to explain. Just go into the room with the largest TV, flip over to Netflix, and put on Ugly Delicious Episode 3. It's only about 55 minutes, I can wait. When you're done, we'll all meet back here and talk about how this is the most amazing food show since Chef's Table.
If you haven't watched the latter show, Chef's Table was Netflix's first major food TV hit, taking the Diners, Drive-Ins and Dives model that Food Network hangs their hat on and refashioning it for the crème de la crème of the food world — the Michelin-star, finest-of-dining restaurants. Ugly Delicious is the next step forward.
Chef's Table's politics of where your food comes from, and the art behind making it, was mere subtext. Here, Chef David Chang (of the amazingly delightful Momofuku restaurant) and his BFF Peter Meehan (noted New York Times food critic) use foods that are common staples of American cuisine, like fried chicken to tacos, to facilitate frank discussions about our current policies. Explicit scenes detail who exactly brought these foods here and mixed them into the existing culture.
Chang himself is the son of Korean immigrants. His father, as is revealed along the way, was a refugee from North Korea. In Episode 3, "Homemade," Chang goes home to the suburbs of Washington D.C. to make Thanksgiving dinner. There, he reveals his vision behind the phrase "Ugly Delicious." It's the kind of food made with love and passion, with that homemade bent that people have discovered they want to eat when they go out to restaurants.
But in most episodes, food is used as a Trojan horse for showing how immigrants have, for centuries, used food as the ultimate assimilation tool. That comes out most vibrantly in the "Taco" episode that inspired Teigen to forget the Oscars and have one hell of a taco truck party the weekend of March 4.
Chang, for his part, was very pleased to see his show was reaching the right sort of people.
The "Taco" episode may be a highlight, but other episodes are just as good in their own way. Topics include the American staple of pizza; New Orleans crawfish and shrimp standards; BBQ, which seems to expand to include anything cooked over an open fire; fried chicken, and fried rice. (The latter are not in the same episode.)
In each, the conversation can veer from the sublimely silly ("What is the origin of the nugget?") to the ultra-serious, with Chang debating conservative people and conservative foodies on the importance of keeping an open mind in order not only to have a more interesting culture but more interesting dinner. Especially when that means being like Chrissy Teigen and getting on social media to figure out how to get the best taco truck in town to park on your street corner.
Ugly Delicious is streaming now on Netflix. Do yourself a favor when you binge and bring snacks.