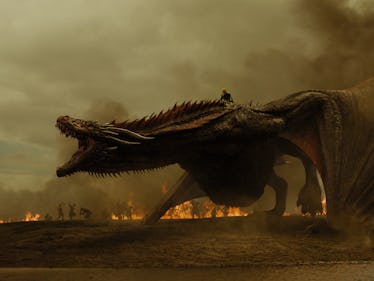 This Key 'Game Of Thrones' Character Won't Return For Season 8, So Expect Big Changes
HBO
Game of Thrones Season 8 took longer to shoot than any year previous. It currently boasts the most massive battle ever filmed for TV, a giant 11-week shoot that brought in a cast of thousands over three different locations. Yet, though the show may have an enormous ending coming up, there will still be characters who disappear into plot air, never to be seen again. The latest to reveal he won't be back is a little concerning. Tycho Nestoris won't be in Game Of Thrones Season 8, meaning the Iron Bank will not return to Westeros to make sure the Crown pays them back for any loan taken.
This is a big deal, especially to book readers, who have assumed for a long time the Iron Bank's tenacity in getting their payout back, with interest, would be one of the tripwires taking down the Lannister rule. The novels have made it very clear Cersei doesn't give a damn about money or repaying loans, and sees the Iron Bank as something to grift off.
But last season, Cersei managed to get the wagon train containing Highgarden's coffers into King's Landing ahead of Daenerys' attack, giving her a "Lannisters Always Pay Their Debts" 11th-hour miracle. This secured her a new line of credit from which, it is hinted, she will hire the Golden Company's band of mercenaries to destroy Jon Snow and Daenerys Targaryen's forces.
Now it seems whatever Cersei's comeuppance will be, it won't be the implacable hand of the Iron Bank dragging her down. According to Mark Gatiss, who plays Tycho Nestoris, the Iron Bank representative, he's not back for the final six episodes. But he's found a silver lining. Speaking to the UK outlet Short List, he said:
I'm not in [Season 8], so I guess I survive!
But, he admits, since he's not in Season 8, he wasn't there for filming. So for all he knows he's just killed off-screen.
Although they might just mention offhand that I've had my head bitten off by a dragon off-screen or something.
That's too bad for Gatiss, who admitted he pitched showrunners David Benioff and Dan Weiss on an ending where his institution is the last man standing, Hamlet-style.
I pitched to Dan and David, the showrunners, that I should be the last person alive in the show because obviously if anyone survives it is the banks. They just laughed at me.
Nestoris not returning doesn't automatically mean the Iron Bank will not be playing any role in the final season. They could cut off funding on payday just as Dany's forces arrive, leaving Cersei suddenly defenseless as her army goes on strike for receiving mass "insufficient fund" notices. It just means those who hoped to see the bankers drag her off in a cage will be disappointed.
But Cersei's ultimate demise, no matter how it comes, doesn't mean the Crown still won't owe the Bank for Cersei's new line of credit. It just means it will be the headache of whoever wins the chair. Now that's a good reason to let the Night King have it if I ever heard one.
Game of Thrones Season 8 returns to HBO in the first half of 2019.