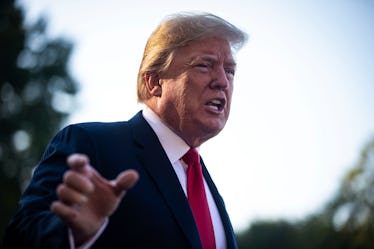 Donald Trump Probably Won't Be Too Happy With This Big Change To Twitter
Al Drago/Getty Images News/Getty Images
If you've been online in the past 24 hours, you might've noticed a significant drop in followers across some of the biggest profiles, including President Donald Trump's. And I know what you're thinking: it's not because those incessant MAGA tweets or posts of him chastising the "fake news media" made a dent in his popularity. Apparently, Twitter is deleting suspicious Twitter followers — a move that will surely still upset Trump.
On Wednesday, July 11, the platform announced that it would begin to pull inactive, locked accounts that had been included in users' follower counts over the next week. It also said that larger follower counts could experience a more "significant drop" than smaller followings. However, Twitter appeared to get a head start when it comes to Trump's page, because he had already lost around 100,000 of his 53.4 million followers on Tuesday, July 10, according to The Washington Post. President Barack Obama also reportedly lost about 400,000 of his 104 million followers.
Although the purge might be sad news for some, Twitter's Legal, Policy, Trust, and Safety Lead Vijaya Gadde said it was an ongoing and global effort to "build trust and encourage healthy conversation on Twitter." She added: "We understand this may be hard for some, but we believe accuracy and transparency make Twitter a more trusted service for public conversation."
According to Twitter, the profiles that have been purged could be locked for multiple reasons, but are usually attributed to the platform detecting sudden changes in behavior. Those changes could include sending out a large number of unsolicited replies, sharing misleading links or being blocked by a large number of accounts that have been mentioned by the user.
The latter could definitely apply to some of Trump's own followers, considering he had allegedly vowed to unleash millions of his diehard fans on people like Megyn Kelly. Also, he often fires out harsh rhetoric against his rivals on the platform, including Joe Biden, Hillary Clinton, Obama, and others — which, in turn, allow his followers to chime in on his beefs.
Additionally, Trump might be particularly disturbed by the cleanse because, according to The Independent, his Twitter account may have helped him win the presidential election. In 2016, data scientist David Robinson performed a statistical analysis of Trump's account, telling the outlet that Trump's tendency to tweet like an entertainer was captivating to voters. He explained: "Donald Trump is an extreme example of an outsider and entertainer. Tweeting in this fast and off-the-cuff style comes naturally to him as a part of his messaging strategy."
Robinson continued:
I think celebrities have a long history of exceeding expectations in American elections, because they're charismatic and relatable. The most notable example is Ronald Reagan, who was famous for his folksy charm, as well as Arnold Schwarzenegger. These suggest American voters are less interested in voting for qualified career politicians and are at least as likely to support someone entertaining. I think Trump's Twitter activity probably did contribute to his victory.
There might be a solution for Trump to regain some of those followers he's lost as a result of Twitter's new efforts though. He had previously been blocking his critics from following him, which resulted in a lawsuit and a judge ruling that his actions were unconstitutional back in May. It's unclear if Trump has adhered to the ruling or not, but it might be beneficial to him now if he did. Otherwise, he might wanna kiss those followers goodbye.
Then again, if his account is as entertaining as Robinson and others have said, he shouldn't have a problem regaining the followers he lost at all. Take that as you will.