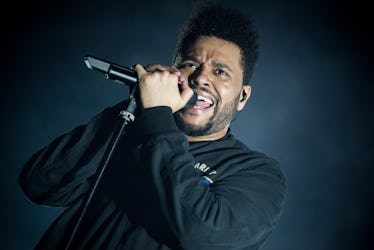 Tweets About The Weeknd's New Album Have Taken Over The Internet Because, Duh
Raphael Dias/Getty Images Entertainment/Getty Images
The Weeknd essentially broke the internet when he released his new album My Dear Melancholy on Thursday night. After majorly teasing the album on social media, the singer's new jams have sent fans in a frenzy. Tweets about The Weeknd's new album have taken over the internet, and we're not surprised.
The Weeknd, aka Abel Tesfaye, first teased the drop of the album on Wednesday, sharing a screenshot of a text convo debating whether to release the new songs on Friday. The conversation must have gone somewhere, as The Weeknd then proceeded to share his album cover art on Instagram the following day. This obviously meant that either a surprise drop was on the way or The Weeknd and his press team were just a little bored this week. Luckily, Rolling Stone confirmed that the album would be released on Thursday night, and all of that sneaky teasing came into fruition.
The new album comes after The Weeknd's 2016 record Starboy, which scored a Grammy for Best Urban Contemporary Album. His new lineup of songs has released perfectly in time for his scheduled summer festival performances at Coachella, Panorama, and Lollapalooza.
Once the album launched, The Weeknd posted a clip from what seems to be a music video promoting the new work.
Fans delving into the album on Friday morning took to Twitter to share their feelings about it. No matter how critically they may view the new project, the general consensus among fans seems to be that they're just delighted to have new music from The Weeknd. Well, same.
Listeners have also tossed out speculations about what certain songs are about. A popular theory is that the entire album is based off The Weeknd's 2017 romance with Selena Gomez or, in the words of E! News, that the work also takes inspiration from The Weeknd's relationship with his other famous ex, Bella Hadid.
Fans have noticed that the song "Call Out My Name" seems to specifically refer Gomez with lyrics saying, "I almost cut a piece of myself for your life." This could suggest that The Weeknd was willing to be Gomez's organ donor ahead of her kidney transplant last summer, but her close friend and fellow actress Francia Raisa ultimately donated a kidney to help Gomez's health complications.
In the same song, The Weeknd also included what seems to be major shade about Gomez reuniting with old boyfriend Justin Bieber, singing, "Guess I was just another pit stop / 'Til you made up your mind / You just wasted my time / You're on top." Ouch.
Meanwhile, fans believe that "Wasted Times" is about Hadid, with The Weeknd declaring on the track, "Wasted times I spent with someone else/ She wasn't even half of you."
I don't know about you, but this entire album definitely seems like a big burn of Gomez.
In a 2017 GQ profile, The Weeknd admitted that his songs are usually based on personal experiences, and an unnamed record executive further emphasized that everything within The Weeknd's career comes from the performer himself:
It all comes from him—the music, who he is. Those first records—he made them by himself... He was playing to sold-out 2,000-, 3,000-seat arenas, and he had no songs at all on the radio. And that's just very unusual. And I'm telling you, it all came from him. It was a sound and a music and a lifestyle that he dreamed up.
Song speculation aside, it's clear that My Dear Melancholy is worth the praise for the artistic value The Weeknd put into it. The entire album is currently available to download on iTunes.