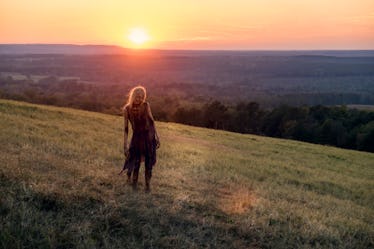 Fans Are Already Nervous About The Next Season Of 'TWD' After That Epic Finale
Gene Page/AMC
All good things must come to an end, as does the "All Out War" season of everyone's favorite post-apocalyptic zombie TV show. Season 8 of The Walking Dead concluded tonight, and the war that started seasons ago is finally coming to its bitter end. And the tweets about The Walking Dead's season finale prove that next season is gonna be really interesting — and fans are already freaking out about it.
We knew that tonight's episode was going to be explosive. But I don't think anyone expected what went down tonight. In an epic showdown between Rick and Negan, it looked like one (or both) of these guys' time was up. At different point both Rick and Negan looked like they had the upper hand in the battle.
But ultimately it was Rick that had the opportunity to decide Negan's fate. Rick slashed Negan in the throat, but then remembered his son's emotional plea for peace in a letter that he wrote to him on his deathbed. It was because of that letter that Rick decided to spare Negan's life, which had some fans super pissed off. But nobody was as mad as Maggie, who screamed at Rick and looked like she wanted to strangle him over this decision.
Which had a lot of fans thinking that in the next season, Negan shouldn't be afraid of Rick — he should be watching out for Maggie and any other Hilltopper who's pissed about Rick's choice to let him live.
This war between Rick and Negan has been dragging on since we first met Negan and the Saviors back in Season 6 of the series. It took us two full seasons to finally see the day that the Alexandrians and the Saviors face off in one last battle with their respective leaders meeting head-to-head, and it's finally arrived.
And nothing was going to stop these two from fighting it out one last time. Not even letters from beloved character and emotional soft-spot for both Rick and Negan, Carl Grimes. Carl wrote letters to both which were written after Carl had been bitten by a zombie and knew of his impending death. Carl pleaded to both leaders to end the war between them.
In Rick's letter from Carl, his son writes,
You have to give them the way out, you have to find peace with Negan. Find a way for it somehow. We don't have to forget what happened, but you can make it so that it won't happen again. That nobody has to live this way. That every life is worth something. Start everything over. Show everyone that they can be safe again without killing.
And in Carl's letter to Negan (which Michonne read to him aloud over the radio), he wrote,
The way out is working together. It's forgiveness. It's believing that it doesn't have to be a fight anymore, because it doesn't. I hope my dad offers you peace, I hope you take it. I hope everything can change. It did for me. Start over — you still can.
But even his emotional cries for peace wouldn't prevent Rick and Negan from battling it out to end the war once and for all.
Even before Season 8 began, TWD show runner Scott Gimple explicitly stated that by the end of this season, the war between these two leaders would be over. In an interview with Entertainment Weekly in September 2017 Gimple said, "The war will absolutely be resolved by the end of season 8, absolutely."
We also knew that the finale of this season would be dramatically different from what what Robert Kirkman orchestrated in the original TWD comic book series. In a separate interview with EW on Feb. 23, Gimple said the finale would be "too big" for viewers to handle. "It's very big," he says. "Probably currently a little too big. It was pretty amazing the scope of some of the things that we got to do. And yet the emotional intensity was insane. And it very much sets up the start of the next story."
Now that the war between Rick and Negan is as good as over, it looks like Maggie might be the prominent villain in the next chapter of this story. Will she go after Negan? Or Rick? Or both? I cannot wait to see how this plays out.