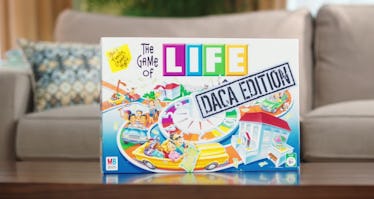 'SNL's "Game Of Life: DACA" Skit Is Just A Little Too Real & Twitter Has Feelings
While many people tuned into Saturday Night Live on Saturday, April 7 to fangirl over host Chadwick Boseman and musical guest Cardi B, the show also mixed a few political sketches into the lineup, as per usual. This time the show took on the Deferred Action for Childhood Arrivals (DACA) program and turned it into a board game. These tweets about the SNL DACA skit show that people couldn't help laughing at it, but it also prompted people to think about the reality facing DACA recipients, known as Dreamers.
The DACA program began under President Obama in 2012, and it provides two-year deferment from deportation along with eligibility for a work permit for undocumented immigrants who arrived in the United States as children, per The Georgetown Law Library website. But you may recall that in 2017 President Donald Trump ended the DACA program, effective March 5, 2018. That date has come and gone without any new legislation for Dreamers (although federal court rulings have placed a temporary stay on President Trump's plan to end DACA), leaving many young immigrants who have grown up in the United States in limbo.
SNL's "The Game of Life: DACA Edition" served as a stark reminder of what life is actually like for individuals who are a part of the DACA program. It seems that this skit is an example of "funny 'cause it's true," and the true part deals with real situations that around 700,000 DACA recipients face daily. In the skit, the game is supposed to mirror "real life" situations, and if you pull the "Dreamer" card, you get "to jump through bureaucratic hoops, duck from ICE officers, and work three jobs just to get by." LOL?
The skit goes on to explain the rules for a Dreamer in the game. First, "you'll wander aimlessly down the path toward citizenship" to get immigrations papers in "The Game of Life: DACA Edition," but the commercial warns against taking too long, "or you'll get sent back to Honduras."
Even though SNL is known for its political satire, viewers were having a hard time laughing because of the reality of the situation.
"...Very fun skit but damn so sad for many real people. Hang in there Dreamers we haven't forgotten about y'all."
"This DACA skit on SNL tooooooooo accurate."
"The Game of Life: DACA edition is first-rate political satire."
"Not too far from reality on this skit."
"Oh no! 'The Game of Life: DACA Edition' was terrible and funny."
"'The Game of Life: DACA Edition' ... I would laugh, but it's so true!!!"
"Sadly, there's a lot of truth in that 'The Game of Life: DACA Edition.'"
"Welp that DACA Game of Life was terribly tragic but true, Trump. Thanks for pointing that out, SNL."
The skit stayed close to reality when it came to the current U.S. commander-in-chief. "The Game of Life: DACA Edition" includes a military controlled border to "ensure caravans of bad hombres like you don't get in." The game also made sure to include President Trump's favorite form of communication with the "Presidential Tweet Cards" that are printed with actual tweets from President Trump's Twitter account.
In the skit, the player with the Dreamer card gets a tweet that says "DACA is dead," which leads to the "Immigration Court System Expansion Pack." Sadly, SNL didn't have to stray too far from reality for its material, and some people didn't think the skit was funny at all, considering that it was poking fun at the precarious situations of real people.
"I was really enjoying this SNL episode until the DACA skit. It wasn't funny. Just don't."
"Ummmm IDK about that DACA skit, SNL. Felt like they missed the mark on that one."
"That Life DACA skit was foul."
SNL never really shies away from the big headlines, so it's not surprising that they ran this skit, but some people seemed to believe the DACA program is too real for this kind of humorous take.
Whether you liked the skit or not, it did bring the DACA program back into the spotlight after it was discussed quite often in the beginning of the year when lawmakers were trying to come to an agreement on a more permanent solution to protect Dreamers from deportation. So if there's a silver lining to the all-too-real skit, maybe it is bringing the national discussion back to DACA.