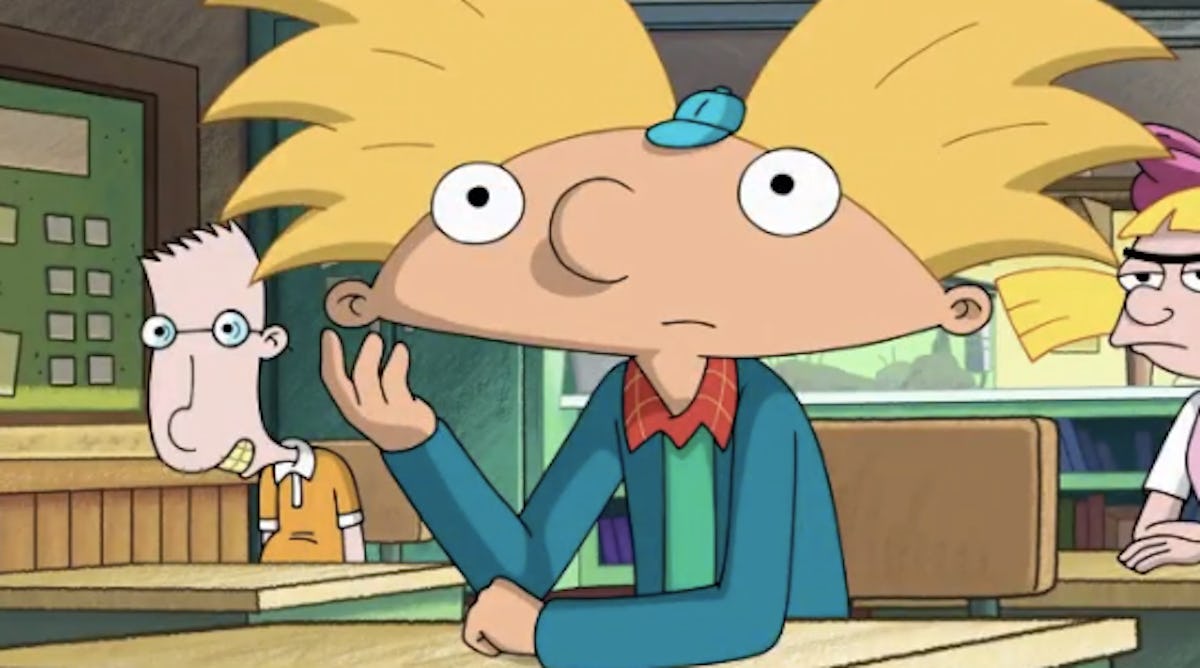 The Trailer For 'Hey Arnold!: The Jungle Movie' Will Make You Feel So Nostalgic & Twitter Agrees
If your plans for this year's Thanksgiving weekend only include meeting up with old friends and ingesting multiple different kinds of pie, then I would tend to agree that's a pretty solid weekend. Don't set those plans in stone just yet, though — because Nickelodeon might make you want to pencil in just one more activity. Heck, it's not really even an activity... because you can be horizontal and eating leftovers the whole time. If you need a little convincing, you can go on Twitter to get your nostalgia on and read all the tweets about the new Hey Arnold! movie.
The Nickelodeon Twitter account, @NickSplat, gave every '90s child what they truly needed when they finally posted the full trailer for Hey Arnold!: The Jungle Movie. The trailer did not disappoint. You guys, it's more than a minute and half long; that's more new Arnold than you've gotten in quite some time. You'll be able to see the movie in its entirety when it premieres on Nickelodeon on Friday, Nov. 24. See? I told you that you wouldn't even have to make that much of an effort to add Arnold to your Thanksgiving weekend itinerary. If the movie lives up to the jam-packed trailer, then it's really going to be worth it.
You'll think it's '97 again when you take a look at this bad boy.
So, the trailer begins with Arnold's class winning a field trip to the fictional location of San Lorenzo, and as Arnold's best pal Gerald Johanssen points out, it's the same San Lorenzo where Arnold's parents disappeared. I know, they come straight out the gate with some heavy stuff, but I know your tough little '90s-child heart can handle it.
As you can imagine, the rest of the trailer doesn't reveal exactly what happens when they get to San Lorenzo, but from the looks of it, there's action, romance, and a little danger. But, hey, these are city kids from P.S. 118; they can definitely handle it.
As soon as the trailer dropped, fans began reacting to it.
Right off the bat, people were excited.
How excited will she be when she finds out she can watch it from the comfort of her own home?! But, yes, there would have been a lot of twenty-somethings in the theater for this one.
Loyalists of the classic cartoon definitely had some feelings about it.
This Twitter user understands that change is inevitable and isn't going to hold it against Arnold and the crew.
Others posed possible continuity issues.
An Arnold expert stepped in to help with this one.
The consensus was pretty much that this movie will be amazing and that every '90s child needs it in their life.
It is quite the honor, indeed.
Now that you're all keyed up for the new Hey Arnold! movie, it's kind of annoying that you have to wait more than a month until it premieres. I don't know about you, but as I've been writing this post, I've realized that I am woefully less than knowledgable about one the most classic '90s cartoons.
So, I'm going to take some time and revisit the episodes that I enjoyed around the same time that my bedroom was plastered with Jonathan Taylor Thomas and Backstreet Boys posters.
If you're already an Arnold expert, you can start planning your viewing party — and since it's the day after Thanksgiving, make sure you put turkey sandwiches on the menu. For decor, feel free to bring back out your most coveted heartthrob and boy band posters (you know you have at least one). As for your wardrobe? Thankfully chokers and other '90s staples have made a full comeback, so, you're basically all set. Long live the throwbacks.
Check out the entire Gen Why series and other videos on Facebook and the Bustle app across Apple TV, Roku, and Amazon Fire TV.