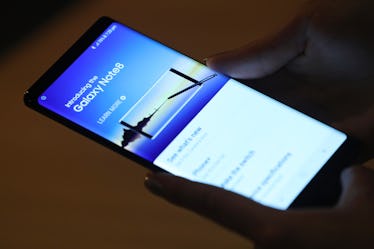 Everyone On Twitter Is Going Wild For The New Samsung Galaxy Note 9
Sean Gallup/Getty Images News/Getty Images
You know the drill. Whenever there's a monumental smart device reveal, the internet goes into a complete frenzy. Well clearly Samsung's Galaxy Unpacked event is no different, because tweets about the Galaxy Note 9 prove everyone is obsessed and ready to grab their credit cards.
According to Samsung product manager Drew Blackard, the new Samsung Galaxy Note 9 will come in four chic colors, and offers incredible perks including an "all day battery," increased storage, accessible gaming, and a state of the art camera. The phone itself is gorgeous, but let's talk about that S Pen for a minute. While the pen has been a stable of the Galaxy Notes from the beginning, now it's Bluetooth enabled and works as a remote.
The annual Samsung Galaxy Unpacked event was arguably the best one yet, and I don't know about y'all, but I'm dying to get my hands on that Galaxy Note 9. In June, leading up to the grand unveiling, it almost appeared that the Samsung company might have had their surprise ruined, since there was apparently a leak detailing the differences between the Galaxy Note 9 and Galaxy Note 8. So, after Forbes reported in June that customers can expect a huge different in battery capacity between the two models, I was immediately on board. Seriously, there's nothing worse than being out and about and your phone dying at the most inopportune moment.
In addition to the rumored battery capacity, Forbes contributor Gordyn Kelly shared that the rear camera on the Galaxy Note 9 would also be different than its predecessor. According to Kelly, users will be able to snap a picture with ease since the fingerprint sensor will be moved to a more convenient position.
It feels like a lifetime ago that everyone was just whispering about the new smart device. I must say, it's so refreshing to finally see them in person, with everyone eagerly waiting to take them to their new homes. Clearly I'm not the only one who's excited about setting up the new phone, because Twitter can't stop talking about it.
There's nothing quite like a technology conference to send techies, and social media, into complete excitement. However, what's perhaps the most fun about these device releases is the theories as to what each new product has in store.
The Galaxy Note 9 is definitely the company's most advanced product to date, so let's hope there won't be any more "explosive" responses to it. For those who aren't familiar with the Galaxy Note, it's safe to say that there's been a few issues with the product in the past. I'll give you a brief rundown.
October 2016 was certainly a year for the books. Donald Trump was running for president and the Galaxy Note 7 was literally.... exploding on airplanes. Well, on Oct. 5, 2017, things took a very drastic turn when airports completely banned Samsung Note 7 phones from airplanes. The decision was made jointly by the US Department of Transportation (DOT), Federal Aviation Administration (FAA) and the Pipeline and Hazardous Materials Safety Administration (PHMSA).
Just look at this crispy thing.
In response to the decision, Transportation Secretary Anthony Foxx released a statement in October 2017 explaining the reason behind banning the phones.
She said,
We recognize that banning these phones from airlines will inconvenience some passengers, but the safety of all those aboard an aircraft must take priority. We are taking this additional step because even one fire incident inflight poses a high risk of severe personal injury and puts many lives at risk.
Well, judging from the sleek design of the Galaxy Note 9, I think it's safe to assume that the only danger there will be how "fire" that phone is.