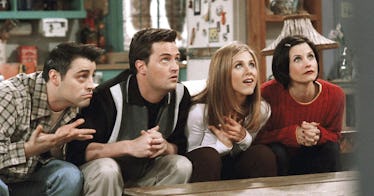 Fans Just Learned They've Been Singing The 'Friends' Theme Song Wrong For Years & WTF
NBC
The theme song of Friends is one I thought I knew by heart, and I take my knowledge of sitcom themes very seriously. If you need anyone to "pa pa da da" through the How I Met Your Mother theme song or hum the exact intro to The Office, I'm your gal. So, imagine my surprise when I learned that the internet is having an existential crisis about the lyrics to Friends' "I'll Be There for You." Tweets about the Friends theme song lyrics will make you seriously question everything you've ever known about the famous opening tune.
On the British variety series Ant & Dec's Saturday Night Takeaway on UK network ITV, hosts Declan Donnelly, Stephen Mulhern, and Scarlett Moffatt ran the season finale from Florida's Universal Resort. There, the Rembrandts, the band that originally performed the Friends theme song, delivered a sing-along version of the beloved hit, complete with spinning umbrellas in the background. All that was missing was a water fountain and a couch, and we could have seen a pretty accurate reenactment of Friends' theme sequence.
In the show's Sing-along Live segment, a woman competing to guess the lyrics for prize money said that one missing line was "I'll be there for you, When the rain starts to fall."
Sounds right, doesn't it? As it turns out, the woman was surprisingly incorrect, being told that the lyric was actually "I'll be there for you, When the rain starts to pour." Huh?
This wasn't like all of the contestants missing an obvious question on Jeopardy! or a player blanking on a vowel in Wheel of Fortune. The woman playing the game wasn't alone in thinking that "fall" was the correct word in the theme song. Um, could we be any more confused?
Her mistake has inspired countless Friends fans to question how they've gone this long without picking up on the right word choice. Chances are that if you switch on the TV, a Friends episode is playing somewhere, so it is a little concerning that the blooper has caused this much chaos in the fandom.
To be fair, if you listen to the theme song focusing on that lyric, it's actually pretty easy to hear the word as "fall." I'm pretty sure I've alternated between singing "pour" and "fall" without even realizing it all of these years. Singers Danny Wilde and Phil Solem's voices seem to fade out when saying "pour," so unless you know exactly what they're saying, misinterpreting it is understandable.
Of course, there are plenty of fans flocking to Twitter and insisting that they always knew the correct lyric. Well, kudos to your stronger hearing, guys.
While this little incident has led to genuine confusion and shock among fans, the internet loves talking about ridiculously misheard song lyrics. Among the most famous is a goof that even once appeared on Friends, with Phoebe poking fun at misheard lines of Elton John's "Tiny Dancer."
Even big Hollywood movies love to cover the enigma that is a misheard lyric. Who could forget the sloppy, drunken performance of "Bennie and the Jets" in 27 Dresses?
Clearly, there should be no shame in falling victim to a singer's wacky pronunciation of words. Going along with this theme of sitcoms exposing our bad hearing, I think if you just avoid having Ted Mosby's pronounciation skills on HIMYM, you should be fine.
I'll definitely keep an ear out for the theme song the next time I catch a Friends rerun, but I'm still in the camp of thinking that "pour" and fall" are basically interchangeable. Is that just me?