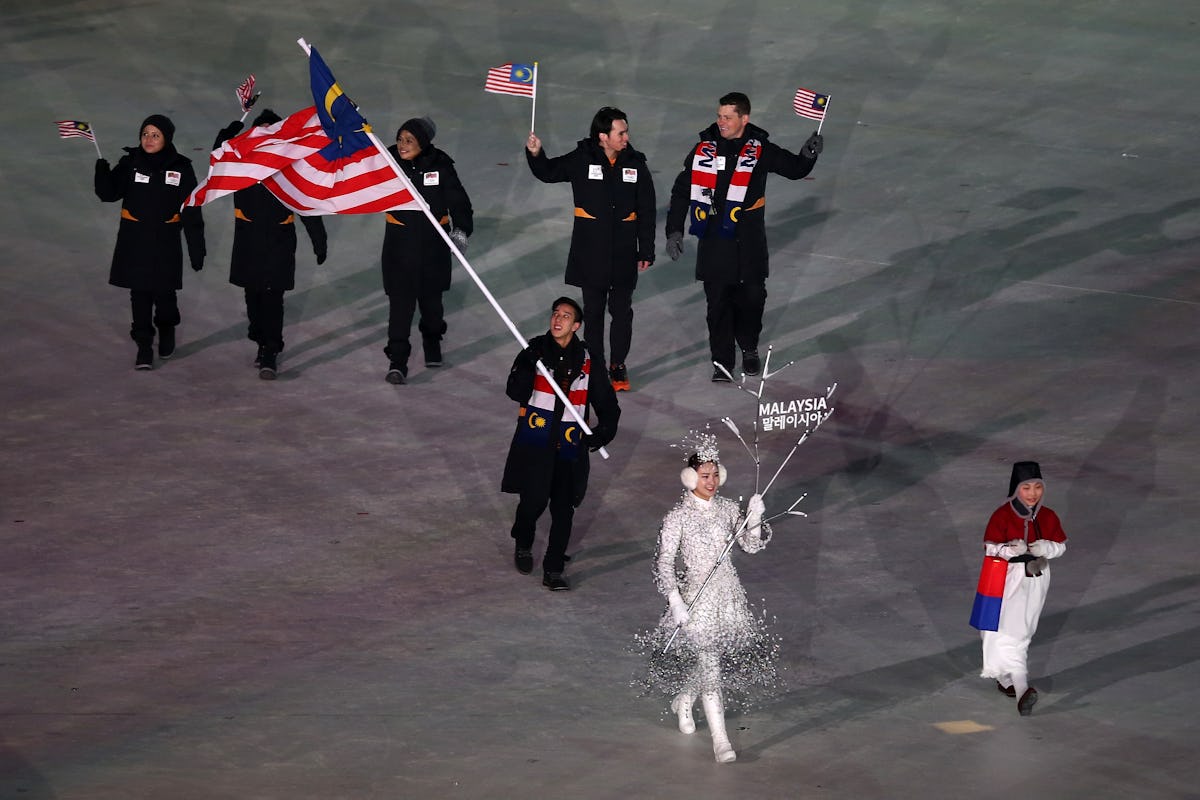 Twitter Is So Here For These Olympic "Fairy Outfits" At The Opening Ceremony
Dan Istitene/Getty Images Sport/Getty Images
The parade of nations at the 2018 Winter Olympics' opening ceremony was undoubtedly an interesting fashion show of each country's unique color themes in their uniforms, but what really caught viewers' attentions were the "fairy outfits" at the 2018 opening ceremony of the people introducing each country with a sign.
Placard carriers at Olympic opening ceremonies are usually huge points of interest, wearing once-in-a-lifetime outfits that somehow perfectly fit the host country's culture. While the carriers' bizarre headpieces and circular signs at the 2014 Sochi Games had viewers scratching their heads, it's safe to say that the PyeongChang outfits were more of a success — at least, as far as Twitter's concerned.
Appearing in silver dresses with flared, sheer-like skirts, and donning earmuffs and silver crowns, the opening ceremony's sign carriers initially looked like they were holding wands. In a great twist, each silver stick spread out, resembling tree branches, and a country's name appeared at the end of the wand in both English and Korean.
Despite chilly temperatures at Olympic Stadium, the outfits still looked warm and gave off vibes of a look fit for a true snow fairy princess. To quote Princess Elsa, the cold clearly doesn't bother them anyway, and I'm more envious of their look than I am of Team USA's self-heating parkas.
Twitter raved about the outfits during the ceremony, definitely preferring the escorts' looks over any country's team uniform.
Seeing as this year's escort outfit was so beautiful, I can't help but feel interested in the seemingly easy-looking gig of carrying in a country's sign. I mean, you get to look great and walk with incredible athletes, be part of an incredible, historic occasion, and take home a little piece of history... so, uh, where can I sign up?
If you're interested in becoming one of these sign carriers at future games (dust your resumé off ASAP — the Olympics come to the U.S. for L.A. 2028!), your best bet is to check out the International Olympic Committee's Jobs page. Prospective employees can apply via an online portal and, no matter where you are in the world, you'll first attend a Skype interview if officials are impressed by your experience. Get your passport ready if you're contacted for a second interview, because candidates have to go to IOC headquarters in Lausanne, Switzerland.
Although you may not be assigned a position that comes with a sign and a swanky outfit, applying for a volunteer position at the Olympics is specific to each individual competition year. People who volunteered for the PyeongChang Games had to apply over a year in advance at the games' volunteer website. However, beginning this summer, applications will open for Tokyo 2020 volunteers. The volunteer portal's website reads:
Volunteers will play a vital role in the smooth operation of the Games, providing support and information at competition venues and in the Olympic Village. They will be engaged before, during and after the Games. Why don't you volunteer and be part of this historic sporting event?
To be considered eligible for a volunteer position, there are a few requirements: applicants must be at least 18 years by April 2020 and, most importantly, be "a Japanese national or foreign national with permission to stay in Japan." So, get your resumes ready for L.A. if you're just an ordinary American citizen.
While the exact process of becoming a sign girl seems very wraps, I'd like to think that they're treated to full beautification before the ceremony. Ah, to be a fairy princess at the Olympics.
To learn more, visit teamusa.org. The Winter Olympics will air live starting Feb. 8.