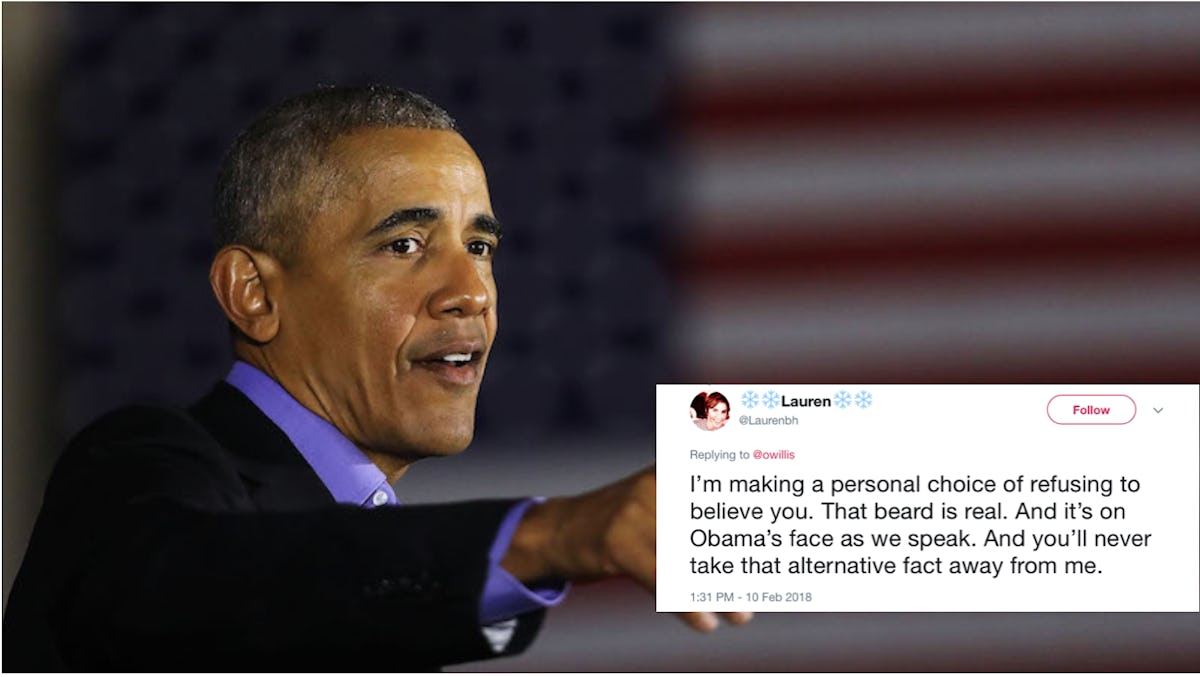 Everyone Is So Thirsty Over This "Photo" Of Obama With Facial Hair
Spencer Platt/Getty Images News/Getty Images
It's been a hot minute since President Barack Obama left the Oval office (though it feels like ages), and a lot of us miss him dearly. After leaving the White House, the 44th president remained out of the public eye for a little while, decompressing after his eight-year stint as president. Recently, though, Obama has been inching his way back in, and with his resurfacing, a photo of him sporting a new "retirement beard" floated around the internet and these tweets about Obama's facial hair have Twitter so thirsty. Who could blame them?
The Shade Room is an entertainment site that is known for photoshopping beards onto the most famous celebrities and letting their fans vote on who should join the #BeardGang. They've bearded up JAY-Z, Pharrell, Bow Wow, and now the former President of the United States of America.
On Friday, Feb. 9, The Shade Room released a photo of our former Commander in Chief sitting back, smiling, ready for an interview, and sporting a salt-and-pepper beard. A really different look for Obama, who is very clean cut. A new look for a new era perhaps? Not exactly.
The internet soon figured out that the photo was a fake, but that didn't stop them from trying to will it into existence.
Bearded POTUS had Twitter screaming.
It seems the public has spoken and they really want Obama to grow a beard.
Sadly, though, it doesn't look like a bearded Obama is anywhere in our future. Back in September 2006, before Obama ever entered the White House, The Hill wrote an article on how voters are less trusting of politicians with facial hair. They prefer them to be clean shaven. When asked, then Senator Obama confessed, "I can't grow facial hair...I get whiskers."
Though the beard dreams and wishes of the Twitterverse have been crushed, on the bright side, we are getting to see more of Obama these days. As I mentioned earlier, the former president took some time to unwind after his term was over. Who wouldn't need a break after running a country for eight years? Though his presidency was followed by what many would argue is a complete trainwreck, Obama didn't say much about his replacement... even in his resurfacing back into the spotlight.
In probably his most public appearance since leaving office, Obama appeared on the pilot episode of David Letterman's new Netflix series, My Next Guest Needs No Introduction with David Letterman. He walked onto the dimly-lit stage in a nice trimmed suit, crisp white shirt, with no tie, and he and Letterman had a pretty entertaining and in-depth conversation without ever talking about Donald Trump. There was only a slight aside from Letterman, who at one point says, "makes me so happy you're still president."
Obama might not be the president anymore, but for the majority of the show he holds the same demeanor he did while occupying the Oval. He's thoughtful in his words, taking the time to think before he speaks, a trait America probably longs to have again. Politician-mode only lasts for so long, and eventually Obama gets into his rhythm and he and Letterman talk like friends, entertaining with a talk show most of us would gladly watch Obama host every week (if the beard isn't going to happen, can we get on that Twitter?).
Obama is back in the game, and though his days as POTUS are over that doesn't mean he will be shying away from politics altogether. According to Newsweek, Obama is heading back into politics as the midterm elections approach. Obama spokesperson Katie Hill told Newsweek Obama will "continue to be politically active in 2018, with more endorsements and more campaigning." Which basically means, by the looks of it, that Obama will throw his support to candidates he sees fit and work hard campaigning on their behalf. So if you are an Obama fan, get ready to see a whole lot more of him.
Beard or no beard, Obama is still around and plans to still work very hard for the American people, and who knows maybe the the Twitter powers that be can even fix biology and make a beard happen? Really, what can't Twitter do?