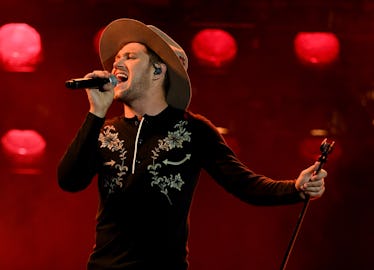 10 People Who Couldn't Handle Niall Horan Wearing A Cowboy Hat At The AMAs
Kevin Winter/Getty Images Entertainment/Getty Images
Tonight, we were delivered a lot of wonderful, mysterious, and fascinating things on the American Music Awards. Selena Gomez performed her song "Wolves," Tracee Ellis Ross hosted the sh*t out of the show, and Niall Horan made some fashion choices. Tweets about Niall Horan's cowboy hat are somehow eclipsing all of the amazing performances and awards that went out tonight, and we simply can't not talk about it.
Horan stepped out on stage to sing his single "Slow Hands," while also delivering us some fierce, wide-rimmed heat. He sported skinny black jeans, a patterned black button up, and a gray cowboy hat that 100 percent stole the show.
Fans are used to seeing Horan in one particular light, coming from the boyband One Direction. But, since stepping out on his own, we've been served adorable smile after adorable smile, and tonight things took a definite turn for the better.
People on Twitter were loving his performance, but more importantly they were LOVING his choice of attire – so much so they shared their adoration in all caps lock, emojis, and lots and lots of exclamation points.
Niall, if you've done one thing right tonight, it was wearing the hat. Good call with the hat.
Here are 10 of our favorite hat shout outs... the good, the bad, and the hilarious.
Other favorites read, "Slow hands, BAD HAT," and my personal number one, "NIALL HORAN IDK HIM I ONLY KNOW NEEAL HOREN WHO WEARS A COWBOY HAT."
Let's get the hashtag #NeealHoren going, people!
Despite the outcry over his solo attire, fans can't help but think back to happier times when the gang was all together. Zayn was simply the angsty one, Harry was the cute one, and Niall was... I don't know... the one I'd feel most safe getting in a car with without having ever met him before personally?
In 2016, Horan told Sirius XM radio that the band was done "for the foreseeable future." At the time he said,
For the foreseeable, you know, we're just taking a break and kind of doing our own thing. I definitely won't rule that out because it's the best thing that One Direction has allowed us to do things like this, and I definitely won't rule it out. Our lives wouldn't be the same.
Billboard magazine also reports the Horan admitted, "Nothing I do will be as big as One Direction, but I have to try at least to get somewhere near it."
I don't know Niall, tonight's hat was pretty big. (I'm sorry, I'll see myself out.)
Horan was in great performance company next to the likes of Selena Gomez who rolled out her latest hit "Wolves," Pink who literally danced on the side of a hotel, and Lady Gaga who rocked out on a see-through piano. Christina Aguilera also delivered a performance in tribute to Whitney Houston, and Kelly Clarkson changed our lives forever. Again. 'Cause that's what she does best.
The whole night was topped off with an epic Diana Ross tribute when she was presented with the American Lifetime Music Award by her family and delivered us a performance for the history books.
She closed off the night with the speech about love, family, and the power of music, asking her her family to join her on stage.
And, if tonight has taught us anything, it's that while Diana is right, cowboy hats also have the insane power to unite people far and wide. We love to love you Niall.
Check out the entire Gen Why series and other videos on Facebook and the Bustle app across Apple TV, Roku, and Amazon Fire TV.